The Great Welsh Walk
This is our event booking page.  For more information about the Great Welsh Walk click here.
Hooray, we're so pleased you'll be joining us for our Great Welsh Walk!  You are going to help us achieve so much for the children of Wales.
The registration fee displayed here are for one, two, three, four, five or six days, or the full walk which is seven days.  You can sign up for as many as you like up to the full amount. Half day options are also available. To discuss these, please contact Linda at the Noah's Ark office using the details below.
Overnight accommodation, breakfast and lunch is included in the cost of registration for all participants signing up for more than one day,
If you would like to pay a deposit for your registration fee and the remaining balance in phases or at a later date, please give our office a call on 029 2184 7310 or email Linda@noahsarkcharity.org. Please note that the full registration fee will need to be paid by the middle of March.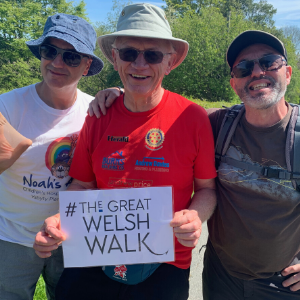 The Great Welsh Walk


May 16, 2020 - May 22, 2020




8:00 am - 4:00 pm