High wire for Tiny Lives
In our bid to reach our £1million Tiny Lives Appeal target by November of this year, we're launching our first ever charity zip wire! So why not swing into the season while raising funds for tiny people fighting big battles this summer?
The exhilarating zip wire will take your breath away, launching from 70m and reaching speeds up to 40mph. The event will take place at Chepstow NDAC Quarry, home to one of the UK's longest zip wires, on Sunday 1st July.  Register for the discounted price of £15 and all we ask in return is that you raise a minimum of £100 in sponsorship for the Tiny Lives Appeal. The event it also one of the few fundraising challenges open to younger people (12 years and over) so you can get more of your friends and family involved.
In order to take part in this challenge you must be taller than 1.2m (3ft 11″) and shorter than 2.0m (6ft 7″). The maximum weight limit is 120kg (18.8 stone) and the lower weight limit is 30kg (4.7 stone)
Register for your place below, or give us a call on 029 2184 7310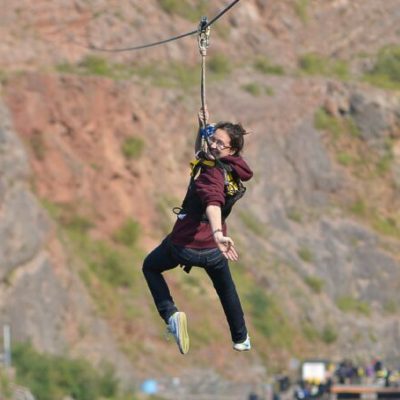 High wires for Tiny Lives


July 1, 2018




9:00 am - 4:00 pm