Newport 10k and Marathon 2020

Take on Newport next spring for Noah's Ark!
Please note: Due to the current situation, the 2020 Newport 10k and Marathon has now been postponed until Sunday 18th April 2021. We're still taking registrations for our 10k charity places so please register below if interested. Your support means so much to us, now more than ever.
Date: Sunday 18th April 2021
Races: Marathon and 10k
Fundraising target: £300 Marathon/ £200 10k
Register your Justgiving link: www.justgiving.com 
Make your miles matter and join Team Noah's Ark for the ABP Newport Marathon and 10k! As one of the flattest courses in the UK, the races attract runners from across Wales. The route takes you through Newport, showcasing iconic landmarks, like the city's Transporter Bridge and the stunning scenery of the Gwent Levels – with its coastal wildlife and picturesque medieval villages.
Charity places
We have now sold all our Newport Marathon places for 2020. We still have 10k places available!
We're lucky to have a limited number of gold charity places available for those who want to come aboard.
Being a gold runner, we ask you to raise a minimum of £300 for the marathon and £200 for the 10k, all going to the Noah's Ark Charity – money that will go directly to creating brighter todays and better tomorrows for the families at Wales' only children's hospital. You can read more about just some of the children you'll be helping here. 
Worried about the fundraising? Don't! We're here to help you every trainer step of the way. We can provide you with fundraising tips
When you join Team Noah's Ark, we'll provide you with:
An exclusive Team Noah's Ark running vest
A participant pack including a training plan and plenty of fundraising hints and tips.
Access to our Team Noah's Ark Facebook group
An invitation to our pre-race event where you will receive expert advice on training and nutrition.
Free bag drop off on the day of the event
A celebratory drink and massage at the end.
If that sounds good to you, take a step in the right direction and fill out our form below!
Got your own place?
If you have already signed up to either the Newport Marathon or 10k, we would love to have you as part of Team Noah's Ark too! Just fill in the form below and let us know if you'll be raising money for us.
If you have any questions, please get in touch with our Community and Events Officer, Rachael Southcott via email rachael@noahsarkcharity.org.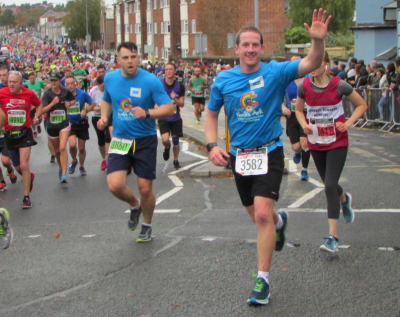 Newport 10K and Marathon


April 18, 2021




8:00 am - 2:00 pm