Noah's Ark Virtual Half Marathon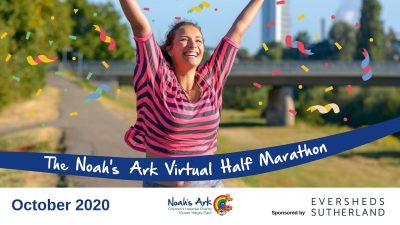 2020 certainly hasn't gone to plan but we can still help you tick off some of your personal goals while you help us achieve ours for the children of Noah's Ark.
Sign up for our Noah's Ark Virtual Half Marathon this October and we'll:
Send you a comprehensive one month training plan created by personal trainer, Faye Chamberlain
Provide you with a special medal and t-shirt (once you've completed your 13.1 mile challenge)
Give you plenty of support along the way
You'll get all of the above for a registration fee of just £20!

Whether you started running during lockdown or have been doing it for years, this is the 2020 fundraising challenge for you (and even if you're not a runner, there's no reason why you can't walk it!).
The plan we send you will be tailored to whether you'd like to complete your half marathon distance in one go or over a period of days. It will also reflect whether you are relatively new to running or more advanced. This means that we can give you the support you need to achieve what you want to. All we ask in return is that you aim to raise some much needed funds so that we can continue to support children and families at the Noah's Ark Children's Hospital for Wales.
As part of your £20 registration fee, we'll send you a training plan in four, weekly emails so you can build up  to your challenge. Once you've finished your Noah's Ark Virtual Half Marathon, we'll send you a special finishers t-shirt and medal as a lasting momento.
And – as a charity that's all about family, we'd never dream of leaving the children out.  If you have any little ones that want to sing up and complete the challenge over a longer period, let us know and we'll send them a medal and a specially designed finishers t-shirt at the end of it too!
Got a question? Visit our Noah's Ark Virtual Half Marathon Q&A page here.
How your support helps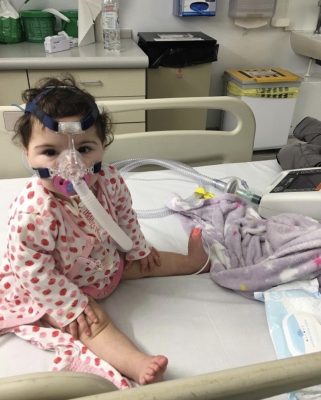 This is Eden-Olive. She spent very nearly the first year of her life as a patient at the Noah's Ark Children's Hospital for Wales.  She was born with  a condition called tracheomalacia, which causes the airways to collapse. During her time in hospital Eden-Olive underwent many operations and procedures and had several spells on the paediatric intensive care unit.  She also spent hours each day attached to a type of ventilator called a CPAP machine to help her breathe.
Many children at the Noah's Ark Children's Hospital for Wales need the support of a CPAP machine, especially during the colder months when chest and breathing conditions can worsen.
We're currently raising money with the hope of funding two new CPAP machines for the paediatric intensive care unit.  Your support will help us get there quicker.

On registration you'll be asked to tick a box confirming that you've read our terms and conditions.  You can find them here.
October 1, 2020 - October 31, 2020




8:00 am - 5:00 pm