TV and radio presenter, Lucy Owen, is a faithful and long standing ambassador of the Noah's Ark Charity and it's her birthday on the 18th of June. Lucy had her own very personal experience of the Noah's Ark Children's Hospital recently and here she tells us how it was a reminder for her of the importance of supporting the charity as it celebrates it's own 18th birthday.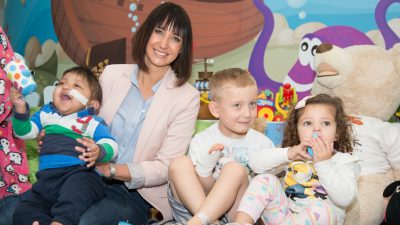 There's no doubt an eighteenth birthday is special. You can vote. You can buy a drink in a pub. You're officially all grown up and it's time to celebrate.
We now have an officially grown up Noah's Ark Children's Hospital for Wales and I for one, definitely want to join in the 18th birthday celebrations of The Noah's Ark Charity. It's raised more than twenty-two million pounds over those years for buildings, equipment and services, establishing the most incredible facility for children who need it. Surely that deserves a toast and a slice of cake?
I've been lucky enough to be involved with Noah's Ark for a number of years, supporting where I can and a little bit of fundraising through a children's book I wrote called "Boo-a-bog in the Park.'  It has always meant such a lot to me being part of the charity, particularly when I've had the chance to meet the incredible, dedicated staff who work there and the children who've received care.
It was only when my own son needed treatment though, that I fully appreciated just what an outstanding hospital we have for our children. Gabriel was taken ill with appendicitis. He was in real pain and was rushed to the hospital. He was monitored overnight, before surgery the next day. It turned out to be inoperable, the risk was too great. A course of intravenous antibiotics was our only option. We just had to hope they would work, or he would have to go through that more complex surgery.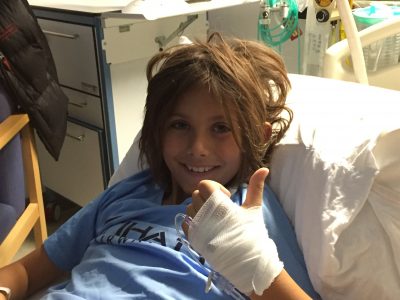 The treatment, care and support we had during our week long stay was just wonderful. Not only did I feel Gabriel was in the very best hands, the nurses and doctors had so much fun with him, making him smile and laugh, even when it hurt as needles were put in his little veins.
He responded brilliantly to the treatment and was soon well enough to make it to the games room. Once he'd discovered the pool table, X-Box and arts and crafts in there, I knew we'd be struggling to get him to come home!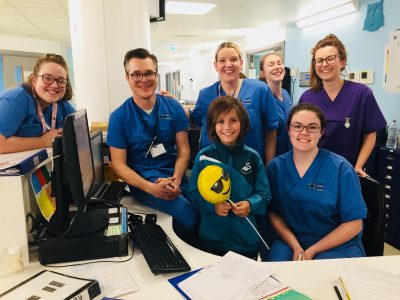 Despite the worry, I was constantly reminded we were some of the lucky ones. In the kitchen area where you can make yourself a cuppa, bring in some food and take ten minutes for yourself, I met other parents whose experiences put ours into perspective. One mum, who lived an hour and a half away, had been bringing her daughter there for more than ten years as she underwent numerous operations. She told me what a relief it was that there was a facility where she could stay at the hospital, so she could be near her little girl while getting the rest she needed to stay strong.
The eighteenth of June is my birthday, but I want to celebrate the 18th birthday of the Noah's Ark Charity this year. There are lots of ways we're being encouraged to do that too. I really like the charity's 'Donate Your Birthday' idea. What's the date of your birthday? Donate that. Or your age? You could give that. I'll have to dig deep on that one – it's almost thirty years since I turned 18! But I know now, more than ever, that my money will be going to a truly wonderful place. And we never know when one of our loved ones may need it.
If you'd like to donate your birthday in support of the Noah's Ark Charity this year and would like more information on how to go about it, call the Noah's Ark Charity office on 209 2184 7310.   You can also set up a donate your birthday function through Facebook. Click here for more information