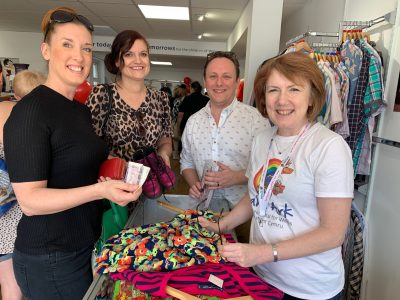 Our Birchgrove shop is currently closed as required by Welsh Government.
With guidelines around essential travel in mind, we're currently not accepting donations. We understand that many of you will have pre-loved items that you want to donate. If you could please hang on to them until further notice, we'd really appreciate it.
If you haven't visited us before, our community charity shop sells good quality pre-loved clothing as well as accessories, toys, books and entertainment items like DVDs and CDs.
The address is 91 Caerphilly Road, Birchgrove, Cardiff. CF14 4AE and telephone number is 029 2061 0611. There is a lay by and a bus stop outside the shop for convenience.
If you have any queries, please do not hesitate to contact the shop directly on the above telephone number or email ian@noahsarkcharity.org
Our longstanding hospital shop is situated in the entrance of the children's hospital itself.

Due to necessary changes within the hospital due to Covid-19 our hospital shop is currently shut.  We'll be back as soon as we can.