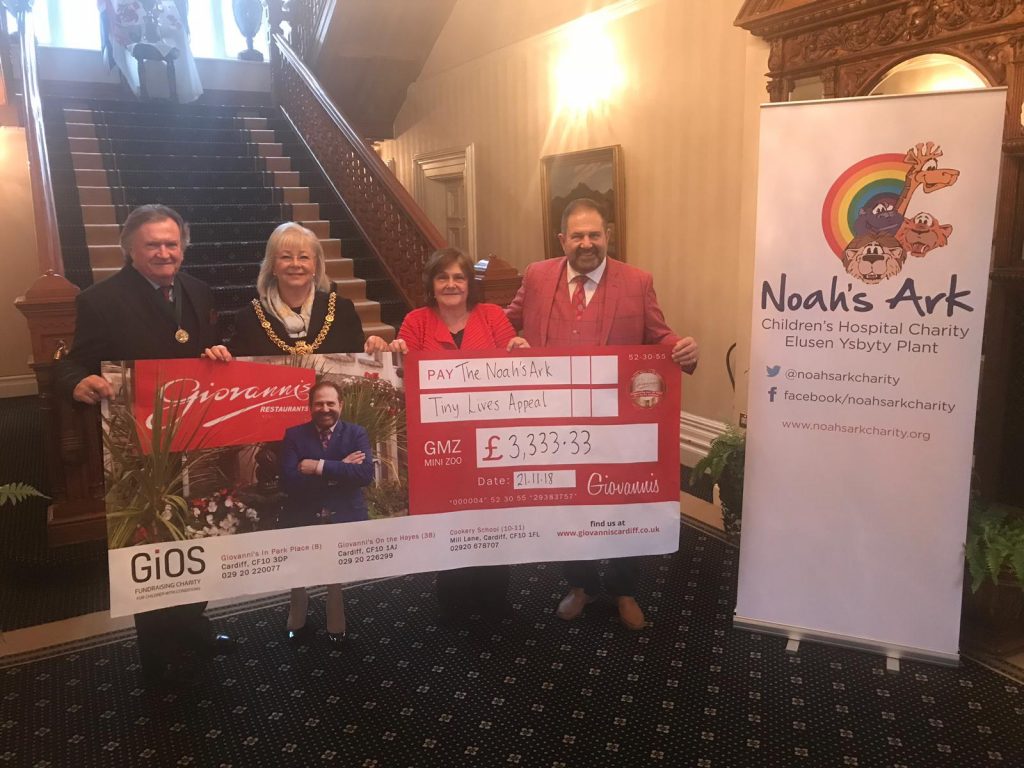 Some big names within the Cardiff business community came together in the lead up to Christmas 2018 to raise over £50,000 for premature and critically ill babies as part of the Big Give Christmas Challenge.  Both businesses and individuals alike were given the opportunity to double the impact of their donation to a number of charities during the week long fundraiser. The Noah's Ark's Charity's Tiny Lives Appeal was one of those who benefited from the challenge, the UK's biggest online match funding campaign.
Stuart Barrow, managing director of Promoting Independence, who had his £5,500 gift doubled through the match giving campaign, had a very personal reason to support the Tiny Lives Appeal through his business.
Stuart says: "On the 17th February 2010 Kian was born at the University Hospital of Wales after my wife Emma developed several complications including Gestational Diabetes and Preeclampsia and was rushed into the high dependency unit.   Within minutes of Kian being born, Emma haemorrhaged and was rushed into surgery. The neonatology team rushed to take Kian away as he had developed a croak and they were concerned for his welfare. Seeing my wife so unwell and my newly born baby in neonatal care was heart breaking. I was lost as a husband and a parent and I remember fondly the support the neonatal unit provided me, the nurses took so much time to talk me through the most harrowing of days.  Both Emma and Kian are now healthy and well and this is thanks to the incredible team at the hospital.
"Emma and I alongside my company have donated many items and funds to Noah's Ark – from a bed, baby monitors and money towards an incubator and this appeal has given us the opportunity to donate more towards the final payment towards the incubator. The extra funds that have been matched from incredible organisations and philanthropists, will enable Noah's Ark to fund much needed psychological support for parents like us who really do need this type of help.  We went through a lot of stress as a family during that time and even after eight years it still comes back to haunt you. Having someone to talk to who is qualified and trained to help is fantastic and we are incredible pleased to be providing funds towards this much needed service."
Giovanni, owner of Giovanni's Restaurants raised a total of £3,333 for the Tiny Lives Appeal as part of the business' 35 year celebrations. That donation was then doubled to £6,666 as part of the Big Give Christmas Challenge.  Giovanni says: "Supporting the Tiny Lives Appeal and being involved in The Big Give is my way of showing gratitude for the fact that my own children are happy and healthy.  People say charity begins at home but I think it's really important not to turn your back on anyone who needs you, especially the most small and vulnerable among us.  Some of the stories from parents have really touched my heart.  Being a mum or dad to a NICU baby must be incredibly hard and it's great that, through the Tiny Lives Appeal, we're able to help them as well.
"I got involved with the Tiny Lives Appeal through the Lord Mayor of Cardiff, who has chosen it as a cause to raise money for during her year in office.  The Lord Mayor was a guest at our 35 year celebrations and we've been supporting her efforts to raise money and awareness of the appeal ever since."
Other businesses who had their donations doubled for the Tiny Lives Appeal this during the Big Give Christmas Challenge include Wilkinson PR, Ola Cabs, Nassa Travel, Community Housing Cymru, S3, Bibado, Savills and Brian Hall.  A total of £69,850 was raised for the Tiny Lives Appeal during the Big Give Christmas Challenge with the remaining money donated by individuals.
To find out more about how your business can get involved with the charity's work, visit our corporate page here.