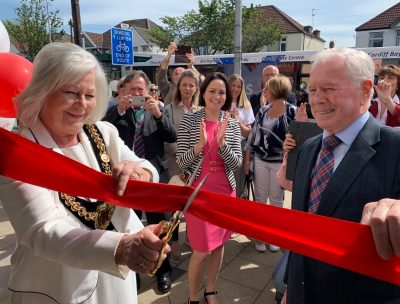 The Rt. Hon. The Lord Mayor of Cardiff, Cllr Dianne Rees, saw her year of term out in style by launching the first ever Noah's Ark Charity community shop. And the occasion was a double celebration for the charity as the Lord Mayor also took the opportunity to present a cheque for an incredible £200,000. The total is the highest ever raised for charity by a Lord Mayor of Cardiff during their term in office!
Speaking at the shop launch, the Lord Mayor said: "I am absolutely delighted to hand over this fantastic sum of money to Noah's Ark and I am genuinely grateful to everyone who has donated their time and money to help surpass my initial target by such an outstanding amount.
"I chose the Noah's Ark Children's Hospital because I was so impressed by the excellent staff and the focus they give to the needs of the children. It has been wonderful to see council staff, councillors and members of the public embrace this fundraising campaign, digging deep to help achieve this wonderful amount.
"This has been a very special year for me and I have thoroughly enjoyed working alongside the charity, during their 18th anniversary year. There have been so many highlights and I will take away some wonderful memories.
"I would like to say a big thank you to everyone who has supported my fundraising campaign and I am overjoyed that the Tiny Lives Appeal will continue to support the neonatal unit at the University Hospital for Wales, providing world class care to some of the most premature and critically ill babies in Wales."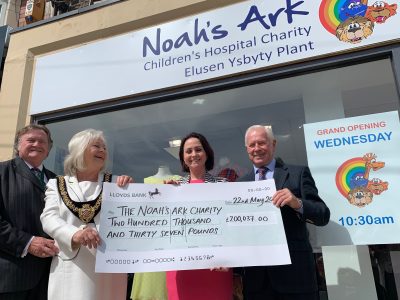 The Noah's Ark Charity community shop, which sells all kinds of pre-loved items from baby clothes to homeware, is situated on Caerphilly Road in Cardiff, just a stone's throw away from the children's hospital which it supports.
Though our shop in the hospital's reception area has been an institution now for many years, the new premises on Caerphilly Road is the charity's first ever community shop.
Shop manager, Ian Beesley, says: "All of us at the Noah's Ark Charity are extremely excited to finally have a presence here on the high street where we can raise much needed funds for the hospital while meeting so many of our supporters face to face. As an organisation that's committed to supporting both current and future generations of children, we're also very proud to be doing our little bit to help the environment by encouraging re-using and re-cycling too!"
"Thanks to what's become known as the Marie Kondo effect, there's been a significant boom in the donation of pre-loved items to charity shops. In the words of the lady herself, we're hoping that the act of both donating and buying at our new shop will 'spark joy' for our supporters, knowing that their actions are helping thousands of families at the children's hospital just around the corner."
You can find out more about our new shop here.