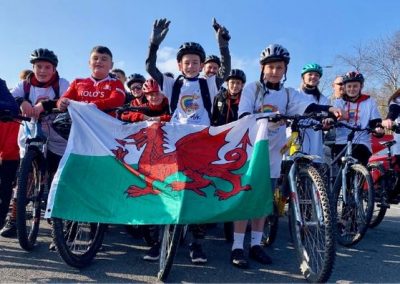 "Hi, I'm Iolo and I recently became a young ambassador for the Noah's Ark Charity.
I first became aware of the hospital when I became ill in April 2018. I got sick very quickly and was transferred from my local hospital as an emergency and admitted to Jungle ward. The nurses there were very friendly and became close to me and my parents and worried about me.
My doctor at Noah's Ark said I had ulcerative colitis and I was getting very unwell. After a few days I got much worse and my doctors thought I might die so I needed surgery to remove my bowel. The surgery went well and I was sent   to Owl ward to recover. Everyone looked after me and made me feel so much better and after a month I was allowed to go home.
Because my parents and I were so grateful to Noah's Ark, we wanted to raise some money for the charity, so I wanted to do a bike ride. The ride was 100 miles from Merthyr to Brean Sands and I rode the whole way. I was really happy that we raised a lot of money.
When I was asked to be an ambassador, I was really chuffed. I want to make sure people know that Noah's Ark needs money to help other ill children with toys and special visitors or hospital equipment and I am always happy to help on fundraising days with the team. I have encouraged other to raise money for Noah's Ark too and have my family friend and one of my school teachers running the Cardiff Half Marathon on my behalf too, so I am hoping they will raise a lot of money!"
If you are a young person with experience of being a patient at the Noah's Ark Children's Hospital for Wales, we'd love to hear from you. There are many ways that you can get involved in our work, from fundraising and volunteering to writing articles for our newsletter and website. If you're interested, email Bethan@noahsarkcharity.org.