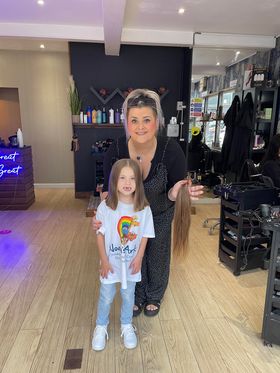 Harper from Pembrokeshire was known for her princess like long hair and had never wanted to cut it, until one day, out of the blue, she asked her mum Sophi if she could cut it short.
Harper's older sister Laci  had raised money for another charity that was close to the families' hearts a while back  so as Harper spent time on the neonatal intensive care unit when she was born, Sophi suggested that she raise money for the Noah's Ark Childrens Hospital for Wales in the same way.
Harper was born in July 2016 with a rare birth defect called Tracheoesophageal Fistula and Oesophageal Atresia, which is a condition resulting from abnormal development of the tube that carries food from the mouth to the stomach (the oesophagus)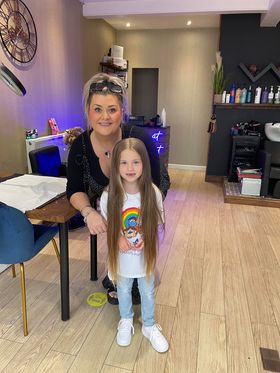 Despite having what was considered a textbook pregnancy Sophi had a nagging feeling that something wasn't quite right.  At birth Harper's skin was purple in colour. She was also very unsettled which as it was later discovered, was due to the blockage that was restricting Harper's airways. Baby Harper was struggling to breathe.
Tests and x-rays confirmed Tracheoesophageal Fistula and Oesophageal Atresia. Left untreated, the condition is incompatible with life so at just days old, Harper was blue-lighted to the Noah's Ark Children's Hospital for Wales for correctional surgery.
Harper recovered well and spent the next two weeks recovering on Owl ward.  Now six, Harper continues to receive check ups and is still seen regularly by the surgical team.  She's also seen regularly by the cardiac team for a small atrial septal defect, a hole in the wall (septum) that divides the upper chambers (atria) of the heart. Harper will need surgery for this when she's older but for now it's well managed.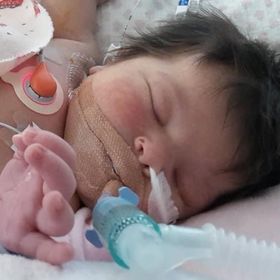 While being cared for at the Noah's Ark Children's Hospital for Wales, nurses and doctors would always marvel at Harper's full head of hair. Now she's used 22 inches of that hair to raise an incredible £1,161 for Noah's Ark.  Harper's hair will also be used by the Little Princess Trust to provide real hair wigs to children and young people who have lost their own hair through cancer and other treatments.
Well done, Harper, you are a SUPERHERO! Thank you for raising such an incredible amount of money!