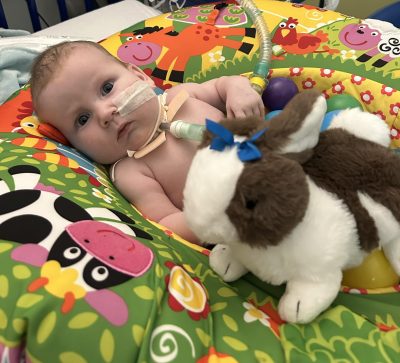 Did you know that many of our young patients are either too small or too unwell to eat Easter eggs? Others also have specific dietary needs which means they can't have some of the ingredients in chocolate.
It's why this Easter we're again asking you, our loyal supporters, to consider donating to our Sparkle Fund instead. This special fund makes it possible for us to sprinkle a little fun into the lives of children at the Noah's Ark Children's Hospital – both during special occasions like Easter and throughout the year.
By donating to our Sparkle Fund, you'll be making sure that every child gets a treat this Easter, regardless of their age, condition or dietary need. Any money left over will allow us to provide fun activities within the hospital and fund days out for some of our longer term families.
Recently, the Sparkle Fund made it possible for the family of long term patient, baby Ottis, to have some time together away from the confines of the hospital at Treetop Adventure Golf.
Mum Alex said: "It was amazing! It was very emotional. I've been living at the hospital for the last 15 weeks and I've only seen my older son Freddie on weekends. I've missed him so much and I know he's been missing me. During our trip out together I didn't have to focus on Ottis' medication. I knew he was safe with his nurses in hospital so I could just focus on us. Freddie loved having his mum and dad all to himself, we had such an amazing time. We are so grateful for that night as a family. Thank you so much to the Sparkle Fund and all the Noah's Ark team for organising this time for us."
To find out more about making an Easter donation to the Sparkle Fund click
here