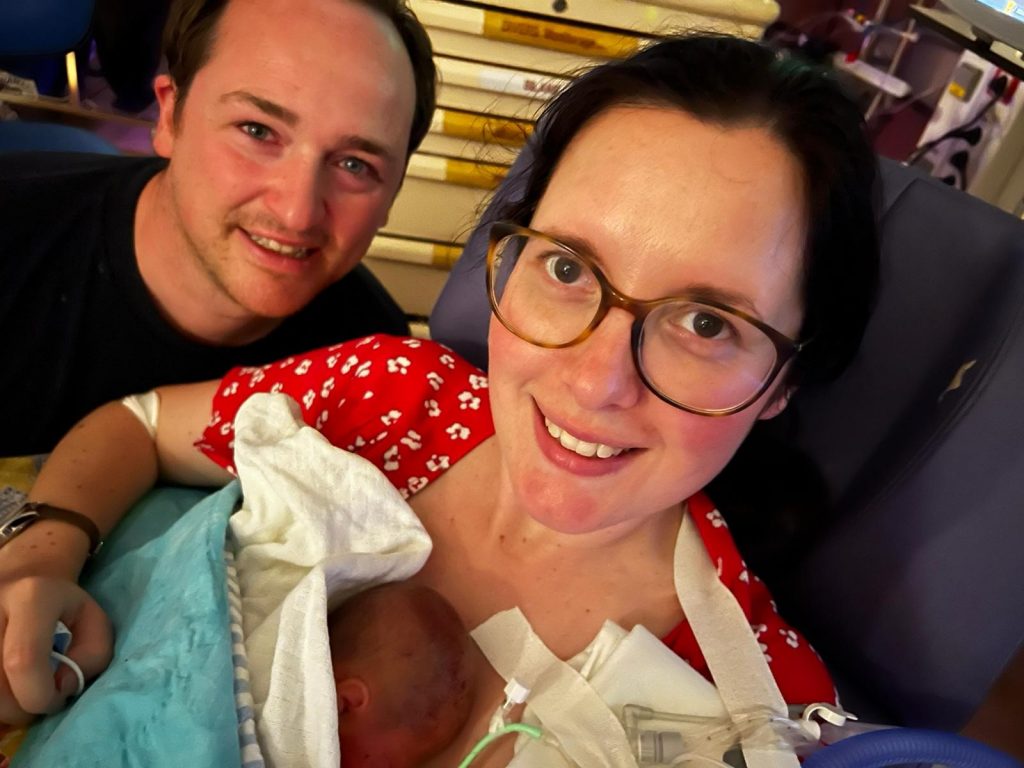 In June 2022 I went on holiday to France – 26 weeks pregnant, with my husband Mark and my 20-month-old daughter, Robyn. Our last holiday as a family of three. Just over two weeks later, I came home from 'holiday' holding my baby's ashes.
After a couple of days of our holiday, I went into early labour in the middle of the night, totally unexpected and very quick. Thankfully we made it to a hospital in time and after failed attempts to slow everything down, Marty was born. There was no newborn cry, and I was absolutely convinced I was going to be told my baby was dead – in French. But against the odds, Marty survived, and was transferred by helicopter to a specialist unit in the nearby city of Nantes.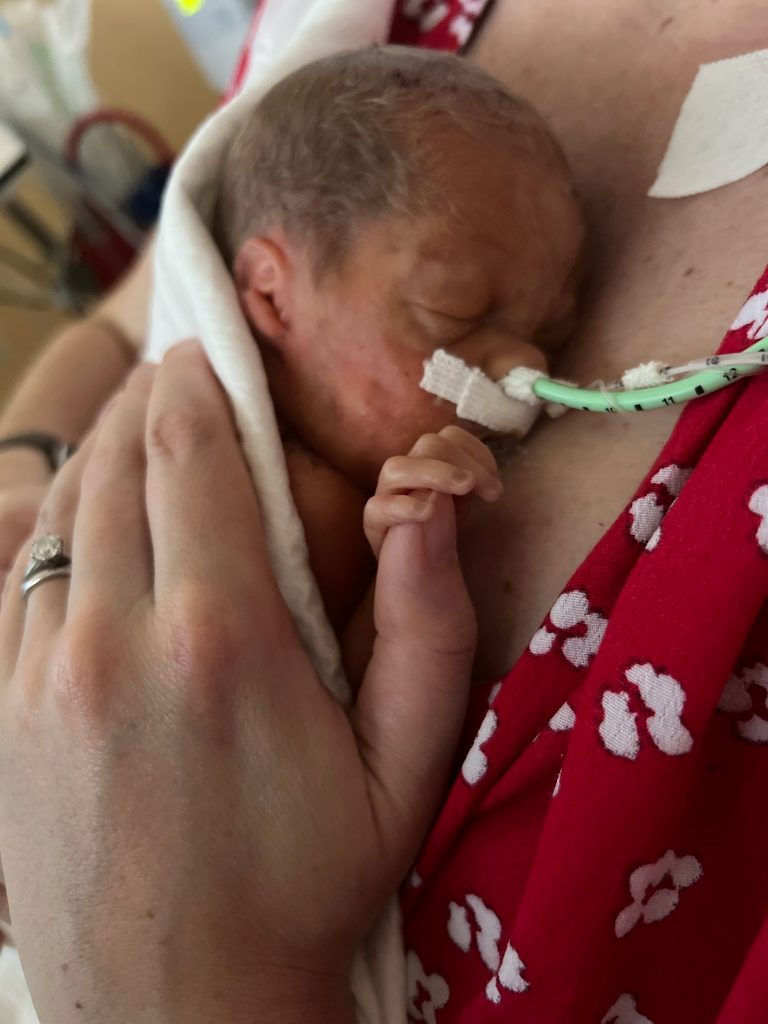 The next day I was also transferred to Nantes hospital as a patient, feeling physically fine, although mentally and emotionally stunned, and with an infection in my blood, which had caused my labour. Things felt like they were 'looking up' though – the four of us were now in the same city, we had Mark's brother with us to help with Robyn (Knight in shining armour style), doctors said Marty was doing well, and even mentioned flying him home to Cardiff after a couple of weeks. We started to allow ourselves to feel optimistic.
But by day three of Marty's short life we were given the devasting news that he had a bleed on his brain. This got progressively worse, spread and continued. Within a matter of two days we went from the potential of learning difficulties in later life, to being told he wouldn't be able to survive.  We had to make the heart-breaking decision to remove Marty's support.
I have written in detail about Marty's life, our time with him and my experiences in the months that have followed – 7 days with our son, having a baby in a neonatal ward, being in hospital in a foreign country, trying to bond with my baby, how Robyn met her little brother, and what really pushed me to start my blog – the feeling of isolation on coming home and realising what an unspoken topic baby loss is.
I took six months maternity leave from work and I did a lot of writing, documenting our forever journey of life after Marty. I set up my blog Marty Matters and Instagram page @marty.matters, to both help me move forward, but also in the hope it would provide some kind of comfort to someone going through something similar, or people trying to support someone else. It's been read by more than 4,000 people now. It's a huge comfort to me to know that Marty's life is making a difference to other people.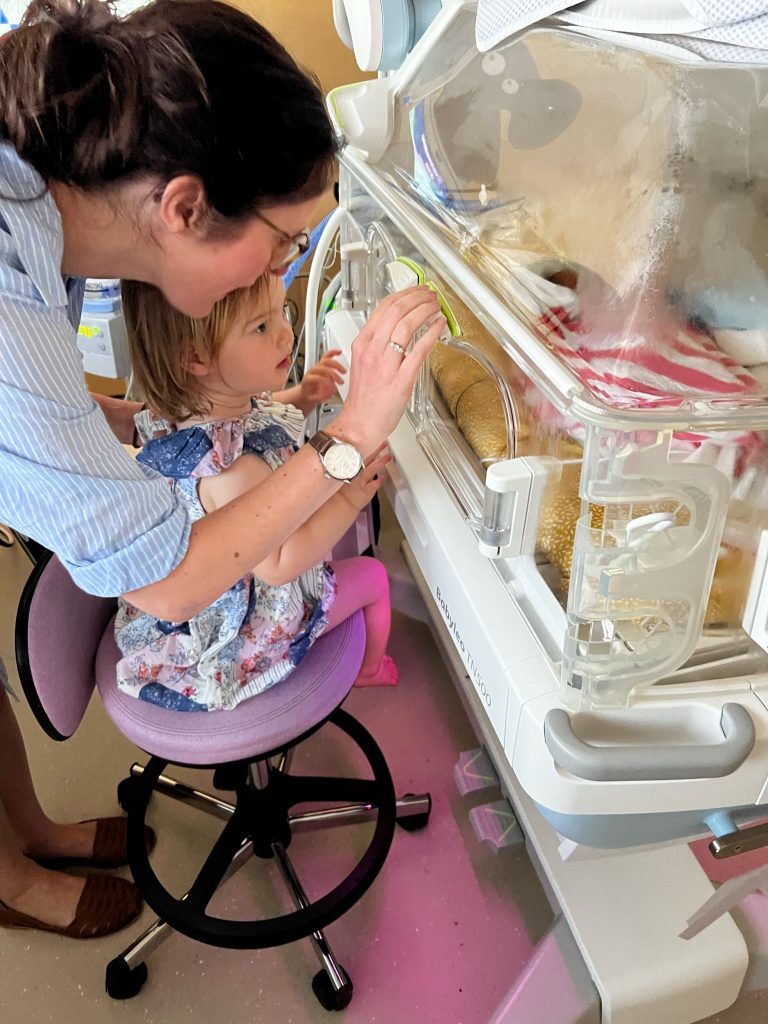 Determined his life would make a difference to the world, and like we were following some sort of textbook for grief – my husband Mark committed to a charity bike ride through France which he is completing this June. The Noah's Ark Charity's ongoing neonatal appeal, Tiny Lives, is one of the three charities we have chosen to support. Marty would have been born early no matter where in the world we were. So if we were at home in Cardiff, he would have been treated at Noah's Ark.
And if we had all made it home from France, he would have been transferred there and cared for until he was ready to come home.
Marty received such amazing care from the unit we were in in Nantes – from people who have made a lasting impression on us and our enduring memories of our time with our son. The doctors and nurses gave us news that shattered our lives but in the most gentle and supportive way. We hope that the money we are raising for Noah's Ark goes some small way to helping those medical professionals with the life changing role they play. And that it funds care for babies and their families here in Wales – through both the good times, and the worst.
Mark is going to cover almost 400 miles – cycling off the ferry in the port we started our 'holiday', through Nantes where Marty was cared for, and ending in the town he was born. Mark has never cycled more than a small stint of the Taff Trail as a teenager so it's a big challenge for him! You can find out more about his ride and donate by visiting our JustGiving page.
Thank you for reading this article, and I hope that this takes another small step towards opening up a conversation that affects so many families. And raising money for a wonderful charity!
Jo x