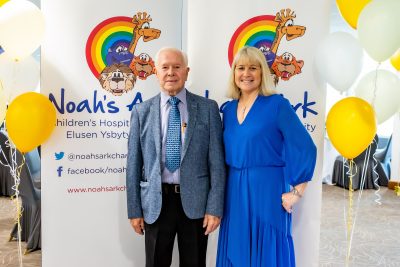 This year's Royal Ascot Charity Day at Chepstow Racecourse set a record high in its fundraising in aid of the Noah's Ark Children's Hospital Charity. The 13th Royal Ascot Charity Day, held in June, raised a remarkable £73,000 – the largest amount since Caldicot-based Chepstow Plant International launched its Royal Ascot Charity Day in 2002.
The popular annual event organised by Noah's Ark Charity vice chair, Julie Hayward, hosted 270 guests who all enjoyed a fantastic luncheon and afternoon tea. The event also had a Gold Cup raffle, and live auction with incredible items available including a brand-new Toyota Aygo donated by the Chairman of the Noah's Ark Charity, Eddie Hayward which raised an incredible £13,000. A Formula 1 weekend and other amazing sporting occasions and weekends away were amongst some of the other prizes up for grabs!
This year's event also featured the inaugural 'Best dressed table of guests' competition, which was won by Morgan's of Usk.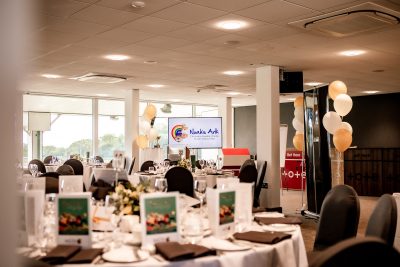 Chepstow Plant International has raised over £1,000,000 for charities over the last two decades and has supported the Noah's Ark Charity for 16 years. The organisation supports Wales' only children's hospital by funding life-saving equipment, facilities, and services for the 73,000 children and families cared for there each year.  The incredible amount of money raised from the event this year will provide a much-welcomed boost to the charity's Tiny Lives Appeal, which aims to raise £300,000 to fund ventilators, incubators, and transport incubators for the neonatal intensive care unit.
Director of the Noah's Ark Charity, Suzanne Mainwaring, said: "Our sincere thanks go to Chepstow Plant International and the Hayward family who have made Royal Ascot Charity Day a highlight event for loyal guests who return year on year. The generosity of the many auction prize contributors and all those involved in staging the event has given our Tiny Lives Appeal a huge boost, meaning that we will now be able to deliver on the urgent need for lifesaving equipment even sooner than we'd hoped. We'd like to say a special thank you to Chepstow Racecourse for its hospitality and to all the guests who attended and embraced the ethos of the day so enthusiastically. Not only has your generosity made 2023 one for the books but you have made a lasting difference to the thousands of families that we support."