Dylan hits his peak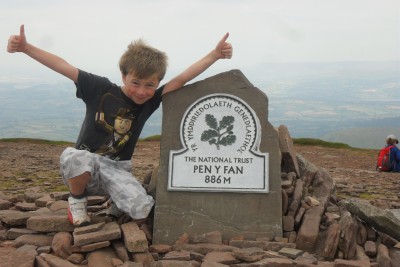 Hari Carlyon was born in 2008 despite fears that he would not survive. However, he began showing signs of delayed development due to hyper-mobility in his joints resulting in an inability to crawl and walk.
As part of his treatment, Hari had a course of hydrotherapy in his local hospital. The staff worked hard to build his muscle strength and core stability in a series of sessions in the pool. Soon after, Hari took his first steps just a few days after his second Birthday. Mum Ceri admitted she 'shed a tear' when he took those steps and describes the past few years as an 'emotional rollercoaster.'
Hari's big brother Dylan supported Hari through every step of this journey standing by his side and showing him how to walk, one foot at a time. Ceri said; 'Dylan has always been very supportive to Hari, both physically and mentally.'
This clearly remained in Dylan's mind when he heard about the Noah's Ark Appeal's Splish Splash Splosh campaign. Dad David recalled; 'He was really excited that the Noah's Ark Appeal were raising money for a dedicated hydrotherapy pool for children. He asked if he could do something special for his little brother and other children in South Wales.'
Dylan decided that he would walk the three peaks of the Abergavenny area, Skirrid (1601 feet), Sugarloaf (1955 feet) and Pen-Y-Fan (2907 feet). His proud parents (with the help of family and friends) walked with Dylan and helped him undertake this challenge which he completed in an amazing 9hours raising over £4000.