Great Welsh Walk FAQs
How do I get to my starting point?  
If you are completing the full seven day challenge or just walking on the Saturday and Sunday (16th and 17th), we can drive you to Machynlleth on Friday 15th May. The pick-up point will be from outside the Children's Hospital at 1.30pm.
If you're just walking with us across the weekend, you will have to make your own pick-up arrangements as our minibus and staff will be needed for the remainder of the challenge and won't be able to take you home.
If you're taking part in one of the seven days, you will need to make your own travel arrangements to your starting point and then after you've finished the walk.
What happens to my luggage if I'm walking for more than a day?
There will be parking at bunkhouses along the route. Once you've parked your car, the walk will commence for that day. After the walk finishes, a member of staff will take you back to your car. We can only do this if you're walking for one day.
I will be driving to my starting point, where can I park?  
Your luggage will be transported to your walking end point if you finish that day or to your next accommodation.
What about insurance?  
All walkers are covered by Noah's Ark Charity public liability insurance. You are of course welcome to take out additional personal insurance should you wish to.
What's NOT included in my registration fee?  
The following are NOT INCLUDED in your registration fee:
Accommodation for Friday 15th May
Evening meals. These will be organised by the support team if you have booked overnight accommodation with us but payable on the day.
Specific snacks and drinks – though our support team will provide water refills and cereal bars at certain points along the daily route.
Accommodation for Friday 22nd May (if you don't live in Cardiff and were thinking of staying)
We will be staying in The White Lion Hotel in Machynlleth on Friday 15th May. Book your room here.
I'm all paid up but sadly I can no longer take part. Can I have a refund?
Under normal circumstances registration fees are non-refundable. However if it becomes necessary for us to change the date or cancel the event entirely, we will refund your fee.
Your registration fee helps us to cover the costs associated with putting on the walk, ensuring that all the money you raise goes to supporting the 73,000 children looked after by the children's hospital each year.
If you'd like to discuss this further, please call us on 02921 847310.
Do I need to be able to read maps?  
No, we've got all that covered. There will be a qualified mountain guide with you at all stages on the walk.
Where do we meet each day if I'm only doing it for one or two days?
This obviously depends on which day/days you're doing but all the information will be included in the pack which we'll send you in plenty of time.
Will I get a kit list? 
Yes a detailed kit list will be sent to you in your participation pack.
What if I get injured along the route or can't finish the walk?
Your fully qualified first aid guides will be in constant contact with the support crew. If you are unable to complete a day's walking for any reason, you will be picked up by the support crew at the next available opportunity.
Where will I stay if I'm doing more than one day?
We will be staying in bunkhouses along the route.  We've checked them each one and they all pass our comfort and cleanliness standards.  We'll send you more info in your registration pack.
What about food and refreshments?
Breakfast and a packed lunch will be provided as part of the registration fee for anyone taking part for more than one day.  The arrangements for evening meals will vary depending on which day you join us for but rest assured, a hearty meal is guaranteed at the end of each day.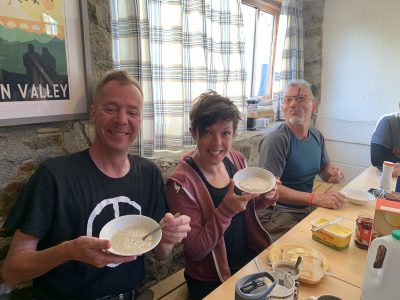 At what time each day will the walk begin and end?
The walk will start at approximately 8am each day and, weather dependent, end around 5 pm.
How fit do I need to walk 18 miles a day?
You'll need to be fit. You'll be covering around 18 miles in 8 hours with a rucksack and the terrain will be hilly and mountainous in places. We'll be sending you out some training advice with your pack but if you have any questions or queries at all about this then please feel free to give us a call for a chat.
Are some days harder than others?
Yes. Days 1 and 5 both include a fair bit of uphill walking. Day 5 crosses the Brecon Beacons which will be mountainous terrain.

I'm not sure I'll manage a full day. Are there half day options available on any of the days?
Yes. If you'd like to discuss half day options, email Linda@noahsarkcharity.org.
Will there be a guide? 
There will be a qualified mountain guide with you at all stages on the walk.
What happens if I the walkers gets separated from the group?
We'll make sure that doesn't happen. There will be a qualified mountain guide both at the front and the back on the group.
Do I need to tell you if I have any medical conditions or if I'm taking any medication?
Yes. A medical form and declaimer will be sent out nearer the time.
Will I need any specialist clothing and footwear?
Yes, you will need waterproofs (jacket & over trousers) & walking shoes, a small ruck sack with food, water and extra clothes. A full kit list will be sent out in your pack.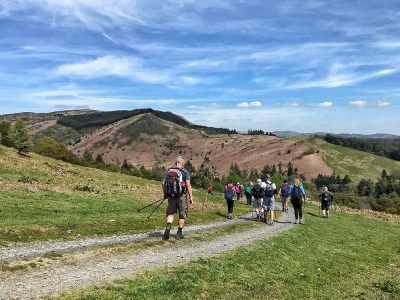 Will there be first aiders on hand in case something happens along the route?
Yes. Every member of the Dave Talbot – Adventure Events team are all first aid trained.