Caleb's story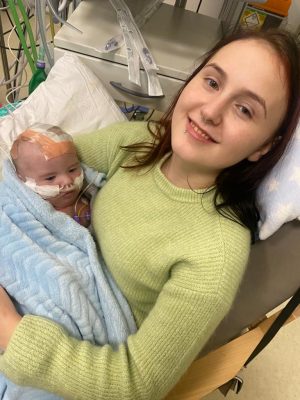 At least one in 12 babies are born with a rare disease. 75% of the 6,000 known rare diseases effect children and the causes of many of them are unexplained and often very difficult to treat.
Baby Caleb was born with DiGeorge syndrome, a rare genetic condition that can cause a range of lifelong problems, including heart defects and learning difficulties.
Caleb's mum, Charlie, first learnt that there was something wrong at her 12-week scan when excess fluid was detected around her baby's neck. Charlie was referred to the foetal medicine unit and it was there, after further tests, that baby Caleb was diagnosed with DiGeorge Syndrome. A detailed follow up scan detected a range of problems with the baby's heart including a ventricular septal defect. Caleb also had a multicystic dysplastic kidney, a condition where the kidney is replaced by multiple cysts.
During her labour, both mother and baby contracted sepsis and Charlie was rushed for a caesarean section. Caleb wasn't breathing at birth, and it took the NICU team, 25 minutes to get Caleb stable enough to be taken to the neonatal intensive care unit. At six-weeks-old, Caleb was transferred to Bristol for major heart surgery to repair his multiple cardiac conditions and he then spent the next five months of his life on the paediatric critical care unit back at Noah's Ark.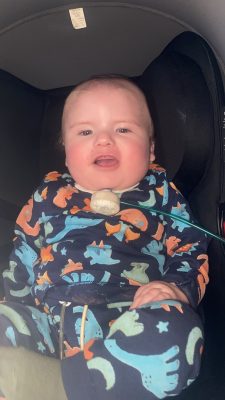 Not long after he arrived onto PCCU, Caleb went into cardiac arrest and caught pneumonia. He was sedated and ventilated to protect his little body but began fighting every kind of sedation he was given. As Caleb also had a floppy airway, the clinical team decided to perform a tracheostomy, both to assist his breathing and to support his airway until it was strong enough to work on its own.
Both Charlie and mum, Gemma, who has been a constant source of support, believe that the tracheostomy was a huge turning point for Caleb. By Christmas, he was well enough to move to Island ward. With a view to finally getting the family home, Charlie and Gemma started working with a parent training nurse to learn to care for Caleb's tracheostomy. As Caleb can't take food orally, they were also taught how to feed him through a gastric jejunal button – a feeding tube inserted through the skin of the abdomen into a part of the small bowel.
On January 31st, 2023, Caleb was finally well enough to go home for the very first time. To mark the end of his first chapter and the beginning of his next, Caleb rang the end of treatment bell on Island ward, accompanied by his proud Mummy and Nanny.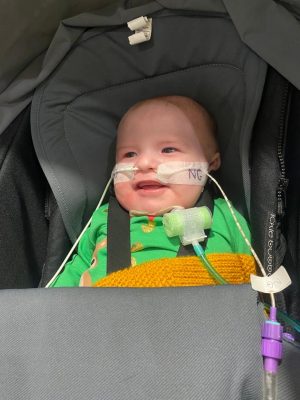 How your support helped
Your donations helped fund the incubator that kept Caleb warm and safe while he grew strong enough to undergo major heart surgery. You helped us fund the non-invasive ventilators which supported Caleb's breathing on PCCU and the training doll which Gemma and Charlie used to learn how to care for Caleb at home. You also make it possible for us to fund sparkle co-ordinator, Holly, who brightened up Charlie and Gemma's long hospital stay with therapy dog visits and sometimes just a friendly listening ear.
Thank you.