Caleb's story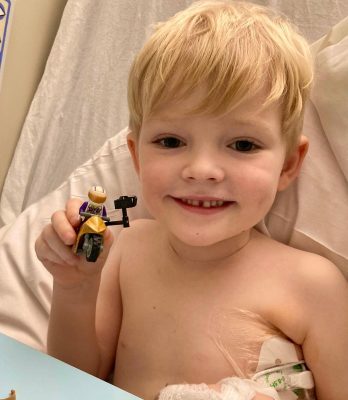 This is five-year-old Caleb. He was an incredibly healthy young boy until he developed a cough a few weeks before his fifth birthday. Caleb had not been himself for a few days and started to develop a temperature which caused him to have hallucinations.
His concerned parents rushed him to their local hospital, the Royal Glamorgan Hospital, where he stayed for a week while they determined the cause of the problem. Caleb's infection markers had only got higher as the days went on. When he was scanned, doctors discovered he had pneumonia.
Caleb was transferred to the Noah's Ark Children's Hospital for Wales where he had a chest drain inserted to drain the fluid from his lungs. As soon as they were checked in, play specialist, Polly, was there to lift their spirits.
Caleb's mum, Lisa, says: "Polly came in straight away to ask what Caleb was in to and before we had time to unpack, she was back with dinosaurs and a DVD player with some films for him. Caleb was elated by Polly's welcome on to Island ward. She then visited us daily, bringing different things with her each time to distract and keep Caleb interested. As a parent it had such a massive impact on us all, we honestly don't know what we would have done without her.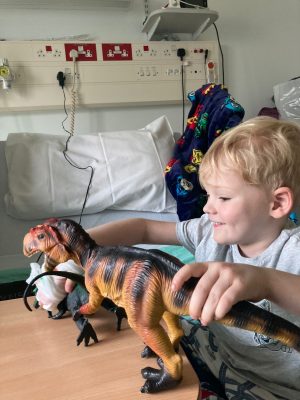 "As Caleb had a chest drain, he was bed bound for the majority of our stay, so these distractions were absolutely vital in us getting Caleb better. Polly made such a difference to Caleb and to us. Before we were transferred to Noah's Ark, Caleb was so down and to see him playing again was so lovely. Polly was so caring and helpful and was always there to offer us a cup of tea. You could tell she genuinely wanted to help him.
"He won't remember the horrible parts of his stay in hospital, but he will never forget Polly. Thank you, Polly, we'll never be able to thank you enough for everything you did for our little boy. "
Thanks to supporters like you, the Noah's Ark Charity has now been able to help provide funding for play specialists like Polly for the last ten years. Thank you