George's story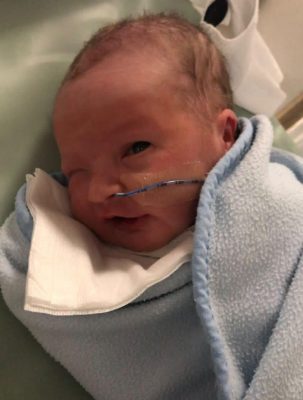 Three-year-old George from Cardiff hasn't had the easiest of starts in life. His mum, Stephanie, contracted Hepatitis A from food preparation while she was pregnant which caused problems with her liver which doctors feared was affecting George.
Due to the concerns over George's health, Stephanie was induced and her 'gorgeous George' arrived in March 2019 at 35 weeks. Sadly, their doctors' worst fears were realised when tests confirmed that George had also contracted Hepatitis A. Like his mum, the condition was causing issues with George's liver and he was also having hypoglycaemic attacks. As a result of his early birth, George also developed 'wet lung' which turned in to sepsis.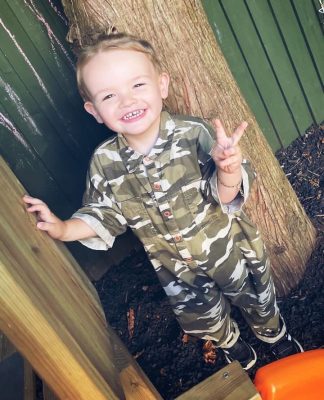 Miraculously, despite having endured all that, George was well enough to go home at just eight days old but continued to receive weekly check-ups at the Noah's Ark Children's Hospital. Most recently George was back in as an inpatient having his tonsils and adenoids removed after suffering with obstructive sleep apnoea, where mum Stephanie says he would often stop breathing at points while he slept. He still suffers with his chest and has recurring chest infections which makes him quite the regular at the hospital.
Stephanie said: "George was so poorly during his first eight months and has been ever since. He is yet to be formally diagnosed but is believed to have autism and often struggles with certain environments, so we were particularly grateful to the staff at the hospital who were just incredible with him prior to his surgery. They took George's teddy to theatre with them and put the mask on teddy to show George the steps before they took them down. To help to calm George before surgery, they allowed us into the sensory room which as amazing for George. We were also provided with a tablet so that George would watch paw patrol.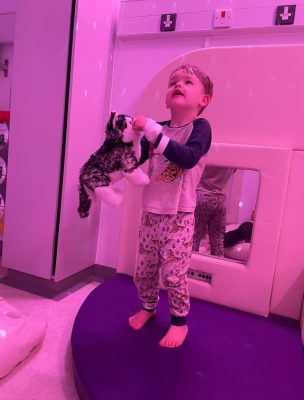 "Every time we come to the hospital the team are all so excellent with George. Nothing is too much trouble and they go out of their way to make the experience that little less stressful for George. So, thank you all for everything you do to help us and others like us."
Donations made by people like you have helped to fund life-saving equipment on NICU where George spent his first week. It funds the play specialist service who kept George happy and calm during his stay in hospital and the sensory room where George enjoyed some time before his operation.