Ivy-Mai's story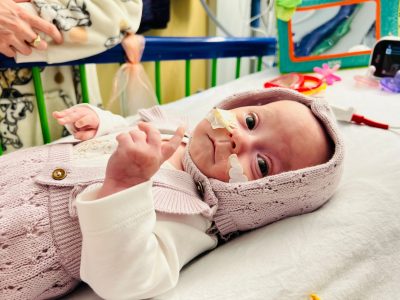 28-week- old Ivy-Mai spent most of her little life in the Noah's Ark Children's Hospital for Wales. Born 10 weeks early after mum Brooke's placenta failed and weighing just 2lbs 14oz, Ivy-Mai was diagnosed with a rare and portentially life-threatening condition called tracheo-oesophageal fistula (TOF) and oesophageal atresia. This is where part of the oesophagus is joined to the trachea (windpipe).
At one day old, Ivy-Mai underwent a four-and-a-half-hour procedure to separate the oesophagus from her trachea and repair the part of the trachea where the oesophagus was originally joined, Without it, Ivy-Mai would not have been able to feed.
Ivy-Mai did go home for a short while but it became quickly apparent to mum, Brooke, that something wasn't right. One day Ivy-Mai choked and Brooke had to perform CPR and call 999. Ivy-Mai was taken to to the Noah's Ark Children's Hospital where she then stayed for several months.
First time mum, Brooke, experienced her time in hospital alone while her partner worked to provide for the family. As he was unable to drive and lived so far away, he only saw Ivy-Mai a handful of times.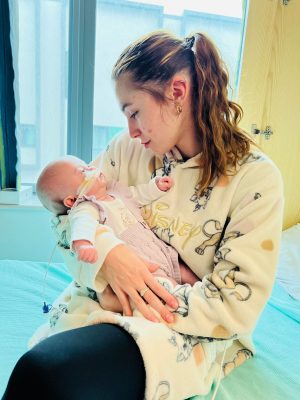 Brooke said: "Since Ivy-Mai is my first baby I had nothing to compare it to, I think I was just going through the motions –  I think I was in shock. I had a perfectly healthy pregnancy until my placenta failed and we were given Ivy-Mai's diagnosis.
"I'm fortunate to have a great support system with my partner and mum but it would have been so much better to have someone there with me when or if there's was any bad news –  just for someone to support me. You don't understand how difficult it is to have a sick baby until you have one of your own. The hospital was incredible with Ivy-Mai but sometimes you need someone to turn to."
Ivy-Mai got to go home just in time for Christmas after successful PEG and fundoplication surgery, At only five months old, it was the second surgery. The purpose of the operation was to place a flexible feeding tube through the abdominal wall and into Ivy-Mai's stomach. This now allows nutrition, fluids and medications to be put directly into Ivy's stomach, bypassing the mouth and oesophagus.
Ivy-Mai recovered well from surgery and is now continuing her recovery at home with support from the Noah's Ark team.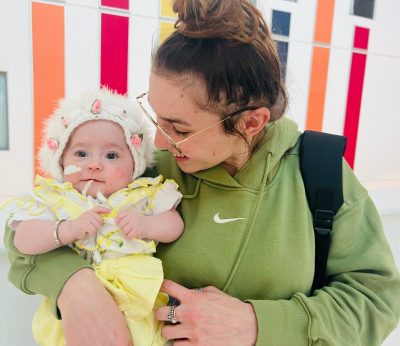 Brooke said: " I was really scared about going home at first because of everything that's happened with Ivy-Mai since she was born. But as soon as we got her there everything fell in to place. She's taking her feeds, we're managing her medication and she's sleeping brilliantly.
And it's so nice to do the normal things again like the supermarket shop and have cuddles on the sofa.
"It's reassuring to know that we have open access here at the children's hospital and her team have been brilliant at keeping in touch and checking in on me. We get the best of both worlds now because she's at home but we still feel supported and cared for by the staff both here and in the community."
Our Here for You Appeal aims to provide an emotional support service for children and families like Ivy-Mai and Brooke's. For more information and to donate, click here