Rafy's story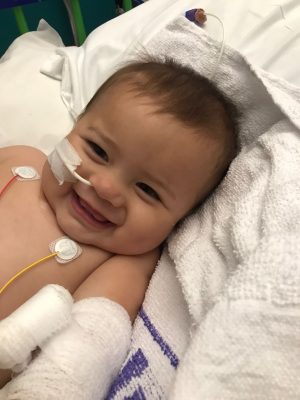 15-month-old Rafael from Cardiff had just turned one when his parents noticed that he was having "a funny week." Jenna and JR put it down to teething, but when they noticed that he was having less wet nappies they became concerned and took Rafael to the doctor who diagnosed a viral infection or bug. But over the days to come, Rafael just got worse and after also developing a cough, his concerned parents took him to A and E where he deteriorated even more. Rafael was admitted to the paediatric critical care unit at the Noah's Ark Children's Hospital for Wales where he was put into an induced coma.
Rafael's kidneys had shut down and were not functioning so he was immediately placed on a dialysis machine to stabilise his body before doctors could work out the best course of treatment. The additional fluid that had not been draining from Rafael's body had travelled to his chest and had developed into pneumonia. Jenna says: "Rafael was in intensive care for 10 days. He became so unwell during that time that we started to lose hope, it was absolutely awful. No parent should have to witness what we witnessed."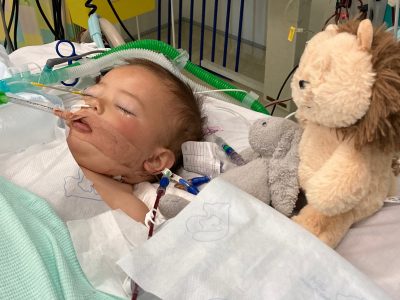 The worst moment came when Jenna and JR were called to the children's hospital during the night as Rafael had taken a turn for the worst.  They were told that Rafael had a collapsed lung which can cause the heart to stop. But as always, the PCCU team were there to support them through it.  Jenna says:  "The entire intensive care team are amazing, but Nurse Jen was incredible. She was so calming, empathic and really went the extra mile.  Also Dr Ali, whose hope for Rafael's recovery helped us through the most difficult times. She was amazing and such a positive person.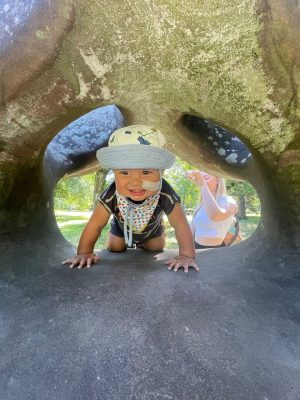 "As well as the care we received, the hospital facilities were amazing and the Noah's Ark garden was a lovely area for our older son Brinley to come and be involved and to make the experience a nice one rather than a scary experience of his little brother in hospital."
Jenna and JR say they'll always treasure the moment that Dr Ali told them that Rafael was strong enough to come off the ventilator and be bought out of his induced coma.  Jenny says: "It was the most euphoric feeling.  It was a big moment for us."
Doctors hoped that Rafael's kidneys would recover, but they have not.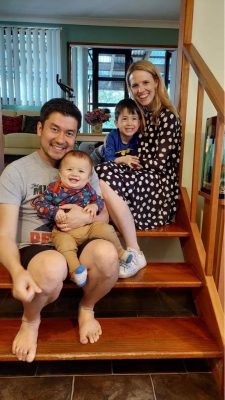 After spending 10 days on PCCU, Rafael was moved to Pelican ward where he spent a further ten weeks before finally being discharged at the end of July.  As his kidneys were damaged irreparably he now has peritoneal dialysis at home every night while he sleeps in order to give him the most normal life possible. He's also on the list for kidney transplant but the family have been told that finding a match could take some time.
The Diaz family have decided to give back to the Noah's Ark Children's Hospital by taking part in the Superhero Dash which takes place on 25 September in Pontcanna Fields, Cardiff. So far the Diaz' and Jenna's sister Layla have raised an incredible £735 and they say, with just over three weeks to go, they're far from done!