Ryley's story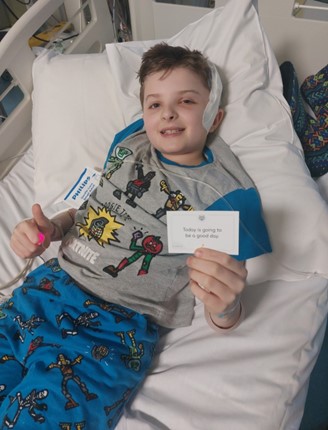 This time two years ago, Ryley was a patient at the Noah's Ark Children's Hospital for Wales having suffered a stroke – at just nine-years old.  Before that day in January,  Kate, Adam and their two children Ryley and 4-year-old Polly-Mae were an active family of four leading what they considered to be normal busy life, balancing school and work with shuttling the children around to various activities.   That all changed very suddenly one January morning. 
The day that it happened, Kate and Ryley had ventured out for the first time after two weeks of isolating with covid.  Kate who is a nurse, was running and Ryley was on his bike when he stopped to tell his mum that his head hurt. Headaches weren't unusual for Ryley and as he was keen to carry on cycling, they did.  But when Kate stopped at the bottom of the track, she couldn't see Ryley, only his bike on the bank. Assuming he's stopped for a comfort break she ran back up the track to wait for him but found him lying in a ditch.
Kate says: "I thought maybe he was messing around at first but as I got closer to him I realised quickly that something was wrong.  Ryley was conscious but couldn't speak and when I took off his hat to get a better look at him,  the right side of his face was like plasticine.  It was obvious that he'd had a stroke but I couldn't get my head around it.  How could a healthy nine-year-old have a stroke?"
Kate called her husband and an ambulance but by the time they arrived Ryley's face was pretty much back to normal and he was chatting away to the paramedics.  After scans at the local hospital which were inconclusive, he was discharged.
But the next morning, the headaches were back and his face was drooping again, his speech was slurred and this time things didn't improve quickly.
Kate said: "The first time it had happened I think I was in shock and I just acted on instinct.  When the scans had come back clear we'd felt reassured.  This time I just felt pure panic and fear.
"Ryley and I were taken back to the hospital while Adam had to stay at home with Polly.  He couldn't have come because of the Covid restrictions and having to cope with what was unfolding in front of my eyes alone was incredibly hard.  While we waited for the results of the scans, Ryley was clearly deteriorating.  The fear he was feeling was palpable and he kept asking me if he was going to die. The panic I could see in his eyes felt like a physical pain to me.  As a mum you'd do anything to take that fear and anguish away from your child but while I was desperately trying to be the tower of strength that Ryley needed, my whole world was falling down around me. I was desperate to know that my son was going to survive but at that point it wasn't an assurance that anyone could give me."
Ryley was taken by ambulance to the Noah's Ark Childrens' Hospital where he was admitted for further tests and investigation.  Shortly after, Kate was taken in to a room and told that Ryley had had a stoke and that he would begin rehab in an attempt to regain his speech and movement.
Kate says: "The team on Island ward were just incredible and it was such a relief. The hospital was clearly set out with children and families in mind and it was so good to know that could sleep alongside Ryley at night.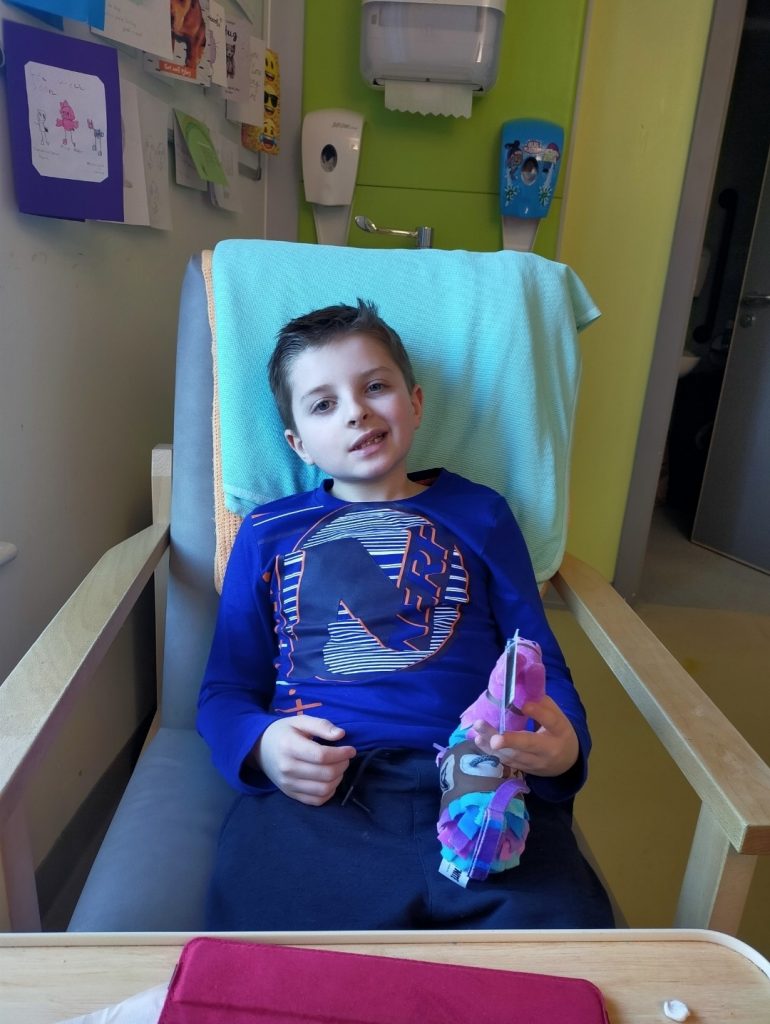 "Ryley started to show signs of physical improvement over the next day or two but as the immediate threat to his life diminished, the behaviour changes became more and more apparent.  Ryley was often agitated, impulsive and frustrated, at times I didn't even recognise him.  Suddenly I had a child with complex needs and I didn't know what to do, it was a shock.  He became very scared and would often hide from the doctors and nurses when they came in.  Sometimes he'd be able to stop himself but other times he was completely unable to control his behaviour.  It was frightening and isolating for us both and though I can't fault the care Ryley received from the medical team, it would have made such a huge difference to have professionals at hand to support our emotional needs too.  I strongly believe that the two need to go hand in hand."
Ryley and Kate were on Island ward for three weeks until he was finally well enough to go home and continue his rehabilitation from there.  He recovered well and in August 2021, he raised £7,000 for his local playpark by completing a series of challenges.   But the following month, following another mini stroke, Ryley was diagnosed with Moyamoya disease, a progressive arterial disease of the brain that makes people dangerously susceptible to strokes. There is no cure for Moyamoya, however there is medical management available by way of brain surgery that increases blood supply to the brain by a temporal artery bypass. As Ryley was considered high risk he had this as an emergency and the operation was a success.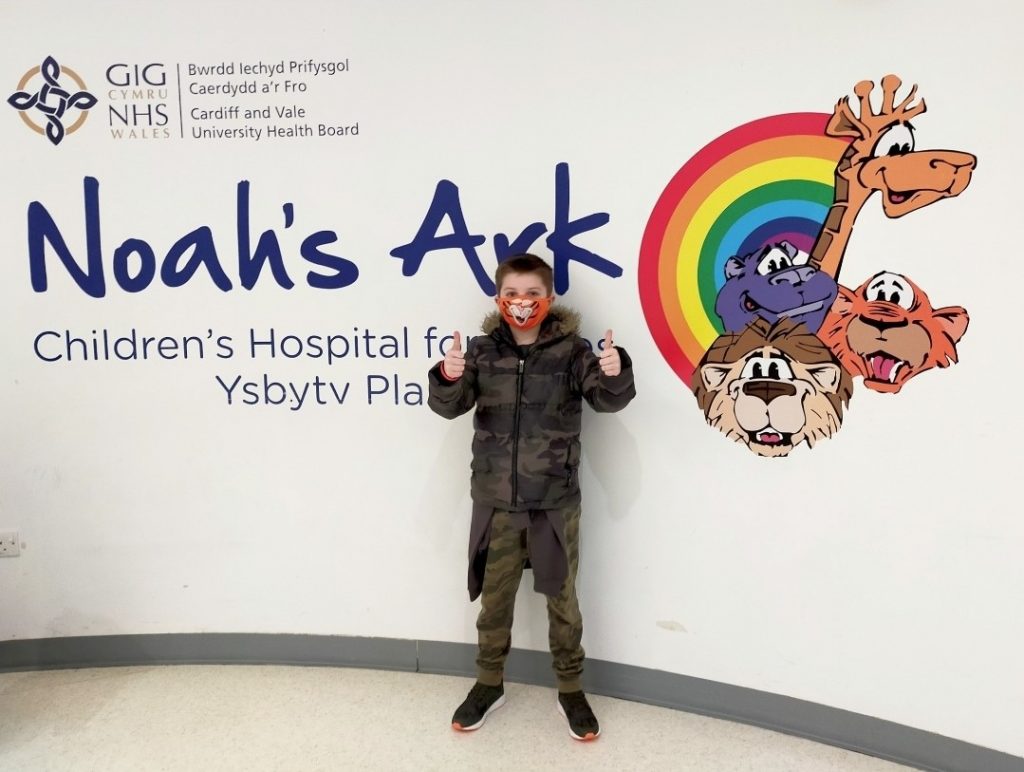 Life has changed a lot for Ryley and his family over the last two years but like any loving unit, they have learnt to adapt and carry on.  Ryley went from being an active child who was always on the go to having his blood pressure monitored closely and a complete restriction on all physical activity. He wasn't able to do anything that elevated it too much, meaning that even stimulation from playing the Playstation or laughing a lot was out of bounds.
Kate is effectively a full-time carer so now works from home while Ryley is in school.   She says: "It's a lot to get used to and even now. Though Ryley's surgery was a success, there's still so much that has changed and we're still, in a way, mourning the life we had.  Ryley's been having play therapy locally to help him adapt to those changes and come to terms with what's happened to him and I'm really grateful for the strength and resilience that's build in him."
It's partly Ryley's positive experience of play therapy that inspired Kate to support the charity's latest appeal to enhance emotional support for families like theirs during their hospital stays.  The chlidren's hospital does have a specialist child health psychology service that provides psychological support for a number of medical specialities. However, with hundreds of children and families being cared for at the hospital every day, this much valued service can't be there to support everyone.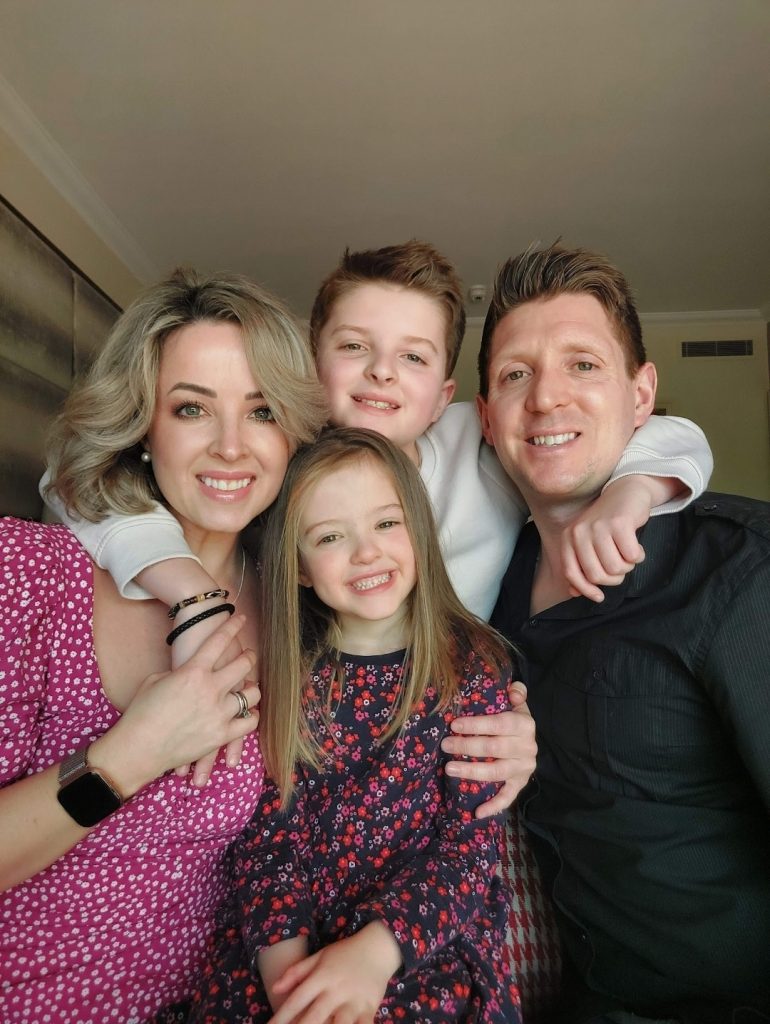 Through the Here for You Appeal, we plan to expand and improve access to emotional support services for children and families by funding counselling, art therapy and peer support, ensuring that people can get the right level of support at the point at which they need it.
Kate says: "The art therapy has helped Ryley to articulate feelings and frustrations that he found hard to communicate which is why I think it would have made such a difference to him in those early weeks in hospital.  There were points too, when receiving hard news or just at the really low points, that some emotional first aid from a ward counsellor or peer support worker would really have helped.  The feelings of shock, loneliness and often despair that you feel when your life gets turned upside down in an instant is very hard to process all at the same time. Even having someone there to tell you that you're feelings are normal and to sit with you for a while at the bedside would make such a difference."
To find out more about the Here for You Appeal, or to donate, click here.