Tilly's story
Ten-month-old Tilly was born with a condition called complete heart block. It means that electric signals from the upper chamber of her heart can't pass normally to the lower chamber causing her to have an irregular heartbeat.  The condition effects one in every 1 in 22,000 people and in Tilly's case is caused by an auto immune disease.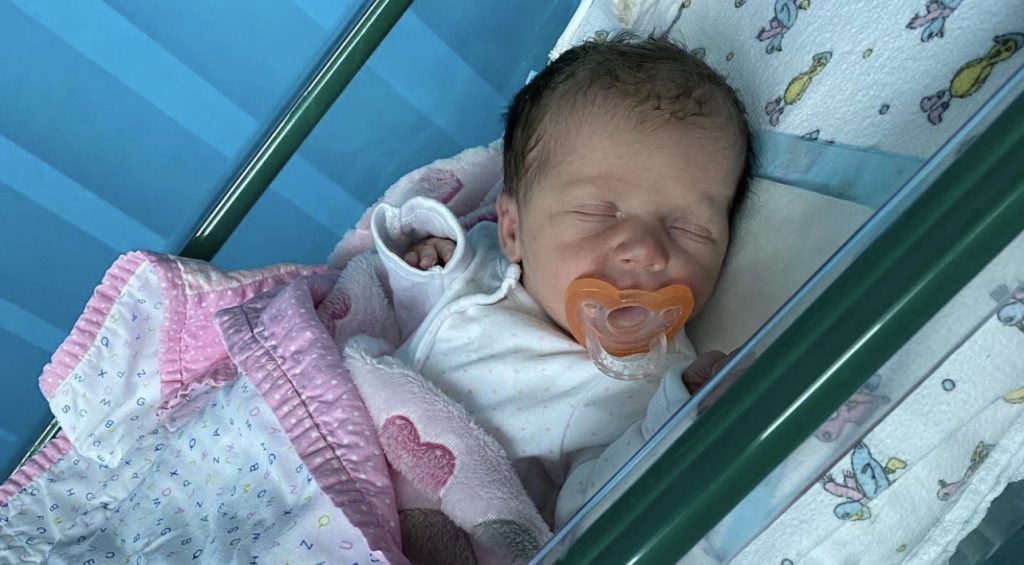 Mum, Danielle, was first referred to the paediatric cardiology team at Noah's Ark after an abnormality was discovered at her 20 week scan.  Danielle was put on medication and monitored closely but was warned that her baby may not survive. Thankfully, Tilly was born safely at 37 weeks but, with a heart rate of only 65 rather than the average 140 beats per minute, she was taken to the neonatal intensive care unit for monitoring.
After a week in hospital and having received training on basic life support, Danielle and her husband Carl were able to take Tilly home to meet her older siblings, Riley and Raya. Danielle admits to feeling both happy and completely overwhelmed.
She says: "It came as a complete shock when Tilly was diagnosed as both my other children had been born heart healthy.  When I tried to research total heart block, there wasn't much out there and, as it can be caused by a number of different factors, everyone's experience and how they are affected is different. I'd been told during pregnancy that Tilly would need a pacemaker at some point between birth and around nine-years-old and to have that hanging over us has been hard."
Tilly returns frequently to the children's hospital where her consultant, Dr Wilson, assesses her for the signs of heart failure which would trigger the need for a pacemaker. She did have some early on but these are currently being successfully managed with medication.  During one of Tilly's visits, a scan detected a PDA –  an opening between the two major blood vessels leading from the heart. In many circumstances PDAs can close naturally over time. But in Tilly's case, with her heart already working twice as hard as it should, she needed surgery quickly to correct it.
Because Tilly's little body is working so hard, she sleeps more than other babies her age and it can be a challenge to gain weight. She also has low immunity which means she's highly susceptible to bugs and viruses. It's been tough to adapt for the whole family, but Danielle says the support of the clinical team has been amazing and has really helped to carry them through.
Danielle says: "We've been supported by our specialist cardiac nurse from day one and we have open access to Noah's Ark assessment unit so if I'm worried about anything I can speak to someone or take Tilly in to be checked.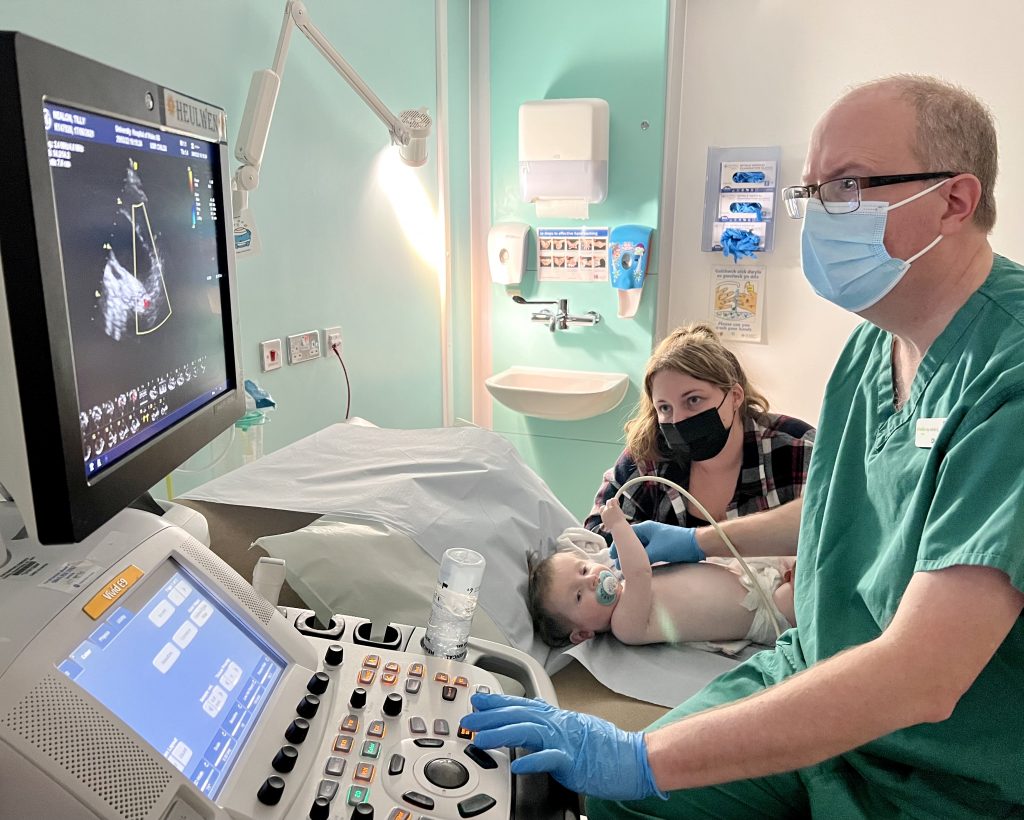 "We've had at least four hospital stays since Tilly was born and though it really disrupts family life, it's a comfort to know that we're coming somewhere friendly and familiar. The play specialists on the cardiac unit have been incredible and it was them who introduced us to the beads of courage programme. Donna gave us a pack and talked it through it all and now every time Tilly has a procedure or visits clinic or has an admission, she gets a new bead.
"It sounds like a small thing but we're so proud of Tilly and we want her to know how much she's been through as she gets older and how courageous she's been. I also think it will help nurture a positive association with the hospital. Instead of being worried or scared she'll look forward to seeing the play team and to get a new bead."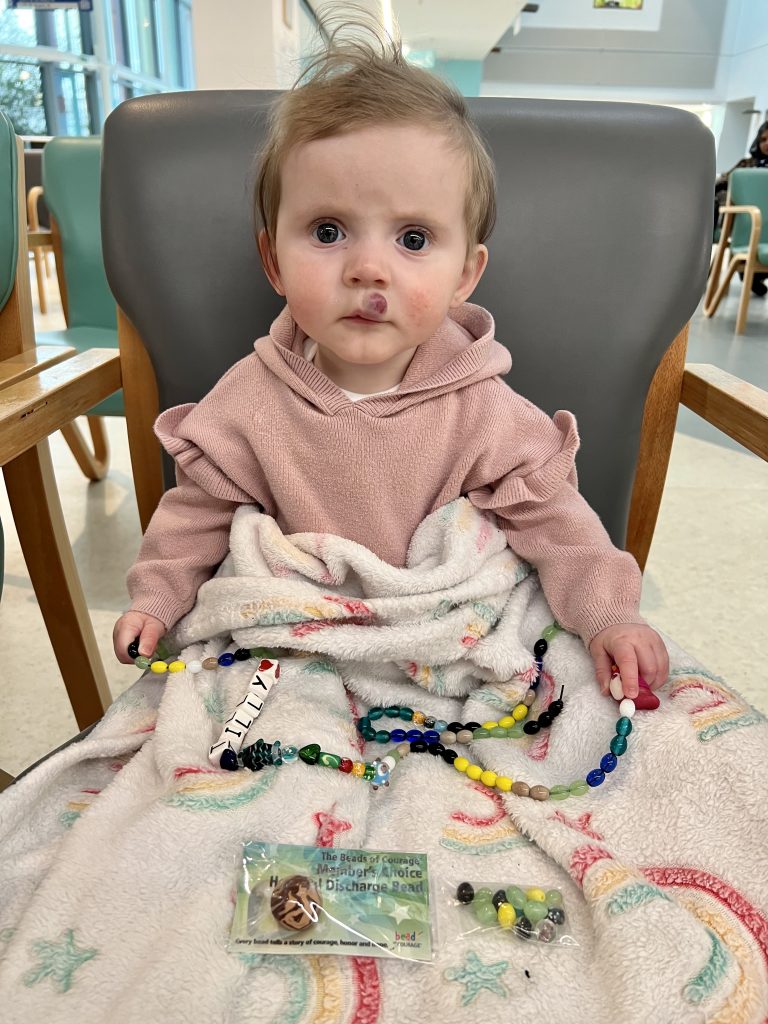 Danielle also uses the beads of courage to help her older children feel involved in Tilly's journey.  She continues: "My older son in particular is very switched on and he picked up how upset we were when we were given the diagnosis during my pregnancy.  They both love their sister and when they see us go off on our many visits to the hospital, sometimes for days on end, we don't want them to be worried or feel left out.  The beads allow us to explain to the children what's going on in a positive way.  It gives us an opportunity to talk about Tilly's experience as a family so it's something that everyone feels a part of."
How your support helps cardiac patients like Tilly
The money you donate and raise, helped to fund the neonatal unit where Tilly spent her first week of life.  It funded the echocardiograph machine that Dr Wilson uses to monitor Tilly's heart and the play team on Pelican ward who support Tilly and her mum during their admissions to hospital.  Thanks to you, the Noah's Ark Charity also funds the new Beads of Courage programme for cardiac patients so that children and families like Tilly's can feel proud and able to tell their story.