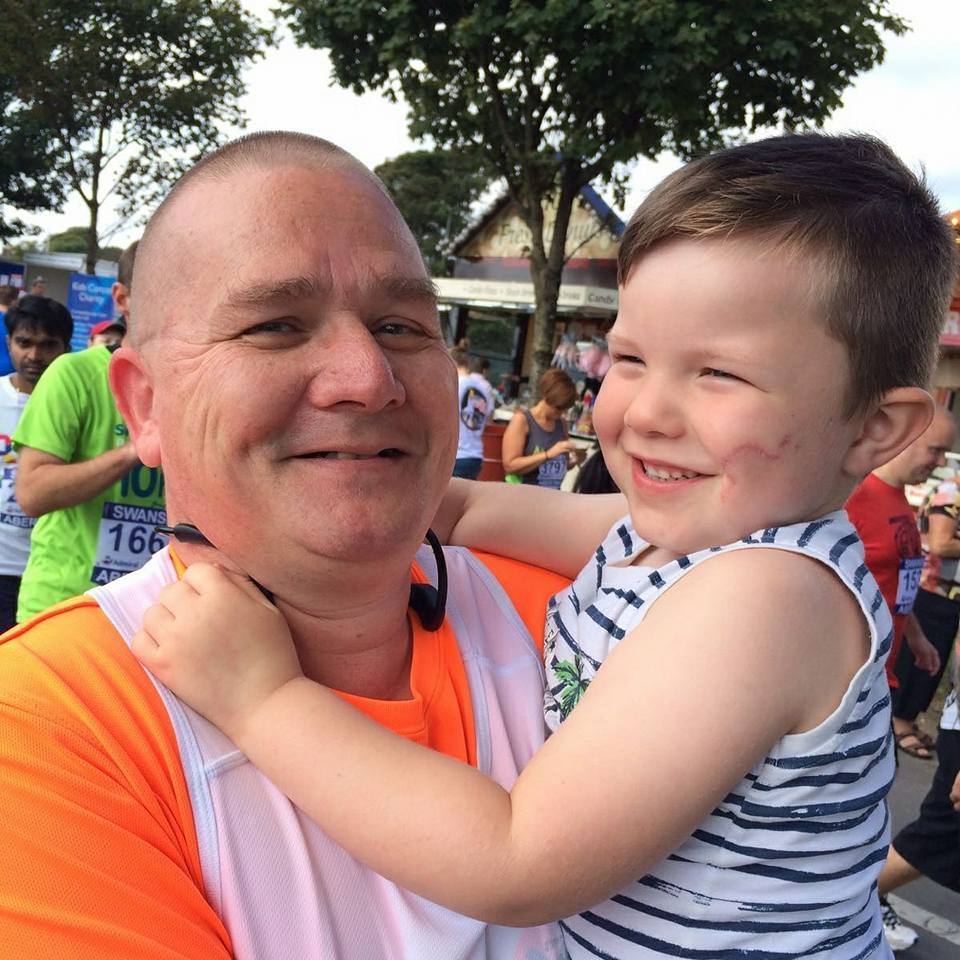 When Paul Scanlon's four-year-old grandson Anton, was left seriously injured after being attacked by an American Pit Bull last year, the whole family went in to shock.  Anton was rushed to the Noah's Ark Children's Hospital for Wales where he underwent emergency surgery to rebuild his left cheek and spent a week in hospital recovering.
Anton is described by his devoted grandad, Paul, as an amazing little boy who bounced back quickly from his ordeal, but for the rest of the family, the emotional scars took longer to heal. But determined to turn their experience in to something positive and to say thank you to the hospital that treated Anton, Paul decided to set himself a fundraising challenge – to run five half marathons and five 10k races within a year in a bid to raise £1,500 for the Noah's Ark Charity.
Paul, who only started running 18 months ago, is now half way through his challenge but, exactly a year from the day of the dog attack, his fundraising target has been smashed, with the support of some friends and family.  Keen to help the Scanlons mark the anniversary in a positive way, a team of Paul's colleagues from B&Q completed a 5k walk around Cardiff, raising £500.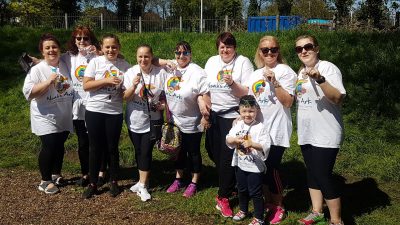 After joining the group on their walk, Paul and Anton then travelled to London to surprise their cousin Trudie who was taking part in the London Marathon for Noah's Ark, also in support of Paul's challenge.  Trudie, who raised £400, hadn't been expecting to see Anton so when she spotted him at the 13 mile point at Tower Bridge she was pretty overcome. She went on to beat her personal best by 24 minutes, attributing it to her excitement at the prospect of seeing Anton, the little inspiration for her run, at the finish line.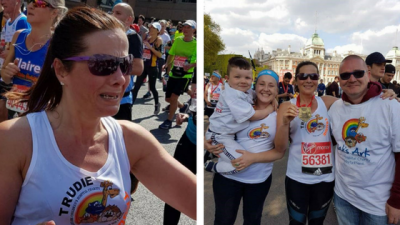 Paul says:  "It was great to be able to mark the anniversary of such an awful day for our family with something positive like this.   We'll always be indebted to the Noah's Ark Children's Hospital for Wales for the amazing treatment Anton received. He was very frightened before going in for his operation but the way the doctors and nurses talked to him was perfect.  They told him they were going to use magic to put his cheek back together again and even now he still calls his scar his 'magic'.  During Anton's stay, nothing was too much trouble for the staff at the hospital.  Everything's focused on the needs of the children and their families. It's a very special place and we're honoured to be able to support it."
"Anton calls me Baboo so I have that written on my running vest.  Whenever I hit that point on my runs where everything starts hurting and I just want to give up, I put my hand on that word to remind myself that no matter how much it hurts, it doesn't even begin to compare to what he went through last year.  We're so lucky that he's still here."
For inspiration on how you too could take on a personal challenge for the Noah's Ark Charity, click here.