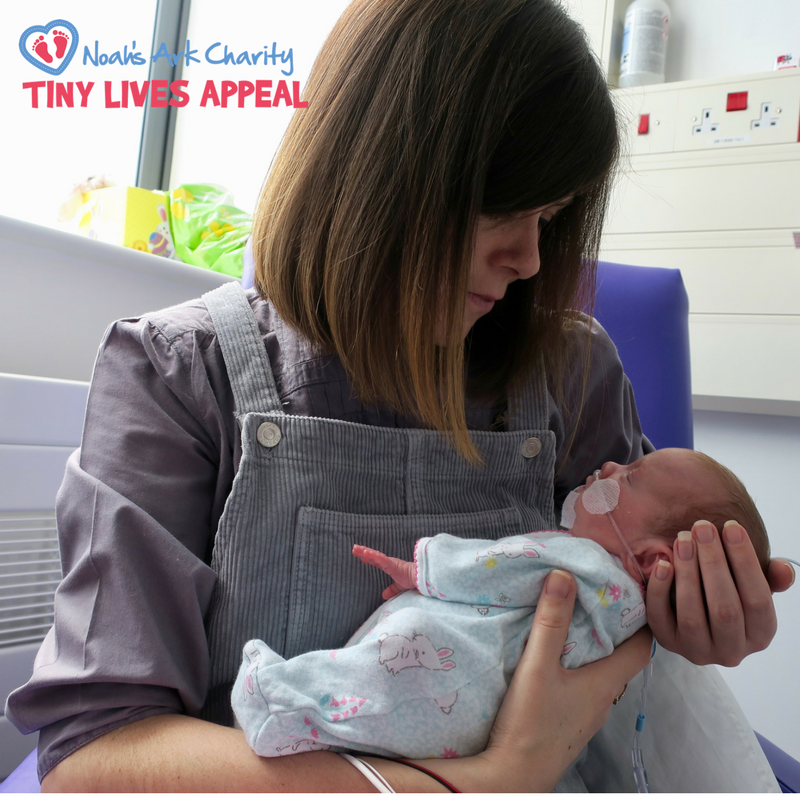 We're delighted to announce that our Tiny Lives Appeal has received a significant boost thanks to the Morrisons Foundation, a charity set up by the famous supermarket chain. The foundation recently announced that they will be donating an incredible £208,000, which will buy a mobile X-Ray machine and four specialist incubators for the new neonatal unit.
The mobile X- Ray will allow doctors to diagnose and respond quickly to a vulnerable baby's condition, and the incubators are vital pieces of equipment which reduce the risk of infection while creating a womb-like environment where babies can grow and gain strength.
On a recent visit to the University Hospital of Wales, representatives from the Morrisons Foundation met with baby Edie who was born at just 23 weeks and four days of pregnancy. Weighing only 580 grams at birth, Edie is one of the smallest babies ever to be treated on the unit and needed a great deal of support to help her beat very slim odds.  During her first few months of life, Edie faced several setbacks including a bleed on her brain, infection and a hole in the heart.  Despite this, she is now doing well and recently went home with her parents, Nicola and David. You can read Edie's story in full here.
Noah's Ark Charity director, Suzanne Mainwaring, said:  "The complications encountered by Edie are common in neonatal babies. They can develop rapidly, changing a baby's condition from relatively stable to acutely ill within a very short space of time. That's why it's essential that the dedicated medical team have the right equipment on hand to respond quickly and effectively.
"Our charity is delighted to be working alongside the Morrisons Foundation on this hugely important appeal. The equipment that the donation will fund will help to save the lives of more babies like Edie who are among some of the smallest and unwell in Wales.  Thanks to this award, more babies like her will eventually get to go home to their families."
The neonatal unit currently treats around 560 babies a year and is the only facility in Wales to provide treatment for newborns needing surgery.
The Morrisons Foundation was set up by Morrisons supermarkets in 2015 and receives most of its funding from the sale of single-use carrier bags. Since launch, over £10 million has been donated to charities for local community projects which help to improve people's lives.
David Scott, Trustee of the Morrisons Foundation, said: "We're delighted to help Noah's Ark develop the neonatal unit at University Hospital of Wales as we know what a vital difference the hospital can make for babies like Edie.
"The Morrisons Foundation is keen to support even more charities in Wales. Every penny we receive through the sale of single-use carrier bags in Wales will be spent on charities in Wales, and we would encourage them to visit www.morrisonsfoundation.com to find out how to apply for funding."
Our mission to raise funds for life-saving equipment and parent facilities at the University Hospital of Wales neonatal unit continues. For more information or do donate to our Tiny Lives Appeal, click here.