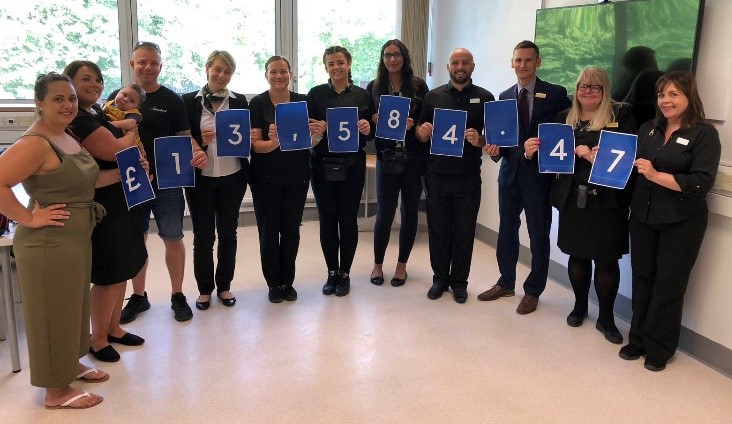 Eleven-month-old Eden Olive popped up to M&S Culverhouse Cross with her mum, Michelle, recently to accept a cheque from the store on our behalf. Colleagues and customers at the store have raised more than £13,500 over the last year for our Tiny Lives Appeal. The money will fund new breast pumps for the neonatal unit at the University Hospital for Wales.
The neonatal unit currently cares for more than 560 babies from across Wales each year and is the only centre in the country to provide treatment to babies needing surgery.  The funds raised through the Tiny Lives Appeal will support the expansion and enhancement of the neonatal unit.  It will provide life-saving equipment such as ventilators which support premature or critically ill babies to breathe and video monitors so that mums recovering from birth can see their baby in the anxious hours before they can be reunited.
The team of colleagues at M&S Culverhouse Cross decided to raise funds for breast pumps specifically after learning more about how vital breast milk can be for premature and critically ill babies. It helps to protect from infections in the gut which babies born early are particularly prone to. Every drop is packed with antibodies and nutrients which is essential to help the babies grow and develop and each mum's milk is unique to them and tailor made for their baby's specific age.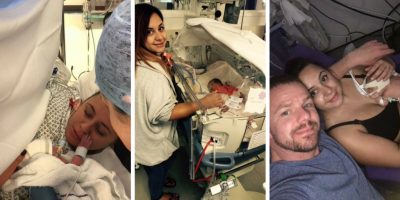 Being able to express milk is also very valued for mums on the neonatal unit too. Eden-Olive spent the first four months of her life there after being born with a congenital birth defect. Mum, Michelle Gee from Barry, said: "When your baby is born early or unwell you feel completely helpless. You can often go a long time without even being able to hold your baby and it makes you question what it is you can do for them. I was very fortunate to be able to express milk for my daughter and that made me feel like I was able to help her in some way. Sometimes you'd have to wait to use a pump on the ward because there were only a few so it's great now thanks to Marks & Spencer that there will be more available."
Neil Enoch, store manager at M&S Culverhouse Cross, said: "Noah's Ark is a charity that is close to the hearts of both customers and colleagues at M&S Culverhouse Cross. We're incredibly proud of everyone in the community who has supported our fundraising over the last year. It's wonderful to hear about the difference that the Tiny Lives Appeal has made to local families and we're delighted that our donations will help the charity to continue its vital work."
Lucy Jones, our fundraising development manager added: "We can't thank the staff and customers of Marks & Spencer, Culverhouse Cross, enough for their generous support over the past year. Premature and critically ill babies who are treated at the hospital on the neonatal unit face countless obstacles. The babies are vulnerable and complications can develop rapidly, changing a baby's condition from relatively stable to acutely ill within a very short space of time. Thanks to generous supporters like Marks & Spencer, we can help make sure that the hundreds of neonatal babies treated at the University Hospital of Wales each year receive the very best care possible."
For more information on our Tiny Lives Appeal click here.