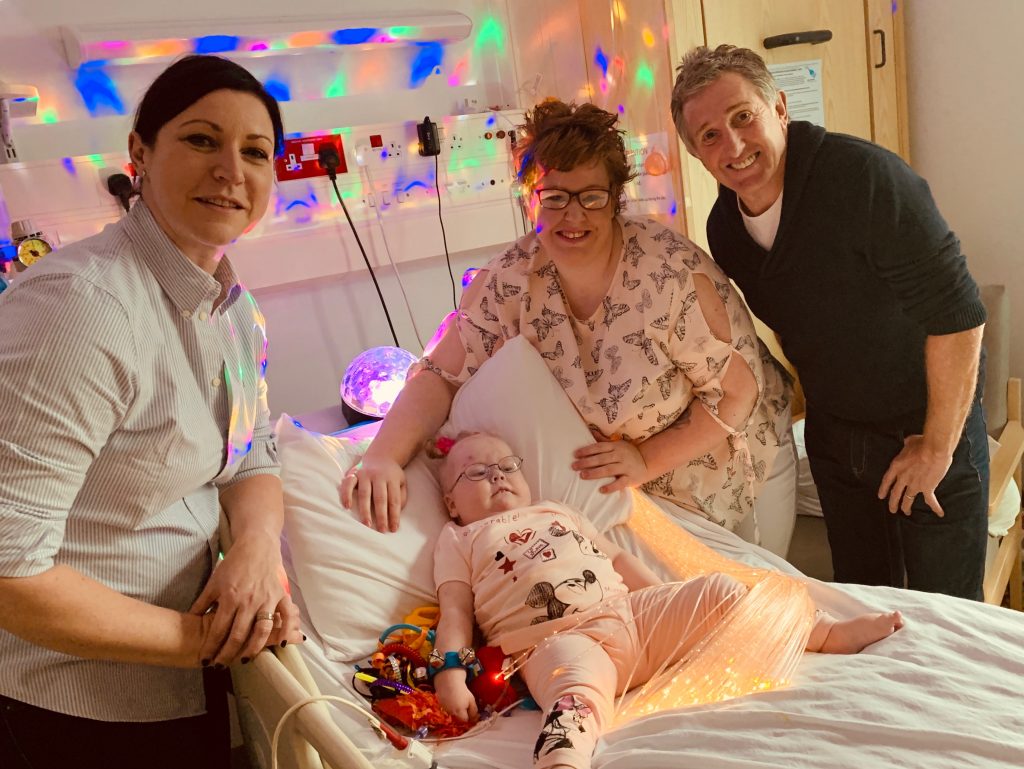 Welsh Rugby legend, Jonathan Davies OBE, has been visiting Noah's Ark with members of the rugby charity, Wooden Spoon, this week.  They were here to see the play and sensory rooms which were funded by Wooden Spoon following a donation of £250,000 to the Noah's Ark Charity.  Jonathan kick started the project in 2006 when he ran the Great North Run in Wooden Spoon colours.
While Jonathan was here he met with Lilly-May, a four-year-old patient on Island Ward.  Lilly-May has a brain disease called leukodystrophy and has been a patient at the children's hospital since Christmas. Mum, Rhian, says they're not expecting to be discharged for a while yet and that  the sensory room and equipment have been of huge benefit to her daughter during their stay.
Rhian says: "Lilly-May's condition hugely affects her sight, mobility and ability to communicate so she isn't able to play in the same way as other children can. But just like any other little girl, she still needs things to entertain and stimulate her, both for fun and so that she can continue to develop. The sensory room is amazing because she's so relaxed in there. There's so much to see and look at and she's keen to reach out and interact with things. I love seeing her face light up when we go in there."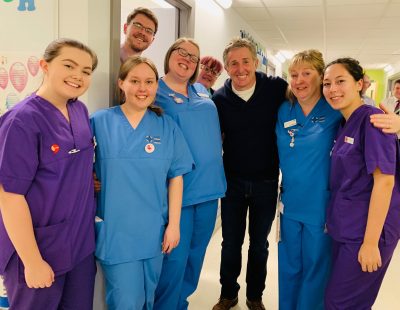 Noah's Ark play specialist, Juliet, has been working with Lilly-May during her stay in hospital and says that she too is a big fan of the sensory room.  Juliet says: "They're places where families can get away from the clinical environment and just spend time with each other. Children, especially younger ones, often get fearful of grown ups while they're in hospital because they start to associate them with unpleasant procedures. The play and sensory rooms are strict no procedure zones and you can tell the children sense that because of how much they relax. They're places where we as play specialists can continue to work on a child's needs and development in a safe, playful environment and the sensory rooms in particular are where both the children and families visibly unwind. I've seen children, who may not have walked or crawled in weeks because of their illness, improve dramatically in the sensory environment. I also love how inclusive it is. Just like Lilly-May, not all our children are able to get up and go and play with toys in the playroom. But the sensory equipment is something that can be enjoyed by everyone, whatever your need."
Wooden Spoon, the children's charity of rugby, funds projects for disadvantaged children throughout Wales and the UK. It chose to focus its support of the children's hospital on play and sensory rooms because of the direct impact they have on children's wellbeing. Wooden Spoon has a long standing link with Noah's Ark, having become involved with the charity during its initial appeal to raise money for the hospital's first phase, which opened in 2005. The Noah's Ark Charity have since raised over £22 million to build and equip Wales' only children's hospital and continues to provide support by funding life-saving equipment, facilities and services for families.
Huw Thomas, chairman of Wooden Spoon in Wales, said: 'It gives us enormous pride and pleasure to witness the successful completion of this wonderful project. Several of our committee have seen their children and grandchildren benefit from the specialist quality care that Noah's Ark provides to babies and young children across South, mid and West Wales"