The Noah's Ark Children's Hospital Charity would like to thank nine year-old Laila Waters for raising £600 through her sponsored litter pick last weekend.
Laila, who goes to St Fagan's Primary School, decided to fundraise for the charity after her five month-old sister, Lottie, was in the children's hospital for Wales in December with Bronchiolitis.
Her mum, Sarah, says it was a difficult time for the family. "We were admitted to the hospital for a couple of nights for the doctors to keep an eye on Lottie. It was such an upsetting time but the staff were absolutely amazing. They were so supportive and brilliant with us."
Laila wanted to do something to say thank you to staff at the hospital for helping her sister. So, she decided to ask friends and family to join a sponsored litter pick around the Culverhouse Cross area of Cardiff.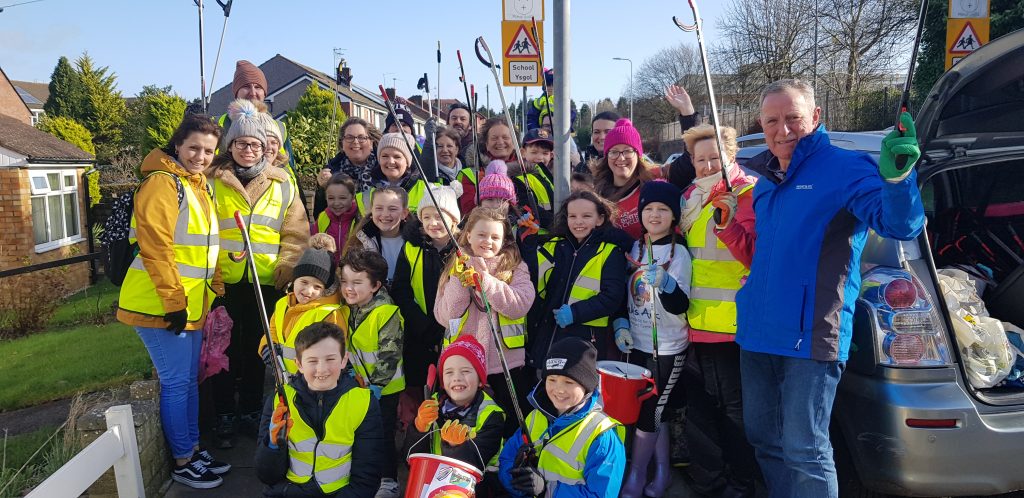 "She loves litter picking so thought it would be a great way of raising money for the Noah's Ark Charity. There were around 40 of us that took part, including many of Laila's school friends. We split into two groups and covered Grand Avenue and the shops at Culverhouse Cross. People were stopping us along the way to give money which was very kind. We had a great time!"
The Noah's Ark Children's Hospital Charity supports the only children's hospital for Wales. The hospital provides world class care, helping to ensure the best outcome and experience possible for the young patients who receive treatment there.  It funds state of the art equipment that save lives and makes treatment more bearable – right from the first days of life.   The charity also funds facilities that make it possible for families to spend as much time as possible together during their stay and support services that make the hospital experience less stressful, helping to sprinkle some fun and normality in to their everyday lives.
Rachael Southcott, community fundraising manager at the Noah's Ark Charity, said "I am so proud of Laila and her amazing team of litter pickers. It was such a wonderful idea to get the whole community working together, while raising vital funds and awareness for Noah's Ark!"
If you'd like to fundraise for the Noah's Ark Charity, visit the 'fundraise for us' page here.