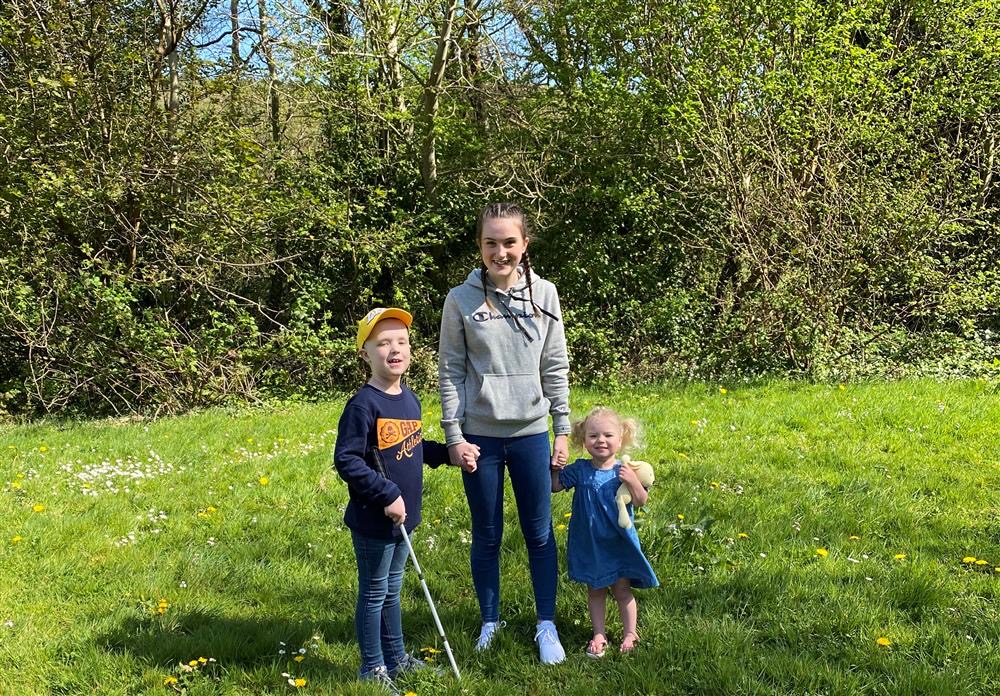 A 14-year-old girl from Llanbradach is attempting to step the length of Wales in honour of the Noah's Ark Children's Hospital which saved the lives of her seven-year-old-brother and three-year-old sister.. Erin Hancock has already raised over £2,300 which will go to our Covid-19 Resilience Fund.  She will be completing all of her 421,000 steps at home where her family are self-isolating to protect siblings Joe and Molly who are classed as high risk.
Erin saw the Noah's Ark Step Challenge advertised online and decided to sign up as a thank you to Wales' national children's hospital for saving the lives of her younger siblings. Joe was diagnosed with a tumour on his optic nerve in December 2016. After a year of gruelling chemotherapy the tumour stabilised only to start growing again a year later. Despite another year of chemotherapy which was successful in shrinking the tumour again, Joe is now almost completely blind.
Younger sister, Molly, was born shortly after Joe's initial diagnosis. Half way through his first year of treatment Molly started to have problems with her breathing. In January 2018 she was admitted to the paediatric critical care unit at the Noah's Ark Children's Hospital for Wales after going in to respiratory failure.  After also developing feeding issues, Molly underwent surgery to fit a gastrostomy and spent 18 months being fed through an NG tube. She has since been diagnosed with a genetic condition which is thankfully now controlled with medication.
Erin says: "We've spent a lot of time at the Noah's Ark Children's Hospital but it's a bright, happy place where all of us have always felt comfortable going. If it wasn't for this amazing hospital my family and other families like mine wouldn't be where we are today.  It's more important now than ever in these difficult circumstances to show support for charities like these.  The step challenge is a really good way of using up my time on lockdown and I enjoy working towards my target by walking around the garden or up and down the stairs.  I'm aiming for 6,000 steps a day for 75 days and so far it's going well.
"The work that the Noah's Ark Charity does in and around the hospital is so important.  I can't imagine what it would be like if my brother or sister were in hospital now and I wasn't able to see them because of the lockdown. The fact that the charity is funding Ipads so at least families can keep in touch during this time is great. It also funds the fantastic play specialist team.  They support the children through the toughest of times and they'll be needed now more than ever."
Erin has joined a growing number of children from all across the country who have taken up the Noah's Ark Step Challenge in support of the hospital that saved many of their own or family members' lives.  12-year-old Mia Lloyd from Cardigan has also signed up to the Noah's Ark Step Challenge with her family in support of the charity for which she is a young ambassador. Mia received treatment for a rare type of bone cancer called osteosarcoma at the children's hospital in 2017 and underwent a life-saving amputation of her left leg. Mia is completing her step challenge aided by her prosthetic leg.
Mia's mum, Emma, says:  "When we heard about the Noah's Ark Step Challenge we knew that it was the perfect opportunity to do something as a family during this lockdown, while also supporting this amazing charity that has done so much for Mia and ourselves. I know it's a really tough time financially for families at the moment but please try to get involved and raise money for this vital cause. Every penny helps!"
Noah's Ark Charity director, Suzanne Mainwaring, says:  "As a charity we have always relied solely on public donations to survive, and currently we still do. We're still not sure whether we'll be eligible for any other support during this time.  With so many of our traditional ways of fundraising now shut off to us and with the public very understandably concerned about issues closer to home, we have been really concerned about our ability to get through this current crisis.  So seeing hospital patients and their families showing their support for the Noah's Ark Step Challenge like this is genuinely humbling.
"With at least another three weeks of lockdown to go, times are tough for pretty much everyone. Like Joe and Molly, many long term Noah's Ark patients are now at home and have been in complete isolation for up to six weeks already.  We wanted to give families something fun and active that they could do together from the comfort of home that also provided them with the opportunity to contribute in some way if they wanted to. There's no time limit to complete the challenge and it's designed to be flexible and enjoyable.  It's been great to see the fun ways our supporters have been completing their steps with their families – from garden assault courses and skipping competitions to kitchen dance offs.
"All the money they are raising right now is going directly to supporting frontline staff to help families affected by the fallout of the coronavirus crisis. Any funds left over will help us secure our future as a charity which is vital – because the needs of the thousands of children we support each year will still be here when the current crisis no longer is. Erin is like our very own Captain Tom and we want to say a huge thank you to her and everyone else who's supporting the charity right now."
If you'd like to support Erin in her challenge you can visit her fundraising page here: www.justgiving.com/fundraising/erin-hancock
Or for more information on signing up to the Noah's Ark Step Challenge yourself click here.