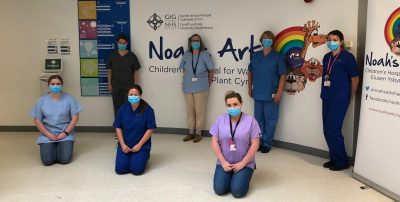 Supporting innovation in children's health care is an important strand of our work.  When we invested in equipment to support the Children and Young Adult's Research Unit (CYARU) last year we were confident that the research it made possible would eventually go on to improve the lives of thousands of children.  What we didn't know at the time is that it would play such a crucial role in our national understanding of a new, global pandemic – Covid-19.
Over recent months, the research team based at the children's hospital have been working alongside colleagues at Queen University in Belfast on a national study called RAPID 19. The aim of the study is to assess the number of children who have had COVID-19, the symptoms and whether those children have antibodies that may be able to fight off the infection. Over a period of 4-6 months, 182 children in Cardiff are been monitored for symptoms and undergo blood tests at regular intervals to check for antibodies. The  -80 freezer and temperature monitoring equipment funded by the Noah's Ark Charity played a vital role in helping the research team to store and test the blood samples.
Senior Operations Manager, Rhian Thomas –Turner, explained: "The children taking part in the study are all children of staff who work at the University Health Board.  The study includes taking blood from these children three times over a period of 4 to 6 months.  The blood was then tested for antibodies and parents and children were told of the antibody status of the child.   As part of those study visits, parents and children were also asked about symptoms and from this the study team in Belfast were able to piece together that children are likely to show gastro-intestinal symptoms if they have COVID 19.
"To contribute to studies like this, we must have access to a -80 freezer that is also remotely monitored.  If the Noah's Ark Charity hadn't funded this piece of equipment for us, then we wouldn't have been able to participate.  It's a vital piece of research equipment for the children's hospital.  We have a number of other studies that we will be participating in over the next few months, not Covid related but really important for our patients, that again we wouldn't have been able to do without it."
More than 1,000 children across the UK have had their antibodies measured so far as part of the research including the 182 at the Noah's Ark Children's Hospital for Wales.To date, the national study has revealed that 7% of children tested positive for antibodies following the first wave of the pandemic, indicating previous infection with COVID-19. More than half of the children with COVID-19 reported no symptoms.
However, the study found that gastrointestinal symptoms such as diarrhoea and vomiting were the most common symptoms of COVID-19 in children, ahead of cough or changes in their sense of smell or taste.
Paediatric research nurse specialist, Zoe Morrison added: "Thanks to this study we now better understand the prevalence of COVID-19 in children after the first wave of the pandemic, and know that while the majority of children with COVID-19 will display no symptoms, gastrointestinal symptoms such as diarrhoea and vomiting could be a sign that they are infected with the disease, and must now consider the value of refining the testing criteria for children to include these symptoms."