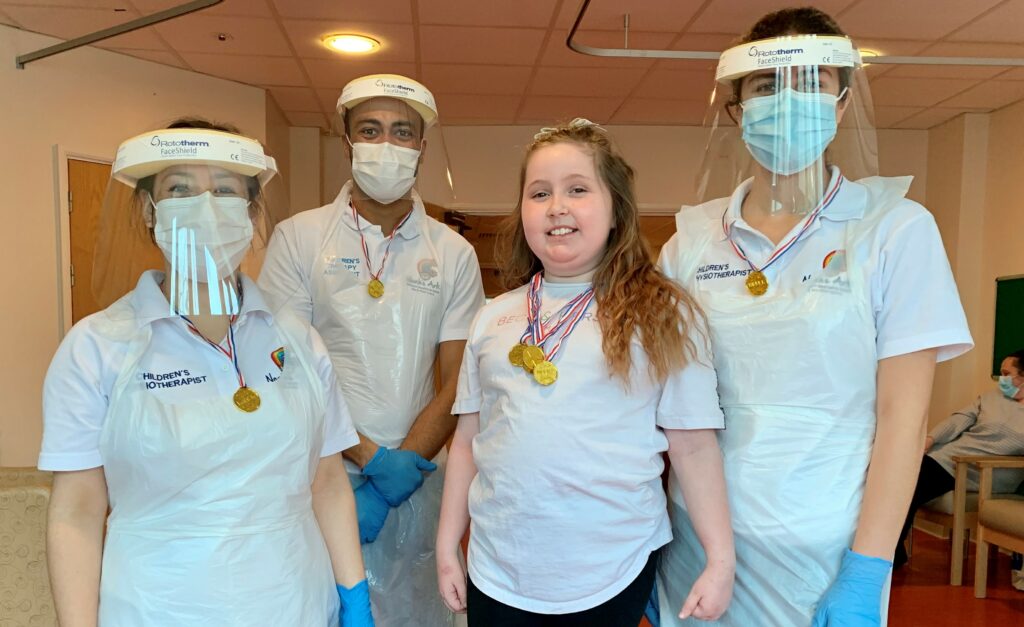 Seven-year-old was like any other active little girl until she started complaining of pain in her legs one morning last December. Her mum, Sarah thought it was just growing pains at first but during the course of just a few hours, Cari's condition rapidly deteriorated.  By the time they reached to local A and E department at around midday, Cari was unable to move.
Test at the hospital confirmed that Cari had no reflexes and she was admitted for an MRI scan on her brain.  Sarah says: "I was so scared I didn't know what do to with myself.  At first I wondered whether it was MS and then I spent the whole time she was in the MRI panicking that it was cancer.  I think not having any idea what was going on was one of the worst parts."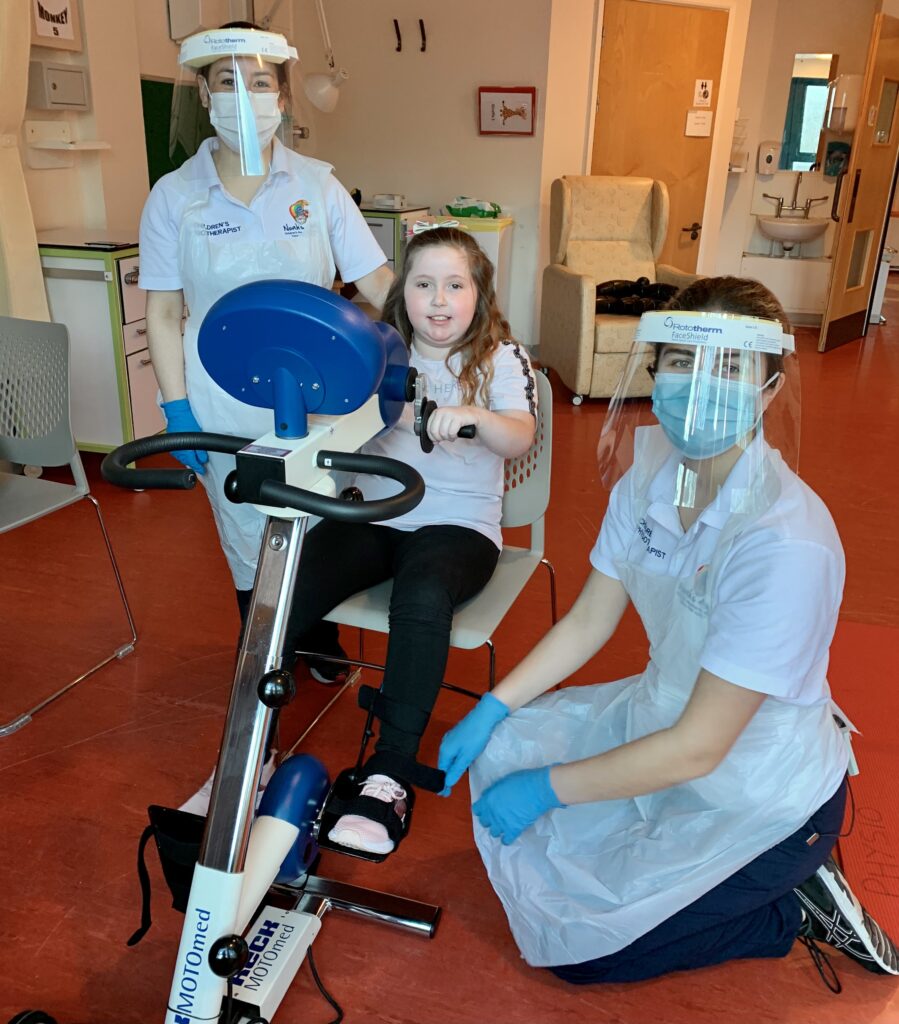 Thankfully the MRI showed that Cari's brain was fine but a lumbar puncture the following day found fluid on her spine.  Cari was transferred as an emergency case to the Noah's Ark Children's Hospital for Wales where a further MRI confirmed a diagnosis of Guillain Barre Syndrome, a rare and serious immune system disorder which causes white blood cells to attack healthy nerves.  Cari was put on a drip that thankfully stopped any further damage.  But Cari's mobility had been badly effected and she faced a long period of recovery to regain her strength and independence.
Sarah says: "We were allowed to go home for a few days over Christmas but Cari needed a wheelchair all the time and I had to do everything for her. We came back to Noah's Ark a few days later and she started an intensive 12 week rehabilitation programme almost straight away. Being away from her siblings and pets was really hard for Cari, especially due to the Covid restrictions.  She really struggled at times but the physio team did everything to find ways to keep her motivated."
During her rehabilitation, Cari used cycling equipment funded by the Noah's Ark Charity through Dare to Dream Trust Wales.  The equipment helped to strengthen Cari's  legs, which had been severely weakened as a result of her illness. The physiotherapy team combined the use of equipment with play and Cari's interests to keep her motivated and on track.
Paediatric physiotherapist, Natalie Gragasin, says: "Cari had quite a long road ahead of her and we could see the impact it was all having on her. So we used her natural desire to be challenged to build sessions around competitions that ultimately culminated in a Noah's Ark Olympics which of course, included a cycling race."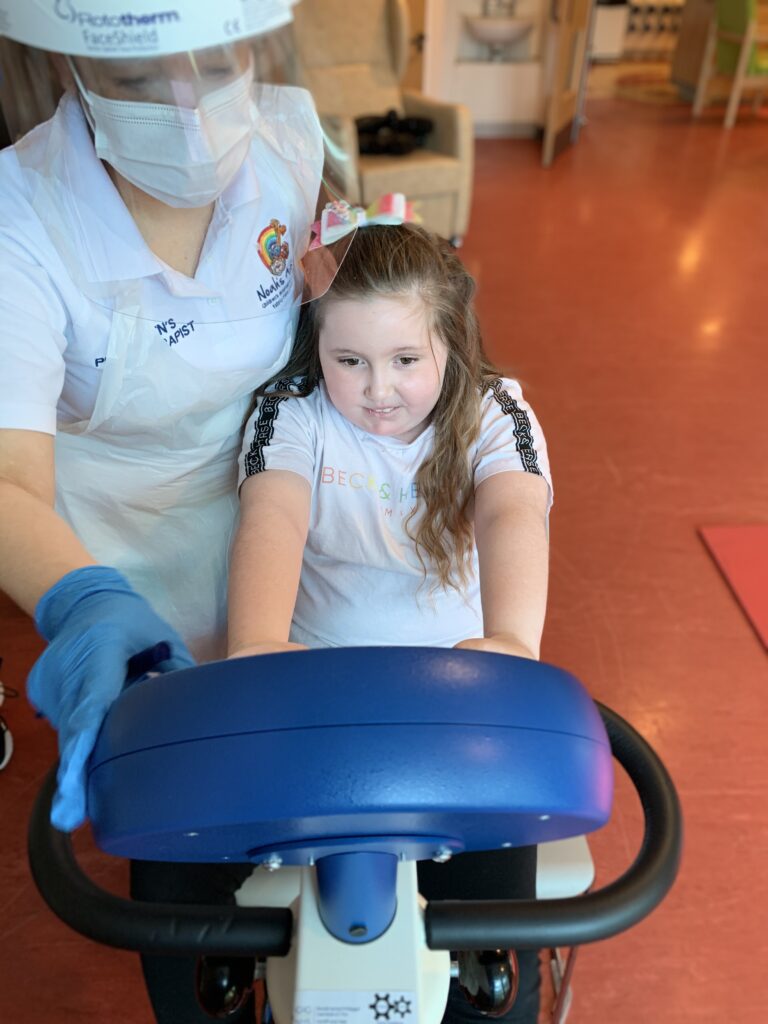 "The bike allows us to record the child's muscle activity and to see which areas need work. They have an active assisted mode which allows us to tailor it to what the child can do, and this can be adjusted as they get stronger. As they are portable, Cari would use one in her room in the evenings and we'd give her little challenges like completing the distance from her home to her school."
Thanks to everyone's hard work and perseverance, Cari was strong enough to go home in early March.  Most importantly though, she was able to walk out of hospital independently on her own two feet.
Sarah, Cari's mum, says: "Cari is now back in school full time and loves being with her friends. She tries her best in PE lessons but if she finds anything difficult to do she will adapt it to what she can do, just like the physios taught her. 
"We'd like to say the biggest of thank yous to the consultants, the physio team and the staff on Island ward.  Everyone always had a smile on their faces and made sure that both Cari and I had everything we needed."
The Noah's Ark Charity would like to say a huge thank you to Dare to Dream Trust Wales for awarding the grant that funded the cycling equipment used in Cari's rehabilitation.