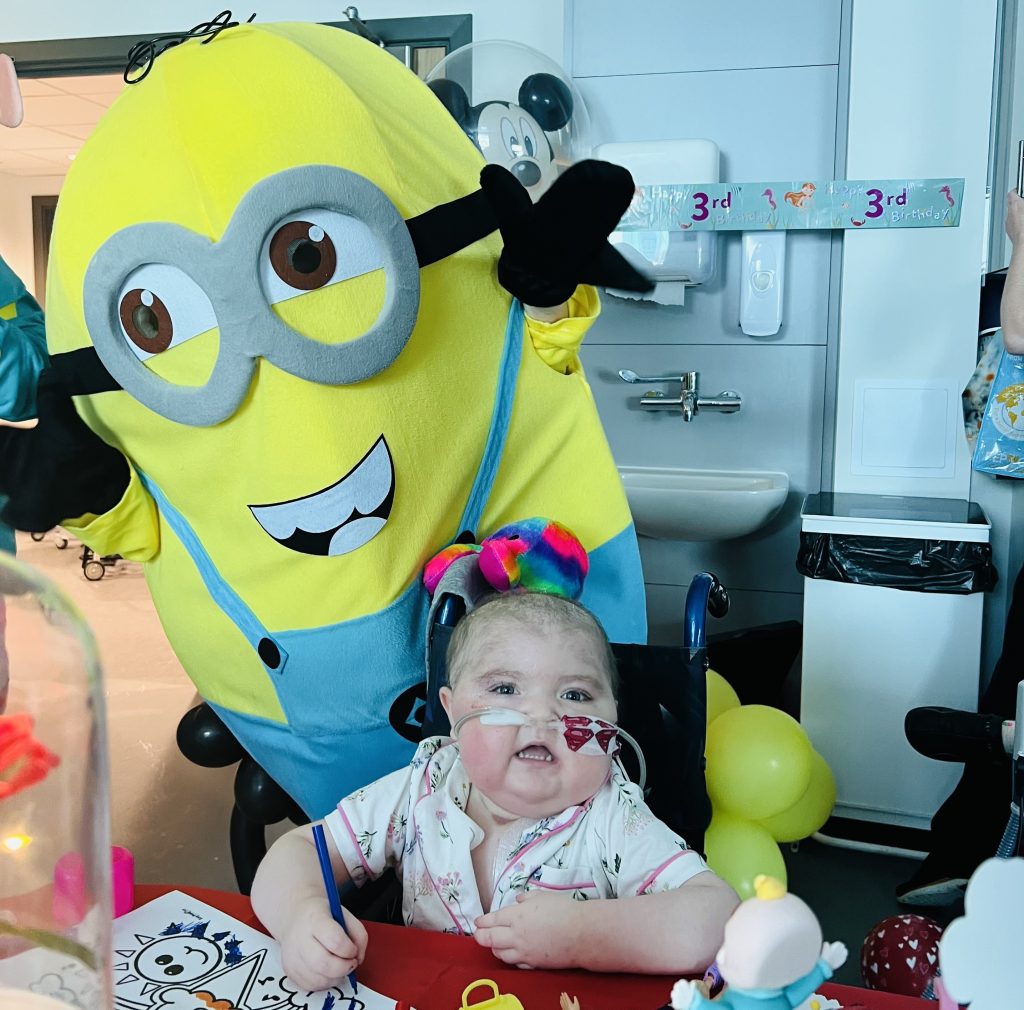 Three-year-old Porsha has been a permanent inpatient at the Noah's Ark Children's Hospital for Wales since her diagnosis in September 2021. Mum, Chloe, and dad, Jamie, from Merthyr Tydfil, grew concerned and took Porsha to the doctor after noticing that she had become very pale and was bruising easily. She had pains in her legs and was finding it more and more difficult to walk.
Porsha was diagnosed with Acute Myeloid Leukaemia (AML),  a cancer of the white blood cells that progresses quickly and aggressively and requires immediate treatment. Symptoms of AML include looking pale, feeling tired or weak, breathlessness and unusual and frequent bruising or bleeding. It is a rare form of cancer that typically affects 3,100 people per year in the UK.
At the age of just two,  Porsha began the first of three cycles of intensive chemotherapy before being well enough to have a bone marrow transplant. After completing the gruelling treatment, Porsha was then diagnosed with graft versus host disease (GvHD) which attacked her lungs.  GvHD is a potentially serious complication that can occur after a  bone marrow transplant where the donor's cells view the patient's healthy cells as foreign and begin to attack them.
Since diagnosis Porsha hasn't been able to leave the hospital and has spent the last 10 months on Rainbow Ward. Though officially classed as in remission from leukaemia in November 2021 she remains an inpatient due to her chest condition. She'll need to stay for a little longer to complete her treatment and then its hoped that she'll finally be able to return home.
Porsha has overcome so many obstacles in the last ten months. She had a temporary tracheostomy fitted and had to learn how to walk and talk again after spending time on critical care and having a tracheostomy.  It's a situation that would hit any family hard but in addition to this,  parents Chloe and Jamie also have to care for their now one-year -old daughter Renesmaee who was born with a brain condition which affects her breathing and feeding. For four months, both children were inpatients on different wards within Noah's Ark.
Chloe says: "We are so incredibly lucky to have such an amazing support system around us.  If we are with Renesmaee our family are with Porsha and vice versa. We couldn't do it without them.  The support we have had from the hospital and charity has been marvellous, it had been so hard at points but there is always someone there for you to turn to and to be able to chat to. The work the hospital and charity do is incredible and we're so grateful to everyone who has been involved in our journey."
Thanks to your support of our Sparkle Fund, we were able to help the play team in arranging a birthday party for Porsha so that, despite being in hospital, she didn't miss out on any fun. And despite all she's been through, Porsha was all smiles.  She received special visits from both Bob the Minion and Autumn the therapy dog and blew out the candles on her custom made CocoMelon cake.
Happy third birthday Porsha.