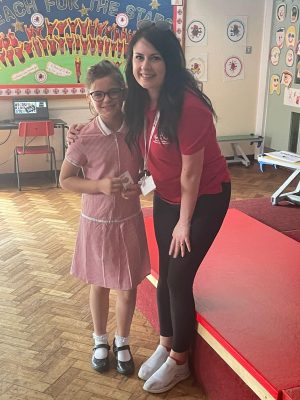 Meet nine-year-old Evie, the newest member of our youth ambassador family. Evie was asked to become a Noah's Ark Charity ambassador in recognition of all her fundraising efforts together with the fact that she has happily spent many weekends and school holidays volunteering at events with her mum, Kath.
Evie was born with a kidney and bladder condition and has been a patient at the Noah's Ark Children's Hospital since she was days old.  She's undergone eight operations and now receives ongoing care at the Children's Kidney Centre, Children's Investigation Unit (Seahorse) and CAU. Mum, Kath, says: "Evie was born with a condition called bi-lateral duplex kidneys where the kidneys split into two. She also has an abnormal bladder because her body tried to create a double urinary system. She has received and continues to receive exemplary care from the Noah's Ark Children's Hospital for Wales. The team at the children's kidney centre always make a fuss of Evie and go out of their way to welcome her, none more so than play specialist Carys, who always makes sure Evie's settled and looked after. Evie says that when she grows up, she wants to become a play specialist just like Carys."
Evie loves raising money for Noah's Ark and has taken part in a range of fundraising activities including our Happy Holiday Challenge and family walks. Last October, Evie decided that she needed a new challenge so persuaded mum. Kath, to let her sign up for the Noah's Ark Zipline.
Kath says "Evie is very passionate about the Noah's Ark Charity, or "my charity" as she refers to it. It's always been a big part of her life. She loves to fundraise and will often give up her weekends and school holidays to do so. She wants to give something back for everything Noah's Ark has done for her but also to help other children in similar positions and to say thank you for the care she has received."
Evie's first official outing as an ambassador for the Noah's Ark Charity will be at Hydro Aluminium's family fun day this Saturday on Pantglas Estate in Bedwas. Come and say hello if you're in the area.
Congratulations Evie, and welcome (officially) to the team! We're so excited to have you on board!