Miracle twins Caleb and Oscar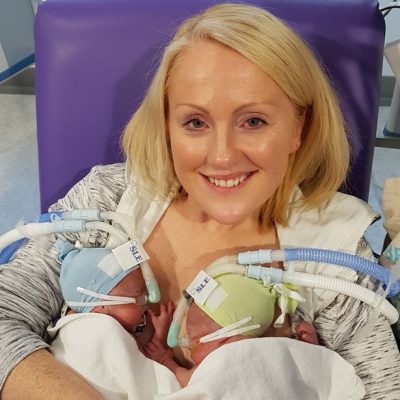 Miracle twins Caleb and Oscar were born more than three months early at just 26 weeks. Sian had suffered a preterm premature rupture of the membranes (PPROM), where the amniotic sac surrounding the babies had torn. Once this happens the risk for infection is high, so doctors kept Sian in hospital in a sterile environment to keep the twins safe inside for as long as possible. However baby Caleb had other ideas. His foot engaged in the birth canal and so the decision was made to deliver the babies via emergency C-section. Caleb and Oscar entered the world on the 18th of September 2019 weighing just 900g and 910g respectively.
The twins were immediately placed in plastic bags to help mimic the womb environment and regulate their body temperature and rushed to the neonatal intensive care unit. They were put in incubators and attached to ventilators to support their tiny, underdeveloped lungs. Parents, Sian and Steve, weren't even able to hold Caleb and Oscar until they were ten days old and even then, only for short periods of time while they were stable.
Sian says: "They were so so tiny in their incubators that they didn't even look like babies. They had wires and tubes everywhere attached to various machines. The skin on their little bodies was so thin it was translucent. I felt helpless and too terrified to touch them at first. I was also still in shock that our babies had arrived three months early in September when they hadn't even been due until Christmas Eve!
"Our sons had been born with holes in their hearts and underdeveloped lungs. It was too early to tell if there were any other complications other than being severely premature.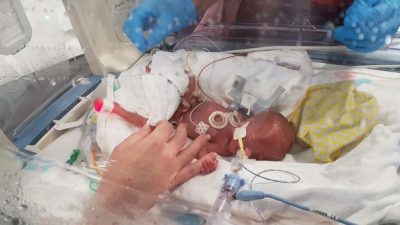 "Most of the early conversations are a blur to me, apart from one in which a consultant told us about the results of a brain scan. He could see dark patches on both the boys' scans, the likes of which he hadn't seen before. From that point on they regularly had head scans because of the risk of further bleeds on the brain.
"When the twins were just 3 weeks old, Caleb contracted sepsis. Doctors struggled to get his blood saturations back to a safe level and his oxygen was increased to 100%. For several days, Caleb's feeds were withdrawn and he was placed on medication that effectively paralysed him so that all his energy could be directed to breathing. Steve didn't tell me this for almost a year later but there was a point where he was told that Caleb was the most poorly baby on the unit and given the fact that we'd seen a number of babies die by that stage, it must have been terrifying for him . We were pretty much told they had done everything they could for Caleb and unless he got better there wasn't much more they could do. They gave him strong antibiotics and thankfully he turned a corner quickly but for about 72 hours it was touch and go."
Despite the improvement in Caleb's condition, there were more frightening times for the family to come including several surgeries. Caleb was diagnosed with a sight threatening condition called retinopathy of prematurity (ROP) and had to undergo an operation on his eyes at just 12 weeks old. Both boys also had surgery to treat hernias which are common in prematurity.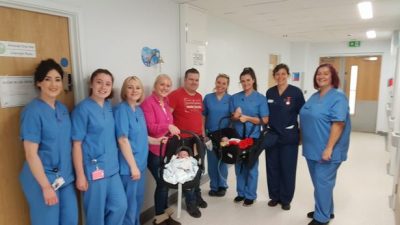 Thankfully, there were no further brain bleeds and after weeks of close monitoring, scans revealed that the holes in the boys hearts had closed on their own. Finally, at 124 days old, Caleb and Oscar were finally both well enough to leave hospital and their relieved parents took them home for the very first time.
Steve says: "Ringing the bell and getting to take the boys home after four months of visiting them every day in hospital was amazing. The staff were phenomenal and so friendly and caring. They looked after us well as the boys and it felt like they had may surrogate parents who were invested in their wellbeing. Strangely enough, you feel a tinge of regret when you leave that these people who have been so amazing won't be part of the twins' life in the same way. We rang the end of treatment bell and read the poem that goes with it through floods of tears."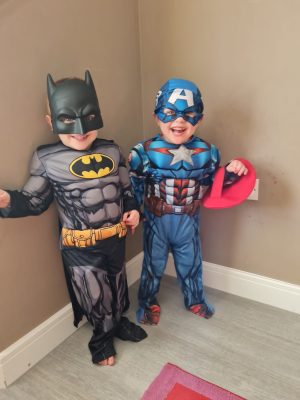 As both boys were still on oxygen when they were discharged, they had regular outreach appointments at home and attended Noah's Ark for check-ups with consultants. As Caleb and Oscar were so premature, they also had open access to the children's hospital's assessment unit for a year following their discharge. During that time, Caleb was readmitted with bronchiolitis and was put back on Hi-Flow oxygen. The boys also had regular appointments with the physiotherapy team at Noah's Ark but after flying through their first year of developmental milestones without a hitch, they were discharged.
To express their gratitude for the hospital and its staff for the 'amazing and phenomenal care' they received during their stay, the whole family including big brother Nate will be taking part in the Superhero Dash this September. So far they've raised an impressive £270!
Steve says: "We are so incredibly grateful to the staff and the hospital – the twins simply wouldn't be here without them. Now they are brilliant, adventurous little boys who, by the way they keep up with their big brother Nate, you'd never guess were born so prematurely."
Sian adds: "To say we feel incredibly blessed is an understatement. The NICU team saved our boys' lives, we are in no doubt about that."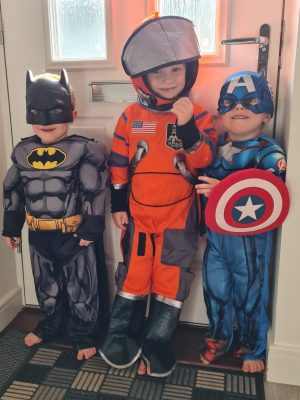 How your support helped
Money raised through your fundraising activities and donations have made it possible for the Noah's Ark Charity to fund much of the equipment that supported Caleb and Oscar during their time on NICU. With the support of people like you, we can fund equipment like the incubators that kept the twins safe and warm while they grew and the ventilators that breathed for them while they were too small and weak to breathe for themselves. The devices that monitored Caleb and Oscar's hearts and brains were also made possible thanks to the public's support as was the equipment that identified the issue with Caleb's eyes and ultimately saved his sight.
Join Caleb and Oscar on our Superhero Dash this September 25th at Pontcanna Fields, Cardiff and become a Superhero for the children of Noah's Ark!