Audrey's story
Baby Audrey is a miracle baby in more ways than one. After four previous attempts at IVF, her parents Michelle and Jeremy were close to giving up on their hope of having a child, when after their fifth and final go they discovered that they were to become a family. What no-one knew at that point though is that it would happen much sooner than expected.
Michelle started feeling a bit unwell one weekend back in October but at 26 weeks pregnant it didn't occur to her that anything major might be wrong. After noticing a rash she decided to get checked out by her GP who, as a precaution, took her blood pressure. By 11am Michelle was in hospital and at 3pm, having been diagnosed with such severe pre-eclampsia that both her and her baby were in imminent danger, baby Audrey was born by emergency C-section.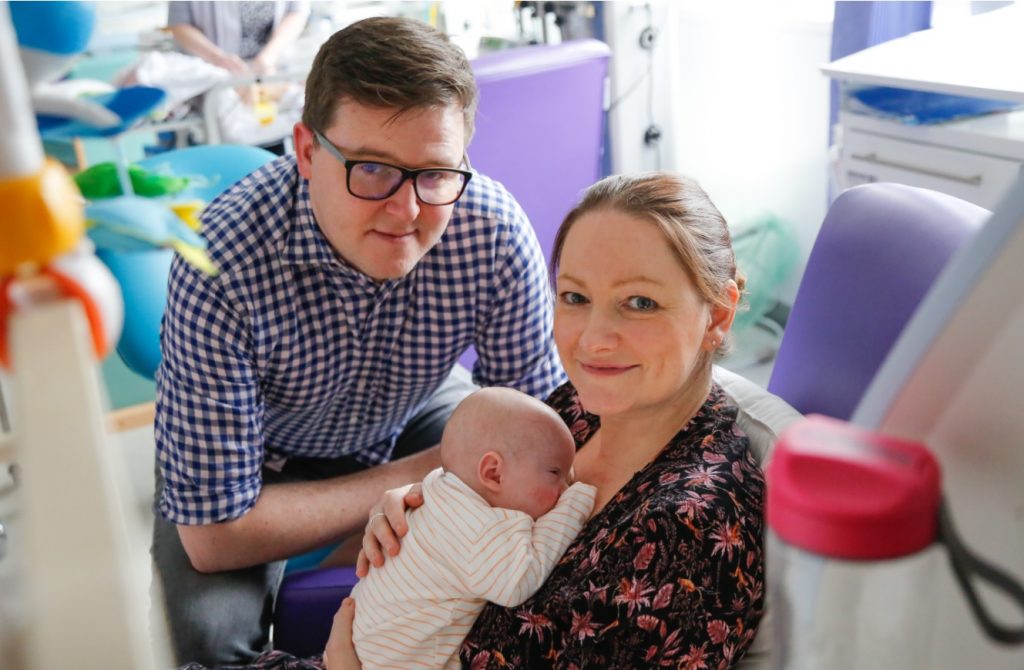 Babies born this early are termed 'micro-premmies' and face a host of complications including brain bleeds, digestive issues, respiratory problems and heart abnormalities. With very little immunity, their risk of developing a serious infection is also extremely high. As well as dedicated one-to-one nursing care, babies like Audrey are supported by a vast range of equipment – from the ventilator that kept her alive straight after birth to the incubator that has kept her warm and protected from infection while she grows. It's thanks to your support of our Tiny Lives Appeal that we were able to provide this sort of equipment to the new neonatal intensive care unit (NICU), helping to keep Audrey's family and many others together.
When it looks likely that a baby will arrive early, a mum is given steroid injections to strengthen the baby's extremely underdeveloped lungs. But in emergency cases like Michelle's this isn't always possible. Audrey has chronic lung disease as a result of her sudden premature birth and breathing has been her biggest struggle. In the 13 weeks that the Townsend family have spent on NICU to date, Audrey has encountered several setbacks.
Michelle says: "I remember not long after we first arrived here, Audrey suddenly stopped breathing and we were surrounded by the resuscitation team who revived her. It's happened several times since and the anxiety of it happening never goes away. Not only is it terrifying at the time but it means that the steady improvements your baby has been making can be wiped out and you have to re-build again."
Setbacks like these can happen rapidly in premature and critically ill babies which is why it's not only vital for babies like Audrey to have changeable levels of respiratory support, but also equipment at hand to monitor and make quick diagnoses. The Tiny Lives Appeal funded a mobile DR X-Ray machine allows the clinical team to see Audrey's lungs quickly if necessary while the new NICU echocardiogram has made it possible for the cardiology team to closely monitor a vessel in her heart which has yet to close.
Michelle continues: "The NICU team are incredible and we've never felt that Audrey could be in a better place. It's obvious that they now have everything they need to do their work to the best possible standards and short of them miraculously fixing our baby overnight and giving her back to us, we couldn't have asked for more. It's the seemingly little things that help make a difference too. The new cotside reclining chairs aren't just chairs – they're the place where you hold your precious baby for the first time, often after waiting weeks like we did. Despite how desperate you are for your first cuddle, the wires and tubes can make it feel scary. But because the chairs are cushioned and reclined you feel safe and supported and you can relax in to the experience of cuddling your baby like any new parent would.
"After all these weeks here, the people around you start feeling like family and because everyone instinctively understands the unique situation we're all in, everyone supports each other. The new parent room is a great place to talk and let off steam with other families in our situation. I've been comforted so many times by a conversation with a mum who may have been here longer and is used to all the procedures and now I find myself being able to do the same for some of the newer mums and dads."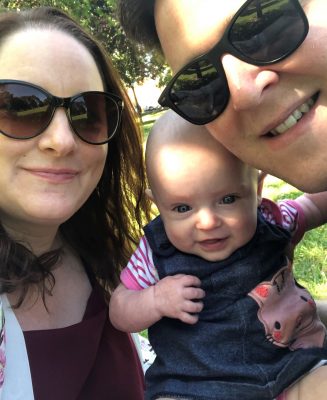 By the beginning of March Audrey was well enough to leave NICU and on the 7th of March, the family made their long awaited journey home together for the very first time.  Their need to isolate due to Covid-19 meant that unfortunately Michelle and Jeremy had to delay the normal family things that they were so looking forward to doing for a bit longer but Audrey is thriving at home under the care of her devoted mum and dad.
Michelle says: "Nobody would want to find themselves in the situation we found ourselves in. It was like running a marathon but with no idea when, or often how, it would end. But despite all that, we know we could never have asked for more. The neonatal intensive care unit saved our miracle baby and for that there really are no words."