Darcy's story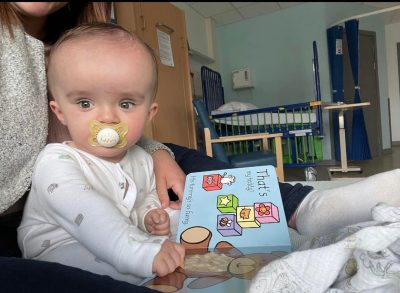 19-month-old Darcy was diagnosed with hydrocephalus, an excess of fluid on the brain in the summer of 2021 at just seven months old. The Lewis family were referred to the Noah's Ark Children's Hospital for Wales where Darcy had an MRI which confirmed her diagnosis and the extent of the fluid build-up.
That September, at just 9-months-old, Darcy had a shunt fitted that would allow fluid to drain from her brain through a small tube into her tummy where it would be absorbed into her bloodstream. She now has check-ups every six months at the children's hospital but is so far doing really well.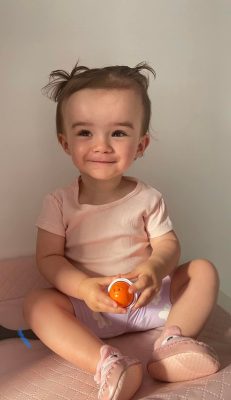 Darcy was Sophie and Oliver's first baby and as new parents the diagnosis of hydrocephalus came as a huge shock. Oliver says: "She really is the happiest baby you'll ever meet. She is a very clever little girl who doesn't miss a trick. Prior to her operation, her head was as big as mine at 30 years old and as a result she was unable to learn to lift her head up to walk and crawl.  As a result she's slightly delayed for her age in terms of crawling and walking but we are confident that it'll all come with time. She is now a happy, kind, and clever 19-month-old who you would never know had experienced something so horrific.
"When we were referred to the Noah's Ark Children's Hospital and they really were fantastic. Dr Jesurasa was superb at delivering some awful information to two new and terrified parents. Everyone was outstanding, and the wards are amazing. The parent kitchens filled with essentials from the Noah's Ark Charity was such a nice touch.
"It was horrendous to see our baby girl like that and what she had to go through, but the staff at Noah's Ark saved her life. They not only cared about Darcy, but they really looked after and supported both Sophie and I throughout."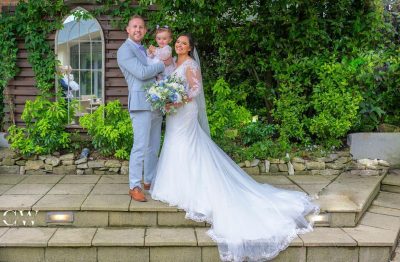 To give back to the hospital that cared for Darcy, the Lewis family have signed up to take part in the 5k Superhero Dash this September at Pontcanna Fields, Cardiff. So far they are the highest fundraisers for the event having already raised an incredible £420!
Sophie says: "We see the value of the Noah's Ark Charity and it will continue to be a big part of our lives moving forward. We think it's a great way to be able to give back after Darcy's journey. We can't explain our gratitude for the team there."
If you'd like to help us support more little superheroes like Darcy, why not sign up for our Superhero Dash this September the 25 in Pontcanna Fields in Cardiff?  You can run, wheel or walk and all the money you raise will go to supporting children like Miles and many others like him.