Elin's story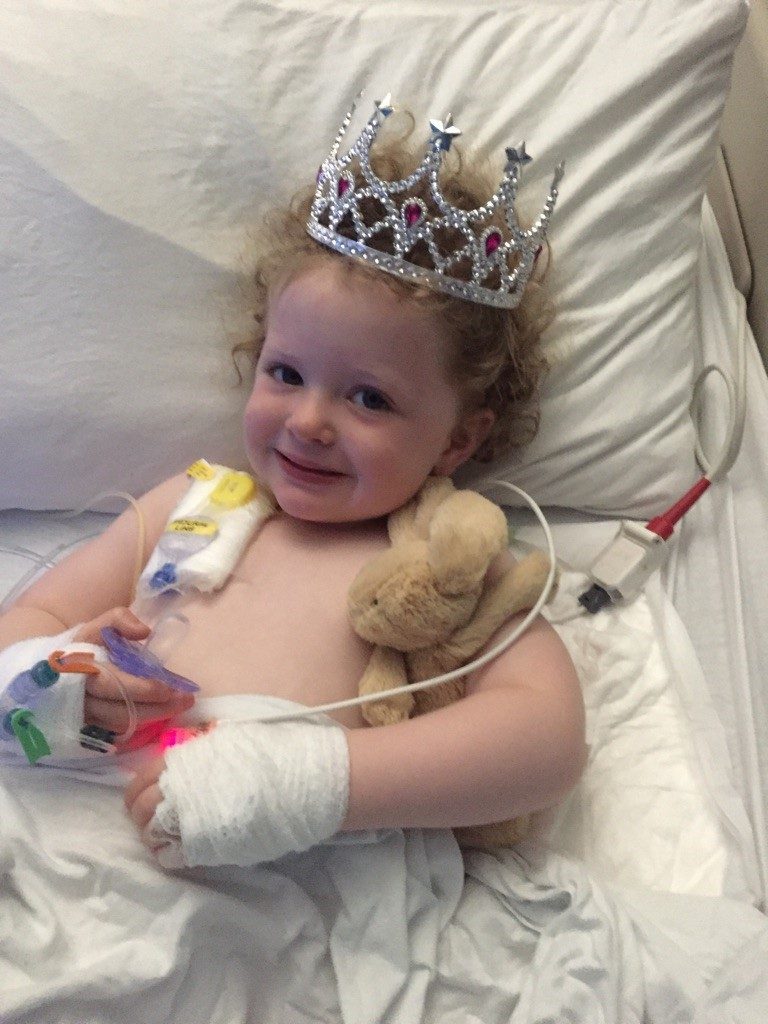 Couple, Sian and Mark Warren will be running the Cardiff Half Marathon in 2017 to raise funds for the Noah's Ark Charity. They were inspired to sign up after spending 11 days on Owl Ward with their then two-year-old daughter, Elin.  She had major abdominal surgery at the Noah's Ark Children's Hospital for Wales last October.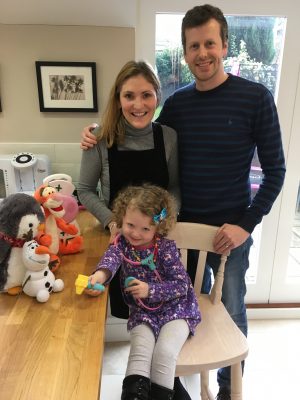 Elin was six months old when she was first diagnosed with a urinary tract infection (UTI). Her worried parents had taken her to the doctor with a very high temperature and were prescribed antibiotics. But when Elin condition failed to improve, Sian went to the old paediatric assessment unit at the Heath Hospital.  While there, Elin's condition started to deteriorate rapidly and the medical team decided to admit her for treatment.
Dad, Mark, says:  "I remember getting the phone call from very scared sounding Sian and rushing to the hospital to be with them.  When I got there, Elin was lying practically motionless on the bed.  The nurses were trying desperately to get an IV in to her arm and everyone looked very anxious and concerned. The worst thing was seeing Elin like that.  Despite all the noise and the prodding with needles, she was too ill even to react. There was just no life in her."
Elin's UTI was so bad that it had spread to her kindeys and blood, giving her sepsis. In order to determine why the infection was so severe, Elin underwent a series of scans and was finally diagnosed with a condition called Vesico-ureteric reflux (VUR), where urine flows backward from the bladder to the kidneys. This meant that although Elin had now recovered from her infection, she was very likely to have others that could ultimately lead to permanent scarring on her kidneys.
Elin was prescribed a daily dose of antibiotics in an attempt to ward off another infection and had regular check-ups to make sure everything was ok. And it was, until May 2015 when she was re-admitted, this time to the newly opened children's hospital, and again diagnosed with sepsis caused by a UTI. While there Sian and Mark were told that Elin was suffering from the most severe grade of VUR in both kidneys. This not only meant that Elin wouldn't grow out of the condition but, after two severe infections, was highly likely to experience irreparable kidney damage if she were to develop a third.
Sian says: "Mr Hutton, our consultant, explained that surgery was the best option for Elin. Hearing how bad her condition was and how likely she was to experience permanent kidney damage without an operation was terrifying, but so was the thought of her having such major abdominal surgery when she was still so tiny. We knew it had to be done though so we went home and waited for her appointment. I don't know what was more nerve-racking – the prospect of the operation or the fear that she would develop another serious UTI while we waited."
In September 2016, at just over 2 and a half, Elin was admitted to Owl Ward at the Noah's Ark Children's Hospital for Wales for her surgery. The operation, which took six hours to perform, was a success but little Elin was left drained and weak. On the third day after surgery Elin started experiencing bladder spasms similar to labour contractions which 36 hours.
Mark explains: "We'd done plenty of research so we knew that Elin's recovery was likely to be a bumpy ride, but I don't think anything could have prepared us for that 11 days in hospital. Elin was connected to all kind of wires and drains and tubes and for the first few days, she was either crying out in pain or too pale and weak even to eat.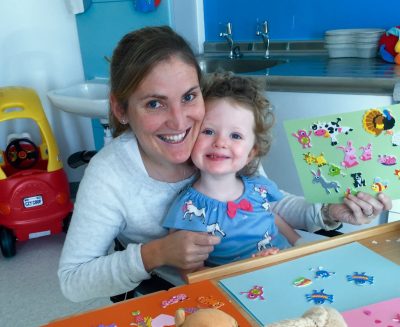 "If it hadn't been for the play specialists I really don't know how either Elin or Sian and I would have coped during those days. As Elin was immobile for the first week, they bought the entertainment to her, distracting her with an endless stream of toys, books and DVDs.  As Elin started to gain strength she was keen to move around more so knowing that she loved stickers, one of the senior play specialists, Sian, set up the playroom with lots of sticker activities and wheeled her to the play room. The team were the perfect balance of supportive without being intrusive and they helped relieve the pressure enough to get us all through."
After 11 days in hospital, Elin was well enough to complete her recovery at home. Her parents say it was a huge relief to see Elin slowly regain her colour and strength and despite having been through a great deal, she now has only happy memories of her time in hospital.
Sian says: "While we were in hospital with Elin, a friend of ours took part in the Cardiff Half Marathon and Mark and I decided then that we would register this year to raise money for the Noah's Ark Charity. We're so grateful to have the children's hospital practically on our doorstep.  No-one wants their child to be in hospital but knowing that they'll have the best possible care – the amazing surgeons, the bright, airy environment, the play rooms and the play specialist team, makes such a huge difference.  For us it says a great deal, after what Elin went through, that she never fears going back to the hospital for checks.  It's been a positive experience for Elin in more ways than one.  The only concern she has as a result of her treatment is whether she's going to be a doctor or a nurse when she grows up!
For their part Sian and Mark say that they are really looking forward to taking on their running challenge and even more so because they know exactly where the money they're raising will go.