Florence's story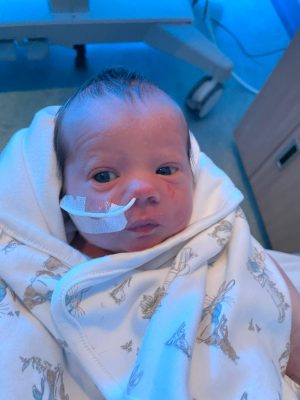 Little five-month-old Florence from Llantrisant is quite the medical mystery. Born in April this year, she has been in and out of hospital ever since.
When Florence was born as is common in most babies she had jaundice, but most babies jaundice disappears on its own after two weeks. However, baby Florence was diagnosed with prolonged jaundice that lasted 15 weeks.
Baby Florence was born with six fingers which doctors told first time parents Elle and Luke could be a marker for a chromosomal defect.  She was also jaundiced for the first 15 weeks of her life and her fontanel, the soft spot at the top of a baby's head, was much larger than normal.  She also had mottled skin and an allergy to milk. 
Florence has undergone several tests to determine the cause behind her issues. Tests have ruled out a genetic condition which Elle and Luke say is a huge relief. Tests have showed acid in Florence's urine during metabolic testing which is now under further investigation, and the family are awaiting an appointment with a metabolic specialist at Noah's Ark in a few weeks' time. Florence has now been diagnosed with a metabolic condition called Short-chain acyl-CoA dehydrogenase (SCAD) deficiency, which is a condition that prevents the body from converting certain fats into energy, especially during periods without food (fasting). Little Florence is awaiting on genetic blood tests to confirm the diagnosis.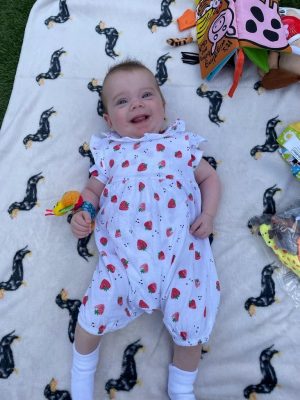 Elle says: "To look at Florence you would never think there's anything wrong with her.  She is the happiest and most smiley baby. Doctors are puzzled as to the cause of her issues, and we are waiting to see a metabolic condition specialist soon to hopefully shed some light on a diagnosis. For only five months old she has been poked and prodded more than most adults."
The whole family including Florence's grandparents have signed up to take part in the Superhero Dash in aid of the Noah's Ark Children's Hospital Charity taking place at Pontcanna Fields, Cardiff this September 25th.
Elle continues: "It's not until you have a poorly baby do you understand the impact it has on your whole life. That is why as a family we were determined to take part in the Superhero Dash to support the hospital who will likely be caring for Florence for most of her life."
The family have raised £900 so far with no plans of stopping there. You too can be a superhero this September 25th, sign up now here.