Hounds for Harvey

As much as we all want to, it isn't always possible to make everyone better. But together, we can help make little differences to the lives of children and families during the hardest of times.
We met eleven-year-old Harvey near the end of his seven month stay at the Noah's Ark Children's Hospital for Wales.  Harvey suffered from a range of complex long term conditions and had been a patient on Jungle Ward since being admitted with intestinal problems last autumn. After months of tests, his parents were given the devastating news that the new condition Harvey had developed was not treatable.  Shortly after, Harvey started receiving palliative care and plans were made to take him home.
The staff on Jungle Ward, who had grown to love Harvey,nominated him for our Sparkle Fund, asking us to arrange something nice for the family to look forward to. So on the day before the Six Nations final in March we took rugby loving Harvey and his parents to the Principality Stadium where he met the whole team. Seeing the happiness it bought him, we made it our mission to do as much as we could to keep Harvey smiling.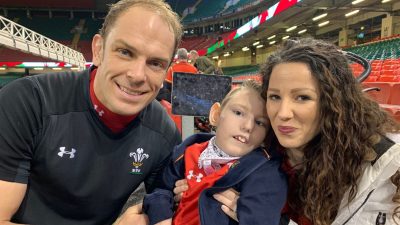 As well as being a big rugby fan, Harvey was a huge lover of animals, particularly dogs, so we asked our followers on social media to send us videos of their pets saying hello to Harvey. The response we had was astounding and the thousands of videos that were posted from all over the world really did make an impact on Harvey, distracting him from uncomfortable procedures and helping him to relax.  The outpouring of support also had a profound effect on his parents who felt comforted knowing that people were thinking of them.
Just before Harvey left hospital for home, he received a special visit from our favourite therapy dog, Nico.  Harvey had been having a difficult day so the effect that being with Nico had on him was miraculous.  Within minutes of being in Nico's company, Harvey's muscles began to relax and he started to reach out for the dog. By the end of their session Harvey was laughing and sighing happily.
https://www.facebook.com/noahsarkcharity/videos/2104820309635191/?__xts__[0]=33.%7B%22logging_data%22%3A%7B%22page_id%22%3A137828816313488%2C%22event_type%22%3A%22clicked_all_page_posts%22%2C%22impression_info%22%3A%22eyJmIjp7InBhZ2VfaWQiOiIxMzc4Mjg4MTYzMTM0ODgiLCJpdGVtX2NvdW50IjoiMCJ9fQ%22%2C%22surface%22%3A%22www_pages_home%22%2C%22interacted_story_type%22%3A%22565413710334575%22%2C%22session_id%22%3A%2235386c5b1f20d83002192d1591566707%22%7D%7D
After leaving hospital, Harvey had more than three months at home surrounded by his loving parents, siblings, grandparents, friends and much loved dog and cat.
Harvey's mum, Jamie-Louise, said:  "Harvey's brother and sister, Alex and Brooke, would always be by his side and would make sure that someone was with him. We would wake up in the morning and they would fight over who would get to sit next to him. People say Harvey was lucky to have us but we are the luckiest family on this planet. We are only who we are because of him, he made us who we are."
Harvey's family now hope to raise funds towards a therapy room on Jungle Ward in his name where more children can enjoy the benefits of pet therapy while in hospital.
Jamie-Louise says: "We are animal lovers in our house and I think sometimes we take pets for granted. It's just amazing how much of a difference they can make – they changed Harvey's life. We say medicine doesn't always come in the shape of a bottle and it's true."