Imogen's story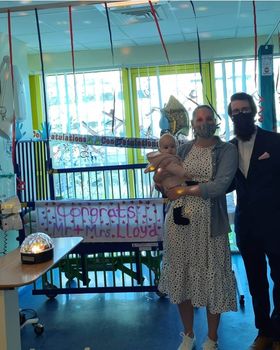 Retinoblastoma is a rare type of eye cancer that can affect young children, usually under the age of 5. Baby Imogen was diagnosed with the condition at only ten weeks old. Here, Mum, Lorna, tells her story.
Our daughter Imogen was diagnosed with bilateral retinoblastoma (eye cancer in both eyes) after we noticed a white glow in her right eye. She also had a squint, but we never expected it to be something so sinister.
Imogen had an MRI, bone marrow biopsy, lumbar puncture, and Hickman line placement and started the first of six rounds of systemic chemotherapy a week after diagnosis. She was under the care of the specialist retinoblastoma team in Birmingham but received all her chemotherapy and dietary care at Noah's Ark.
Because Imogen was diagnosed at the end of 2020, Covid protocol meant all of her appointments were attended by one parent only. However, we can't fault the support we received from the incredible team on Rainbow ward. They were never too busy to lend a listening ear, a shoulder to cry on, or a cup of tea.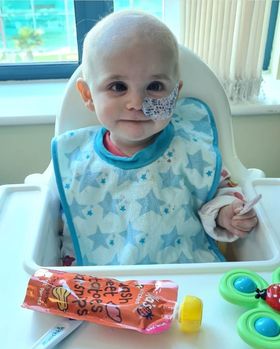 Imogen and I would spend three days on Rainbow ward while she received chemotherapy. We'd then go to Birmingham for laser and cryotherapy treatment, before returning to Noah's Ark for her next round.
Three months into her treatment, when Imogen was only five months old, Mike and I decided to get married in a small registry office with only two friends and Imogen there as our witnesses. Unfortunately, Imogen was unwell the morning of the wedding, and when we spoke to the team on Rainbow ward, they recommended we bring her in after the ceremony.
We arrived on the ward still wearing our wedding clothes to be surprised by the amazing nurses who had set up balloons, banners, cake, and even a disco light (Imogen loved watching the lights on the ceiling during her chemo sessions)!
Imogen and I ended up staying on the ward for three nights for monitoring, and we were so grateful to everyone there for making our wedding day so memorable. It's moments like that which really show how much people care within the NHS.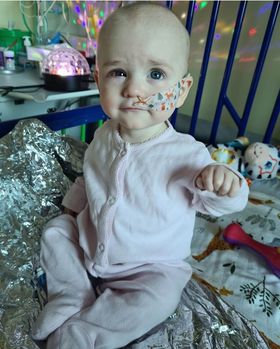 Over the following months, Imogen completed her six rounds of systemic chemotherapy at Noah's Ark, alongside laser treatment, cryotherapy, radioactive plaque treatment, and Intravitreal chemotherapy in Birmingham. She is now two and a half and doing so well. Her tumours have left her with no vision in her right eye and reduced vision in her left, and although she will need continuous monitoring for the foreseeable future, she hasn't needed any treatment for a full 12 months!
We are so incredibly grateful to all of the staff on Rainbow ward at Noah's Ark. From the consultants and doctors to the nurses, play specialists, and healthcare assistants who made our time there as positive as possible. We will never forget the care you showed our daughter and us.
This week is Retinoblastoma Awareness Week. For more information on the disease, please visit The Childhood Eye Cancer Trust (CHECT)