Ioan's story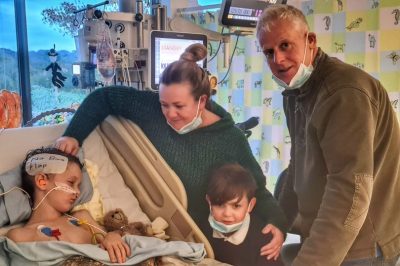 This is nine-year-old Ioan. Last October, on his brother Rhodri's eighth birthday, Ioan was playing on his scooter when he fell from an eight foot height and landed directly on his head. On hearing his brother's cries, Rhodri alerted their mum, Lydia. Expecting grazed knee, Lydia knew as soon as she saw Ioan that it was far more serious. Seconds after she got to him, Ioan had a seizure and became unconscious.
Paramedics and the air ambulance crew arrived within minutes of each other and worked on Ioan for over an hour before he was stable enough to be taken to hospital. From there he was transported to the paediatric critical care unit (PCCU) at the Noah's Ark Children's Hospital for Wales. Parents Lydia and Rich followed behind the ambulance in a police escort. Lydia says: "It was the most agonising drive of my life. We followed along slowly behind the ambulance to avoid disrupting Ioan too much as he had suffered a brain injury, but not knowing what was happening to him was terrifying."
Ioan had fractured his skull in multiple places during the fall and was placed into a coma to allow his brain time to heal. Typically, brain swelling begins to reduce after three or four days but Ioan's only got worse. . On the fifth day, Ioan underwent life saving surgery to relieve the swelling by removing a portion of his skull.
Over the following weeks, any progress in Ioan was slow.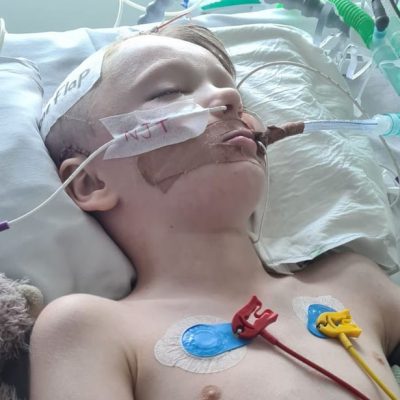 Lydia says: "One of the worst moments aside from finding Ioan after the accident was when the team had to discuss with us that if Ioan's heart stopped it would not be in his best interest to resituate him. That conversation was devastating, I will relive that moment forever. At that point Ioan was not progressing and so we signed the DNR."
After three weeks on PCCU, doctors decided to reduce Ioan's sedation and slowly wake him up to see if he was able to breathe on his own. To everyone's relief, he did but he was very slow to come around.
Finally, Ioan become well enough to leave PCCU for Owl ward. There, under the care of a multi-disciplinary team of physiotherapists, occupational therapists and speech and language therapists, he started a 12 week neuro rehabilitation programme. During the full month of November, Ioan progressed from fully regaining consciousness to starting to speak and move. By January he was well enough to go home.
Lydia says: "Now six months after that horrific day, Ioan is back in school full time. His friends were delighted to see him again. He is getting better each day though he still struggles with impulsivity and concentration and finds regulating his emotions very difficult. As with any brain injury, recovery is unique to each individual but we know that it will take at least two years for his brain to fully recover, if ever."
Ioan and his younger brother Rhodri are determined to say thank you to everyone who helped to save his life. The brothers, together with around 30 of their friends, have signed up to run the Caerphilly 2K – a pretty impressive challenge for a boy who, only a few months ago was not expected to recover. Ioan has already surpassed his £1,000 target, Ioan but is determined to raise as much as possible in support of the Noah's Ark Children's Hospital Charity and the Air Ambulance.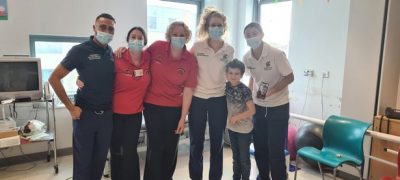 Lydia says: "The air ambulance came so quickly when he had his accident and I don't think he would be alive if it wasn't for them. The work they did on him before he even got to hospital probably made all the difference to him. Staff on the paediatric critical care unit were also amazing. They are there nursing your child for 24 hours. Even when we were not sure if Ioan was going to survive, they were always so positive, trying to get the family involved with reading to him and things like that.
"They would always answer our questions and tell us what was happening. They always had time for us even though they were very busy. Once we were on the ward at Noah's Ark, they had a team there who brought toys to your children and things they were interested in and chatted to them. We want to raise money for these charities because Ioan wouldn't be here without them. He's lucky that he's recovered as well as he has and he now wants to try and do something positive."