When Lacey met Annie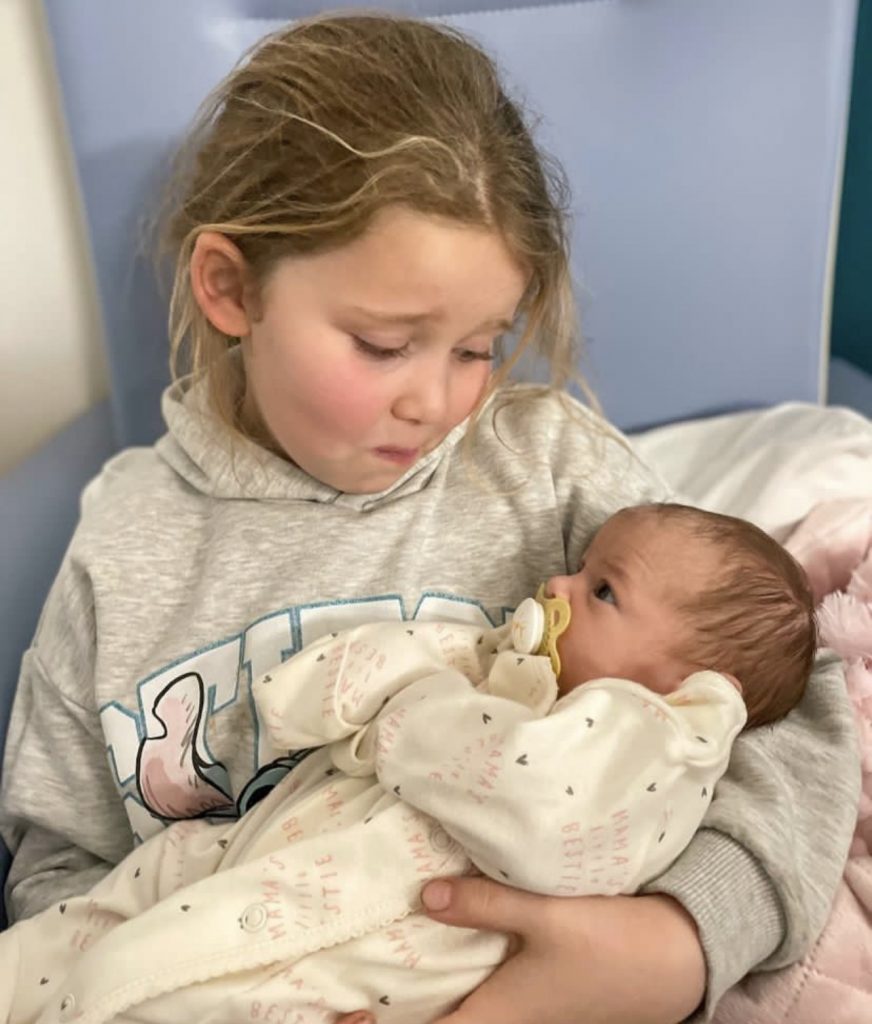 Christmas 2022 was a particularly exiting one for six-year old Lacey and her parents Jenna and Kieron. It was going to be their last as a family of three and Lacey was eagerly anticipating the birth of her new brother or sister early in the new year.
But at 36 weeks, Jenna started to notice that the baby was moving less frequently and, concerned, she went to the local hospital to be checked.  A scan showed that Jenna's placenta was beginning to fail so the decision was made to was made to deliver early to be on the safe side.  Jenna packed her bag for what she was hopeful would be a short stay and reassured Lacey that she'd be meeting her new sibling very soon.
Back at their local hospital, Jenna started medication to induce labour but it took five long and painful days for the drugs to do their job and for baby Annie to arrive.  Born seemingly healthy, Jenna thought that Annie's safe arrival was the end to her difficult beginning. Sadly, that wasn't to be the case.
At just a few hours old, Annie collapsed and the crash team where called. She was resuscitated and taken straight to the hospital's special care baby unit where clinicians struggled to stabilise her.  Jenna and Kieron were told that Annie would be taken by ambulance to the NICU in Cardiff. Shortly after her arrival on NICU, Jenna received a call to say that Annie would probably die.  Jenna discharged herself from hospital and rushed to be by her baby's side.
Shortly after she arrived, Jenna and Kieron were taken into a side room for what Jenna says is easily the worst conversation of her life.   The new parents were told that, though the team were doing everything they could, they'd so far been unable to control Annie's blood pressure or stabilise her heart rate, which was at that point, up in the 200s.  They were working as quickly as possible to find out what was wrong but in her current state, Annie was unlikely to make it through the night.
Given the gravity of the situation, Jenna and Kieron were told that they could invite family down to meet baby Annie.  Jenna's thoughts immediately turned to Lacey.  She says: "I felt completely torn between wanting Lacey to meet the sister she'd longed for and worrying that seeing her on NICU connected to so many wires and machines would scar her for life.  NICU is a daunting enough place to enter as an adult yet alone as a small child.  And what was I going to tell her about her sister's prognosis. The thought of telling her that she might lose her sister made me feel sick but I didn't want her to lose hope either.  She was at that age where she was too old to not to tell her anything but too young to understand.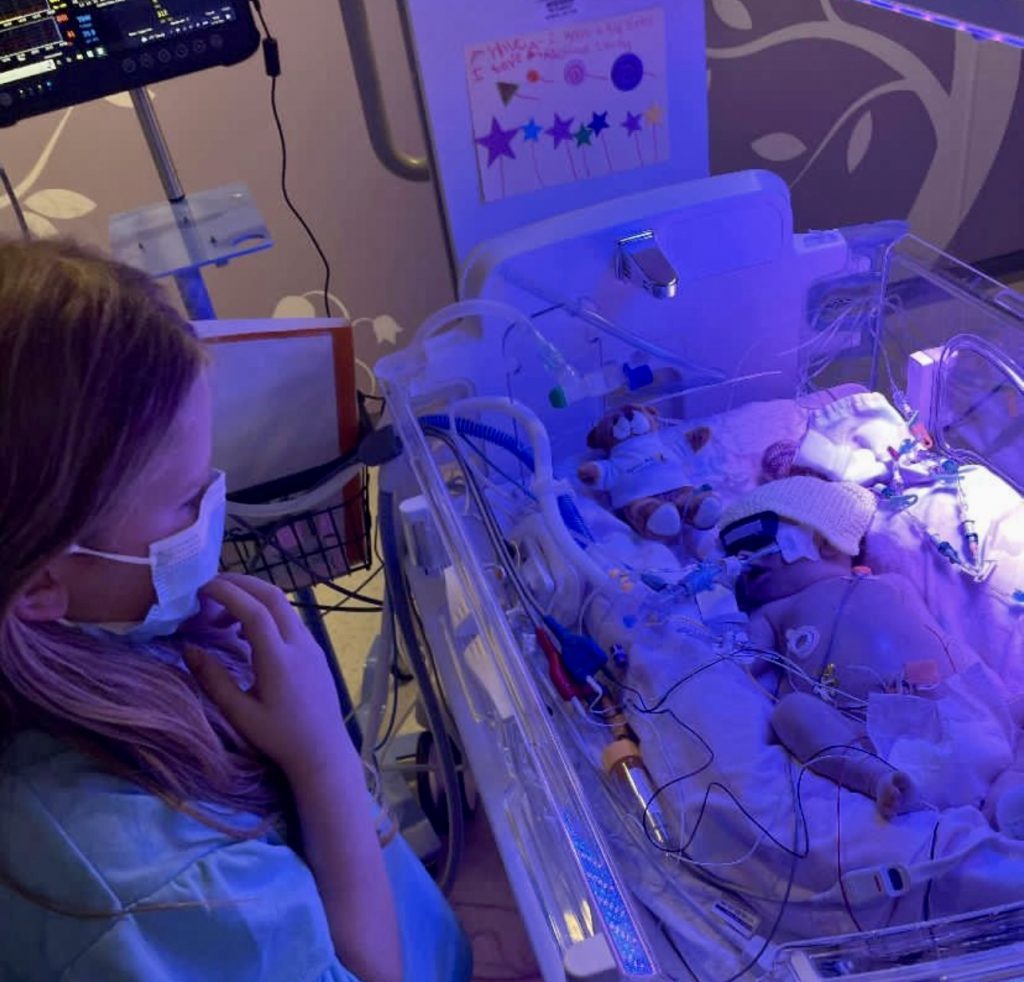 "I expressed my worries to one of the consultants and not long after, I was given a sibling pack.  I honestly can't tell you how much of a difference it made to our journey.  In it, there was an advice leaflet for parents and a fun, NICU themed journal for siblings and together they helped explain everything I needed to say.  Lacey filled in her journal over the weeks we were in hospital and as well as helping her to understand the practicalities it also helped her understand some of the emotions she was feeling."
"Also in the pack where two little bears, one for Lacey to keep and an identical one for Annie.  When Lacey arrived on the ward that first time, the nurses gently lowered to cot so that Lacey could give Annie's hers in person.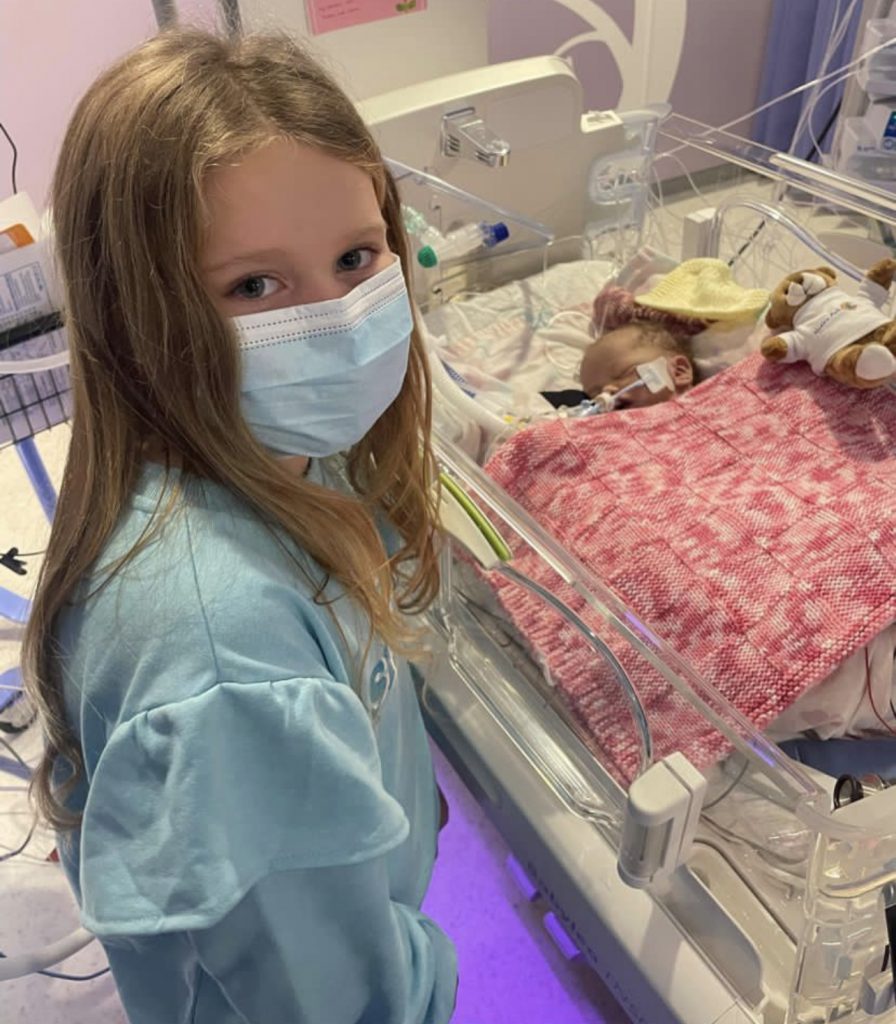 "I could tell that first visit to NICU was pretty overwhelming for Lacey so the nurse suggested we go into the family room so that Lacey could use the little kit in the sibling pack to make a cot card for Annie.  By the time she was ready to go back in, Lacey was just excited about giving her sister the card.  That one little thing completely changed Lacey's outlook and her fearfulness just lifted."
On the second day in NICU, blood tests came back to reveal that both Annie and Jenna had e-coli sepsis, likely to have been contracted during the several failed attempts at induction. Annie was put on strong antibiotics but the e-coli had already started to attack her bowel. By day four Annie had developed necrotising enterocolitis (NEC). On day six, she was rushed to surgery where all of her large bowel was removed. Her small bowel was diverted through an opening in the tummy in a procedure called an ileostomy.
Jenna used Annie's teddy to keep Lacey up to date with her little sister's progress, sending pictures of Annie being waved off to surgery and welcomed back when she returned after her successful operation.  Lacey was being cared for by her grandma but was missing her mum very much and had started to become anxious and tearful. Exchanging pictures of their teddies' day wasn't only a way of keeping Lacey involved in her sister's journey, it was a way for Lacey to stay connected to her mum too.
Thankfully, Annie's condition improved quickly after her surgery and she was soon well enough to move to the high dependency unit (HDU).  The name card that Lacey loving drew on that first day went with Annie to HDU and moved with her again to their local hospital when they were discharged there for the last two weeks.  Jenna says it gave Lacey another touchpoint at each step of Annie's journey home.
Five and a half weeks after her sister's birth, Lacey finally got what she'd been waiting for – her mum and her new sister home. Annie is doing incredibly well and Lacey has settled in well to her new role as a big sister.
Jenna says:  "It's been an incredibly difficult journey but one that's honestly been made so much better by the sibling packs.  You'd think in the huge scheme of things something that simple might not make that much difference, but it genuinely has to us.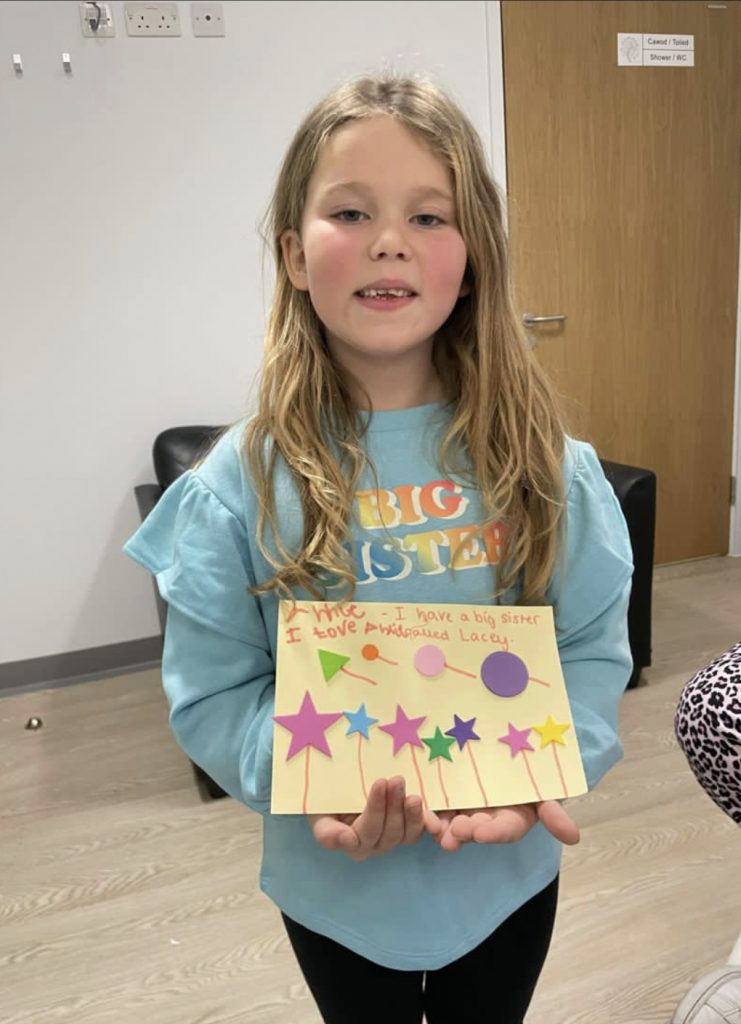 "Right from the start, the pack served a purpose for us all.  For my husband and I, in those awful first days, it almost gave us something to focus on and it lifted a huge burden from me in worrying what and how to explain things for Lacey.
"For Lacey, it made things fun in a situation that was otherwise not fun at all. Things like the teddies and something as simple as the cot card making kit are things that I was in no state to think of myself but I'm amazed by what a real difference it all made."