Lily's story – as told by her mum, Karen.
Can you imagine what it would feel like to be told to prepare to have your child's life support machine switched off?  It's every parent's worst nightmare and it happened to me.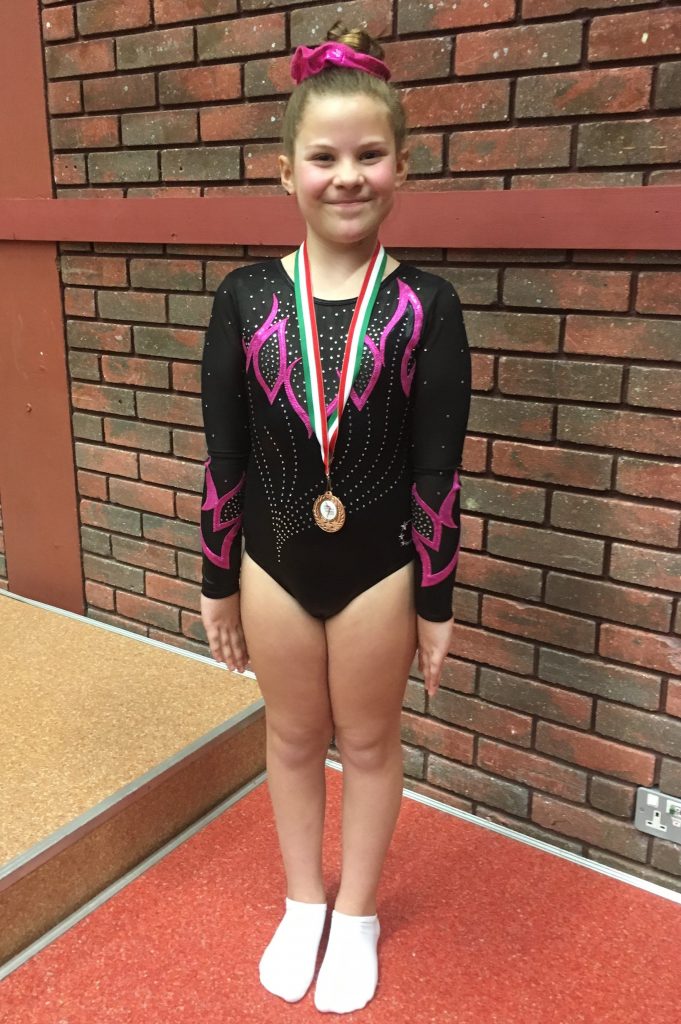 My sports mad daughter, Lily, was a perfectly healthy child until she fell awkwardly one afternoon in her trampoline class and started complaining of headaches.  We didn't think a great deal of it at first but as the pain got worse and she started vomiting, my husband Mark and I decided to take her to our local A and E.  Lily was given a scan. Shortly after, around 20 medics rushed into the room. One of them told us that Lily had an aneurism that was about to rupture.
They said that Lily needed airlifting to another hospital because she wouldn't make it in time by road. All I could think was – 'make it for what?'  My brain couldn't process what they were telling us.
The doctors were right – Lily's aneurism did rupture a few hours later. It caused a huge bleed in her brain. Her condition was critical and she was put in to a coma and ventilated. A few days later we were taken into a side room and told by the doctors that they may need to withdraw life support.
Like all parents, I love my children more than anything. They're my world. So being told that my child might be about to die gave me a feeling I'm not sure I can even explain.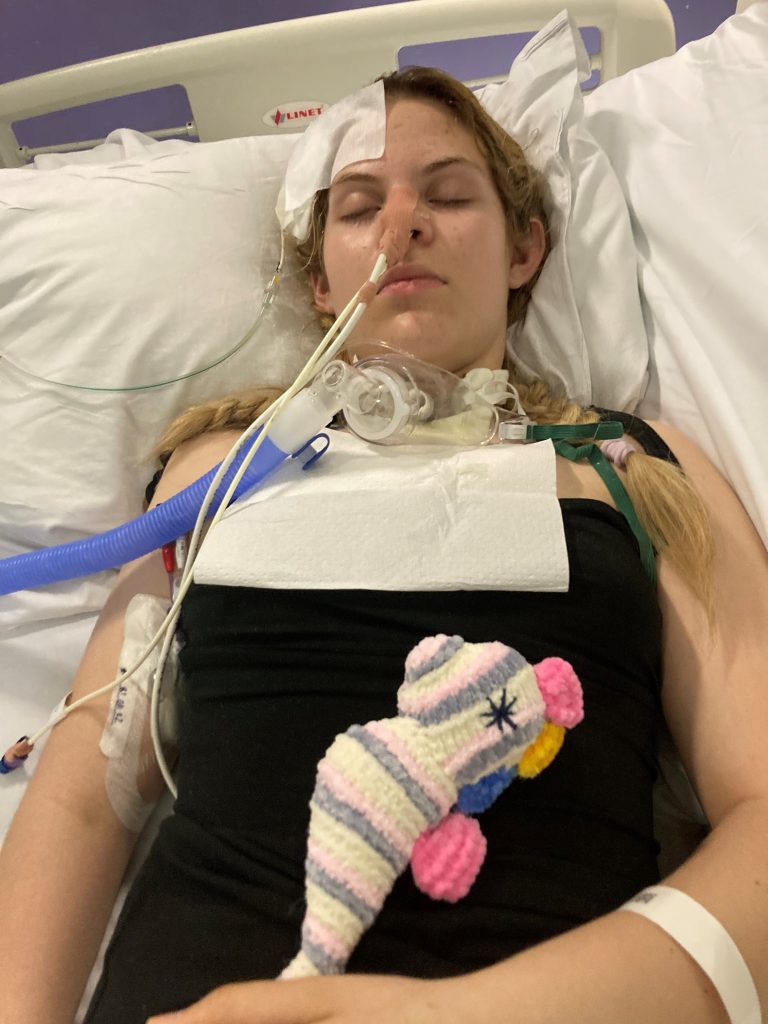 Air seemed to be rushing through my head and I could hear it in my ears and my heart. I remember saying to the consultant "If she goes I'm going with her." I wouldn't have done it but in that moment, it was all I wanted.  
Life had gone from completely normal to a living nightmare in the space of a few days. I couldn't stop crying about her. She was my life and my soul.  My brain just couldn't link the person I saw in that hospital bed to the girl I'd always known.
Lily was a mess of tubes and machines and things that beeped and alarms and bandages. Can you imagine it?  I drove myself mad trying to work it out and if there had been something I could have done to prevent it. I couldn't ever sleep because of the thoughts in my head and the feeling of my heart thumping in my chest.
Lily's twin brother was desperate to see her. He managed to hold it together for an hour at her bedside but then he came out and cried and cried. I didn't know what to tell him when he asked –  'Is she going to die?'  Like I felt with Lily, I would have done anything to make the pain go away for my son, but I couldn't. This was something that, no matter how hard I wanted to, I could not fix for my children.
Eventually Lily's condition did start to improve but we were told that if she did survive, she would be brain damaged and very different to the person we'd known. I used to think about whether she would ever say a word again and try desperately to remember the last thing she said to me before she had the seizure.
Miraculously, Lily exceeded everyone's expectations.  She came out of the coma, started to talk and eventually even stood up.   The best thing of all was that she was the same feisty, funny child that she had been before.  She was getting back to her old self and I started to let myself believe that this was just going to be a blip in her life which we would all get over and talk about in years to come.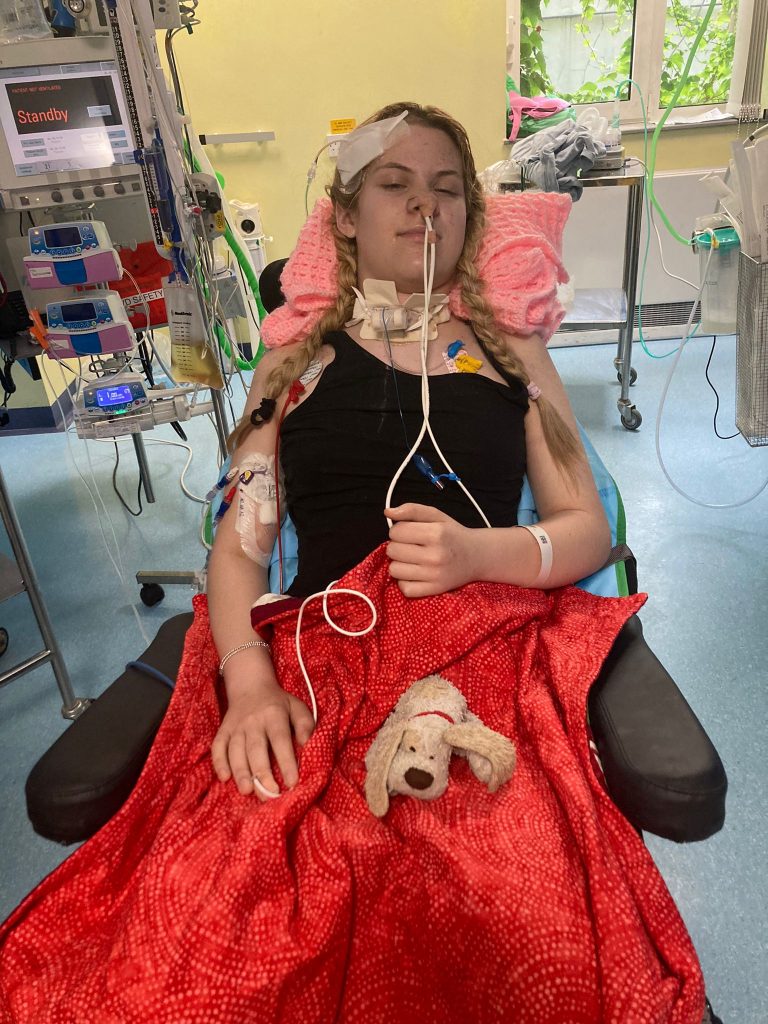 But I wasn't prepared for the mental health issues Lily would suffer as a result of what was happening to her.  She became sad and anxious and the fear she was feeling often came out as crying or shouting at me. I asked if there was a counsellor she could talk to.  I was told there wasn't.  I asked if there was any form of support for her anxieties and worries and again was told there wasn't anything like that for children on the ward.
This stressed me further as I didn't know how to make things better for her.  She talked about not being able to cope with it and her head hurting with the worry of it all.  She was cross with herself and me but she often didn't know why.
Lily would sometimes refuse her physiotherapy sessions and then later be upset that she hadn't done it.  She would get angry with herself when she couldn't do something and say she was useless and pointless.  She told me she hated herself and deserved what was happening to her.  She started saying things which were totally out of character. She didn't want to get dressed or go for a walk or see her grandparents or talk or play games or watch TV.  She spent a lot of time lying in bed just staring into space.
Lily needed help to come to terms with what had happened to her and slowly I realised that I wasn't the person she wanted to talk to about it.  I was too close to the situation.
She needed something to help her process her feelings and give her hope for the future she was afraid she'd lost  – to go back to her sports, to go out with her friends and lead a normal life again. 
And as much as I didn't want to admit it, I needed help too.  I needed to know that I would sleep again and that others have been through the same sort of thing and achieved happiness again.  I needed help with the terrible flashbacks I was having, with the guilt I felt at not being there for my husband and other child. I needed to know how to manage my anxiety about our finances and paying the bills with one of us now caring for a child full time. Because those practical things don't just go away for families, no matter what you're experiencing at your sick child's bedside.
We talked to several nurses and doctors about getting some emotional support and they all agreed with what we were saying.  But couldn't offer us anything. We were told there may be help that we could access when we were out of hospital, but we needed help when we were in there.
It was around this time that we met some of the Noah's Ark Charity team. They did little things to brighten up Lily's days like therapy dog visits and pamper packs.  They also realised that Lily needed a confidence boost and to honour how far she'd come, they made her a young ambassador for the charity and threw her a party when she was finally well enough to come home. Lily was so thrilled.
It's then too that I found out about the charity's plans to launch an appeal to improve emotional support services for the children and families of Noah's Ark. It's something that I feel extremely passionate about and why I have offered to tell you our story.  Because what we want to achieve for future families is something that can only be achieved with the help of your donations.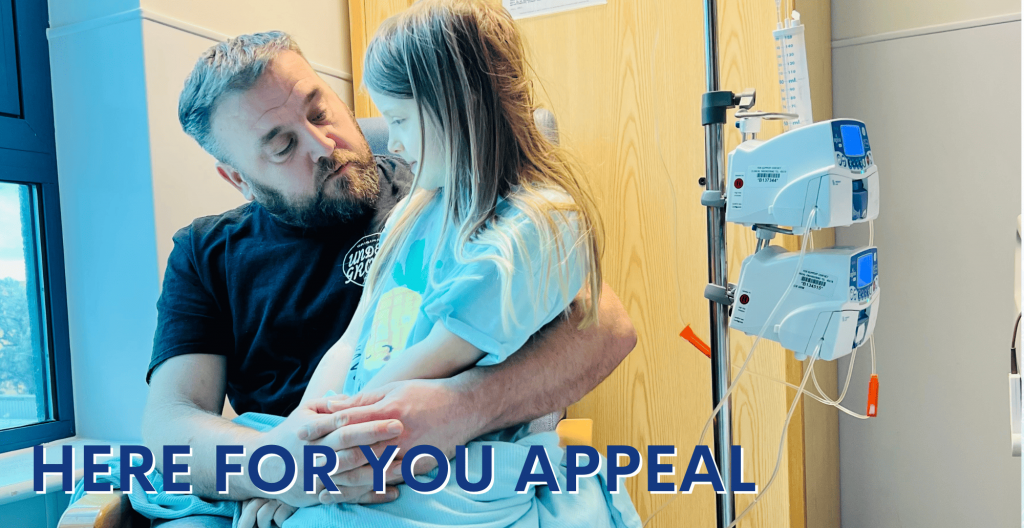 Through its new Here for You Appeal, the Noah's Ark Charity wants to help make sure that the emotional wellbeing of children and families is cared for just as much as their physical wellbeing. With your help they plan to fund an emotional support service that includes ward counsellors, music and art therapists and hopefully even peer support workers – people who have been through similar experiences and are trained to help.
Can you help the Noah's Ark Charity be there for children and families in the darkest of times?
The Noah's Ark Charity knows how much emotional support services in hospital work because they've seen the incredible difference such a service has had on the neonatal intensive care unit – a service that people like you also helped fund.  Now we are asking for your support to make sure every Noah's Ark family can benefit in the same way.
The Noah's Ark Children's Hospital for Wales is an incredible place but there's no denying that, day in and day out, many families go through experiences that are hard for most to imagine. Children undergo daunting procedures, parents live with worry and uncertainty, families miss each other desperately and people just like me or you can have their whole life changed in an instant.
Together though, with the Here for You Appeal, we can reach out a hand to help these families through. 
I know that times are hard financially right now for all of us, but if you can spare just one extra gift this Christmas, please consider making it a donation to this vital and from my experience, urgent, appeal.
Lily is now thankfully doing really well and is back at school and doing her sports. She feels passionate about helping children at Noah's Ark now herself and plans to do just that when she's older. Having been through what Lily has, she says she knows first hand just how much it would have helped her.