Otis' story – by his mum, Adrienne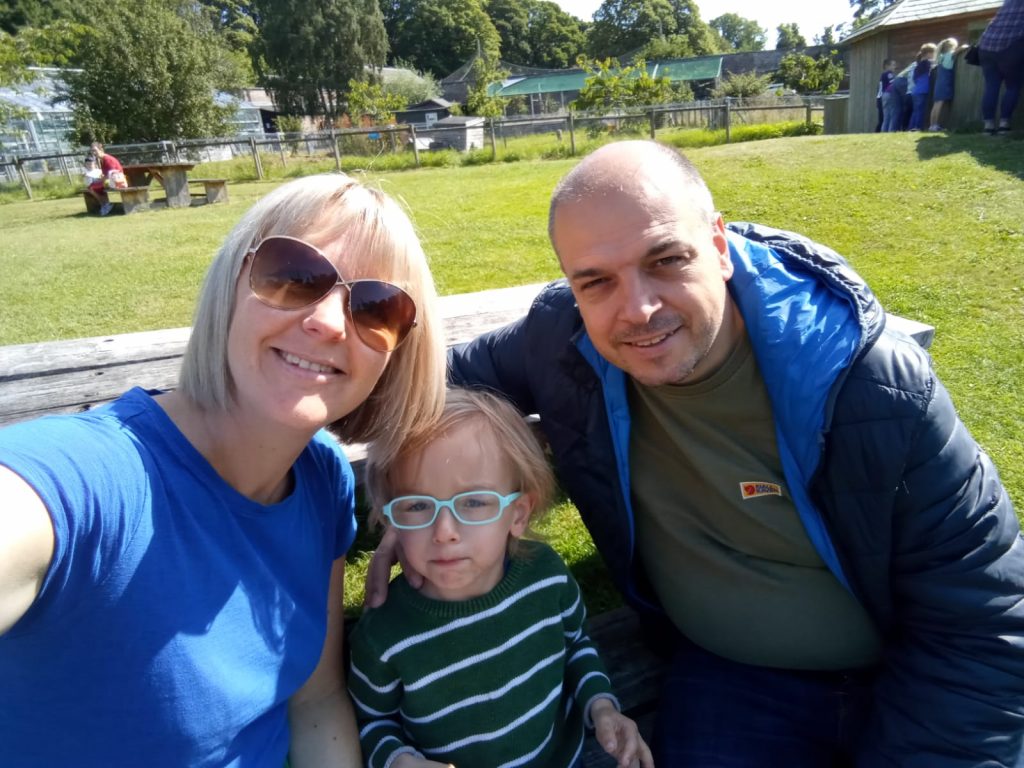 September is a worrying time for me and my husband, Ray. Our little boy Otis has just started school but we're concerned he may pick up more there than learning to read and write.  Otis is classed as clinically vulnerable which basically means that he picks up common bugs really easily and gets much sicker from them than most children. Since he was born we've spent many weeks in critical care and, despite how wonderful the clinical team are at Noah's Ark, it's an experience we never want to repeat.
Otis arrived 14 weeks prematurely, weighing only 1lb 5 – less than a bag of sugar. Shortly after he was born we discovered he had bleeds on both sides of his brain. His prognosis was not good; and on day 28 he became critical. Already on a ventilator, we were told the only option left for Otis was to give him some really strong steroids and set the ventilator to a different, more forceful, breathing pattern. Ray was so anxious, he says his heart was beating so fast he thought he was having a heart attack. We didn't know it at the time but many of the consultants, doctors and nurses that had gone off shift phoned in through that night, just to see how Otis was doing. Those people are a different class.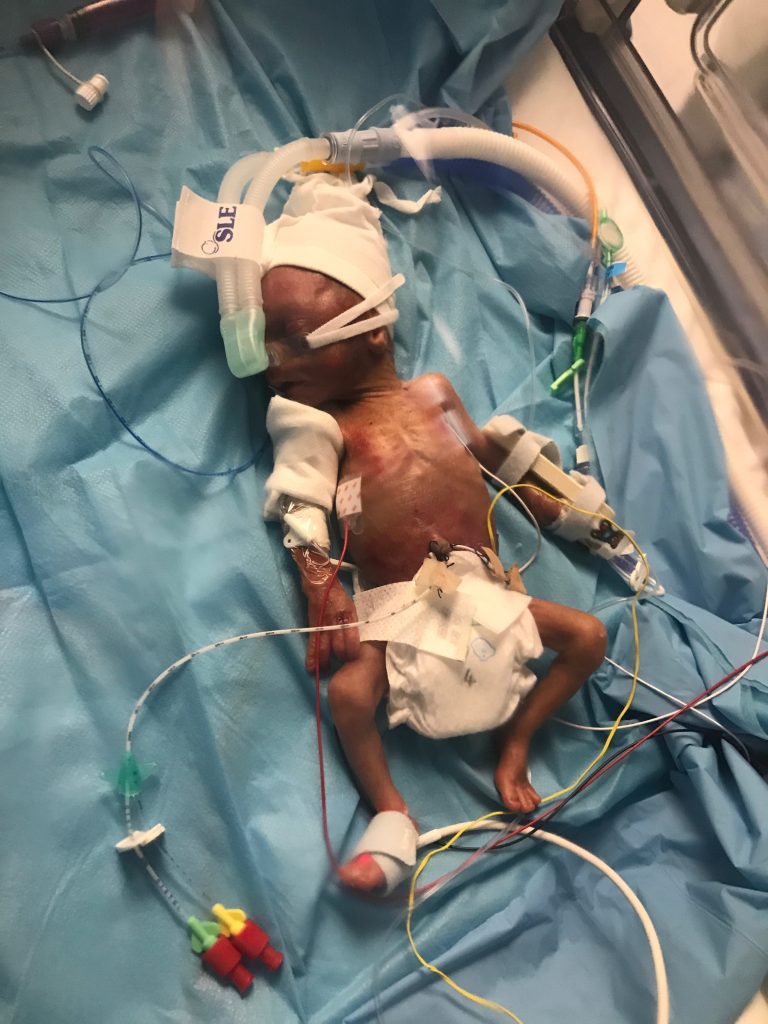 Incredibly, Otis fought through and finally, after 118 days, we got to take our baby home! Naively (I now think looking back) I thought we were done; the dark days were behind us and we could move on and be a 'normal' family.  But babies born as prematurely as Otis rarely come out completely unscathed.
Because he was born so early, Otis had chronic lung disease which meant he was particularly susceptible to respiratory viruses. I don't think we completely realised what that could mean until he developed a cough on his first birthday. Over that following week he got worse and worse and came into Noah's Ark (on to Owl ward) for observation.
Within hours his oxygen levels were so low that he was transferred to critical care – one of his lungs had collapsed and his infection progressed into a particularly fierce strain of influenza. Once again, Otis was placed onto a ventilator.
Ray was also ill during that time so he wasn't allowed to be with us on PCCU (Paediatric Critical Care Unit). It's hard to describe the fear I felt. The sounds of the machines instantly brought back the memories of those early days in neonatal intensive care, and all I could do was watch on, helpless once more, while the Noah's Ark team treated Otis.
The small ray of light I remember so clearly in those first few awful hours was a nurse handing me one of the emergency parent packs that I know the charity are trying to raise more funds for.  I hadn't prepared for anything other than a short visit when we'd come to the hospital hours before, yet alone ending up on critical care.  I hadn't eaten since the previous day and I had nothing with me but the clothes on my back. So having something to eat, a t-shirt to change in to and a simple toothbrush……….it's difficult to describe how things that are seemingly so small can make such a difference in those moments.
I can only speak for myself but, despite having spent those months on the neonatal intensive care unit when Otis was born, being on PCCU was somehow so much harder.  When your child is sedated and on a ventilator, feelings of helplessness and anxiety consume you.  I wanted Otis to know we were there. To be able to smell us, to feel us, to hear us. But I also wanted to be able to cuddle him and comfort him for me. Being able to hold your child makes you feel as though you are able to do something to help them, to protect them. In the neonatal unit, partly because they're smaller, we were able to do that at times. But we couldn't on PCCU and that was excruciating.
While we were in PCCU I saw children of all ages come in. Many were older and much more aware of what was going on around them – which must have been terrifying. Some were also there for very long periods; so I'm so glad that the charity are hoping to fund the Chwarae programme to make the environment less clinical and more familiar for children. I've been told that some of the equipment they're also trying to buy through the programme will help the physiotherapy team get children up and interacting sooner too. I think that would have made such a difference to Otis.  Anything that helps get your child up and out of critical care sooner is nothing but a good thing!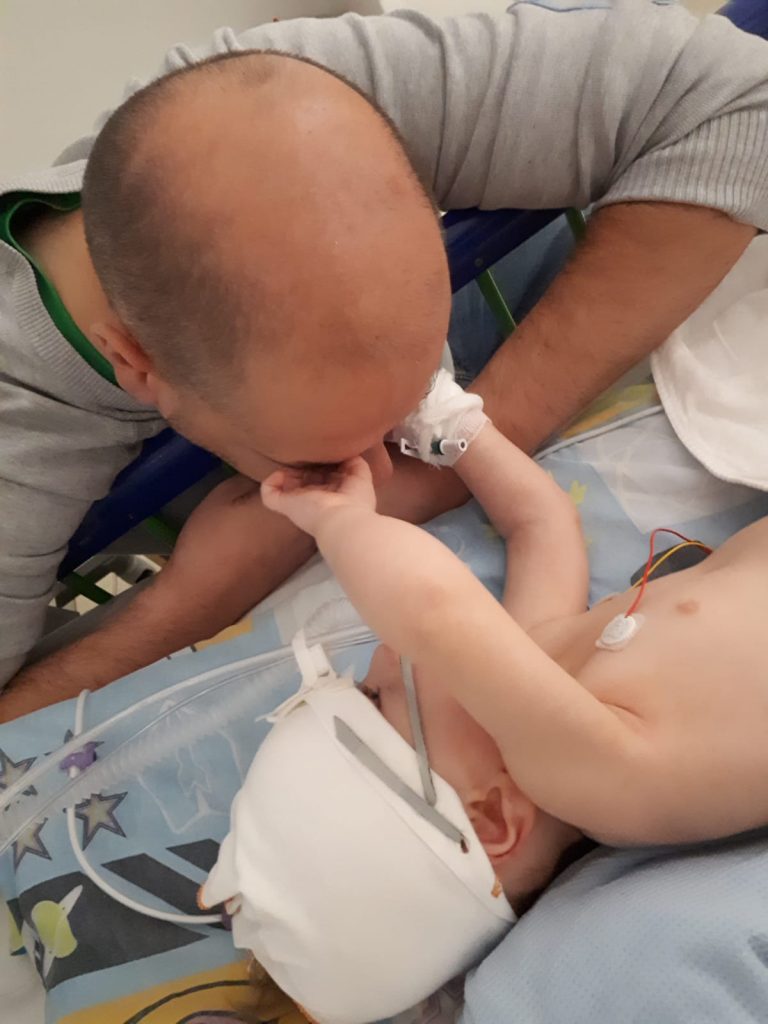 In all we spent a month at the children's hospital, but as much as we hoped it would be our last stay, it wasn't. In the December, Otis contracted three different viruses, all at the same time; RSV, rhinovirus and norovirus. He was admitted urgently again, this time straight to PCCU. We were numb.
But true to Otis' fighting spirit, he came through again and was discharged after 10 days (just in time for Christmas!) He really does never cease to amaze us.
Since then there have been many trips to Noah's Ark, though thankfully for much shorter visits.
After further tests Otis was diagnosed with gastro-oesophageal reflux disease and an unsafe swallow so he was referred to speech and language therapist and a dietician. He also visits the eye clinic, his super ace physiotherapist, has scans through radiology and sees the respiratory consultant for checks.
Otis is four now. Though the staff there are amazing and they do all they can to put him at ease, he has been through a great deal – and he remembers. Sometimes the hospital environment and the procedures he has to endure trigger memories that he probably doesn't even understand and he gets incredibly frightened. An anxious child who already has trouble with his breathing is not a good combination.
Because of his history, we were advised to shield with Otis when the pandemic hit. In a strange way this past year has been good for him because it's given his body the opportunity to grow and stay illness free. The end of restrictions is a joyous thing for most people but for children like Otis (and there are many) it could come at a price.
No family wants to see their child sick in hospital but if they do, Ray and I know first-hand what an impact donations made by people like you can make. If you can support the Noah's Ark Charity, as it tries to prepare for what's likely to be its busiest autumn and winter yet, you'll be making such a difference to families like ours.
Thank you
Adrienne Earls
Otis' mum
The Noah's Ark Charity has recently launched an autumn appeal to support families like Otis' during what's set to be a particularly busy winter for the children's hospital for Wales.