Robin's story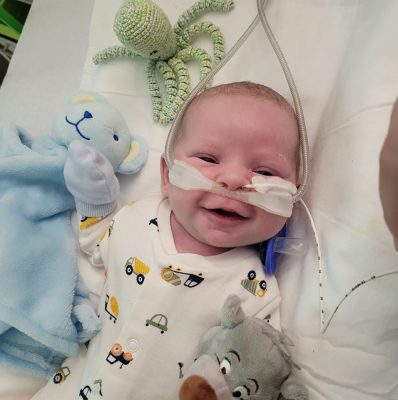 Five-month-old Robin is a miracle baby in more ways than one.  Firstly because his parents Rhys and Aicha were told that they couldn't have children and secondly because, despite being born with a string of complex conditions that have confounded medical professionals, last week he got to go home.  After five months in hospital, it's not the start to family life Rhys and Aicha had hoped for but their delighted to finally have their son where he belongs.
The couple were first alerted to some potentially issues with their unborn baby at Aicha's 12-week scan. They were referred to the University Hospital for Wales where further scans and tests revealed that little Robin had a large ventricular septal defect –  a hole in the wall (septum) that separates the two lower chambers (ventricles) of the heart. Aicha was placed under the care of Professor Uzun at the Noah's Ark Children's Hospital where she was monitored closely throughout the rest of her pregnancy.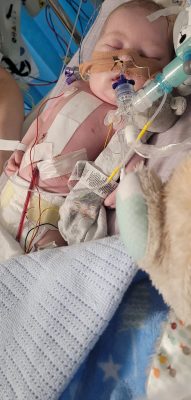 Baby Robin was born on the 5th of March after a planned C-section and admitted to the neonatal intensive care unit.  In addition to the heart defect, it became quickly clear that Robin had several other issues, all of which, to the bafflement on his clinical team, effect only his left side.   He has missing ribs over his heart, no forearm bone and only three fingers on his left side. Robin was also born with just one kidney and has a club foot.
Due to the increased pressure on his tiny heart, Robin developed pulmonary hypertension, a serious condition where the walls of the pulmonary arteries become thick and stiff and can't expand as well to allow blood through. This meant that, at only a month old Robin had to undergo an open-heart procedure to close his large ventricular septal defect.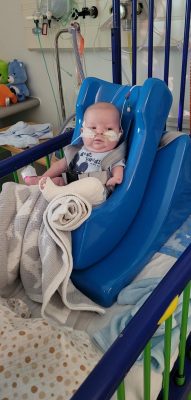 Since then Robin has been recovering well and after a long 153 days in hospital, his proud parents finally got to leave hospital with their son last week.  Robin will be back soon for corrective surgery on his club foot and later a procedure to remove a finger to give him better mobility as he grows . But right now, baby Robin is home where he belongs.
Dad, Rhys, said: "It's been such a stressful time for us.  We just can't wait to have him home and to show him his bedroom and introduce him to his furry brother for the first time. The staff at Noah's Ark have just been incredible.  We never thought we'd get to this day of taking him home at last."