Rose and Sharon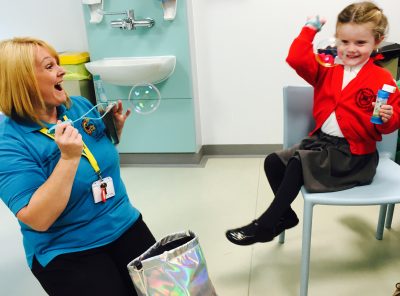 Five-year-old Rose has been a regular visitor to the Noah's Ark Children's Hospital for Wales since being diagnosed with Cystic Fibrosis as a baby. She loves coming for her check-ups because she gets to see her play specialist Sharon who works in the outpatients department. The two formed a bond when Rose needed blood tests two years ago as part of her 12 monthly review.
Mum, Jude, says: "For children with chronic conditions like Rose, I think it's really important that every visit to hospital is a positive experience because they're here so much. It would be awful if her childhood was peppered with frequent bouts of worry at the thought of her next appointment.
"Rose was too young at first to understand the procedures she had to undergo but as she got older they started to become more stressful for her. It's not like that now Sharon's involved. Most of the time Rose is so busy blowing bubbles or playing with Sharon that she doesn't even notice she's had her blood taken until they put the plaster on at the end. Sharon has been instrumental in transforming a potentially traumatic experience into a fun, positive one. As a mum, that is priceless and I am so grateful for the invaluable work Sharon does".
Eva and Kimberley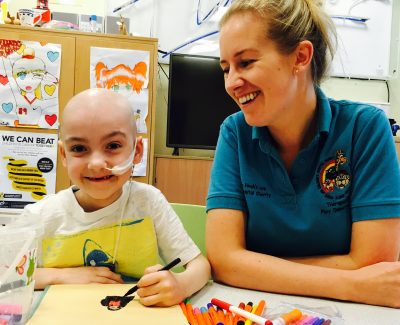 This is six-year-old Eva with her play specialist, Kimberley. In February this year, Eva was diagnosed with a type of childhood cancer called Neuroblastoma. She is currently a resident on Rainbow Ward at the Noah's Ark Children's Hospital while she undergoes chemotherapy and recovers from surgery.
It's been a tough year for Eva and her mum, Lauri, but one that's been made significantly more managable thanks to Kimberley.
Lauri says: "Eva was very introvert when we first came here and didn't really want to speak to anyone apart from me. But that all changed when she met Kimberley. She was fun and made Eva laugh so soon she wanted to get out of bed and go down to the playroom with her to meet the other children.
"As a parent it can be difficult at times to absorb all the information you're being given about your child's condition and treatment. It's even harder then to find a way to explain it all in a way that's not frightening and upsetting to your child, particularly when you're doing everything you can to try and keep your own fears and emotions in check.
"Kimberley just has a way of explaining things to Eva that make it seem ok, using dolls or pictures to show what it's like to lose your hair and what an operation scar looks like.
"Before coming here I think, like most people, I'd have imagined a children's cancer ward as a sad, depressing place but it's not and so much of that is thanks to the play specialist team. They don't just make the experience of being in hospital bearable for the children here, they make it fun, and there's nothing more precious to me in the world than seeing a smile on Eva's face."