Rose and Sharon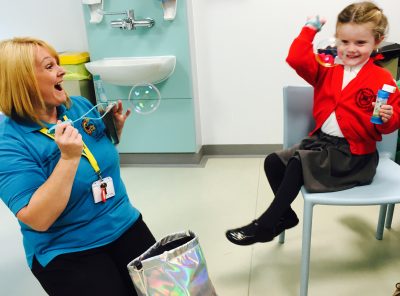 Five-year-old Rose has been a regular visitor to the Noah's Ark Children's Hospital for Wales since being diagnosed with Cystic Fibrosis as a baby. She loves coming for her check-ups because she gets to see her play specialist Sharon who works in the outpatients department. The two formed a bond when Rose needed blood tests two years ago as part of her 12 monthly review.
Mum, Jude, says: "For children with chronic conditions like Rose, I think it's really important that every visit to hospital is a positive experience because they're here so much. It would be awful if her childhood was peppered with frequent bouts of worry at the thought of her next appointment.
"Rose was too young at first to understand the procedures she had to undergo but as she got older they started to become more stressful for her. It's not like that now Sharon's involved. Most of the time Rose is so busy blowing bubbles or playing with Sharon that she doesn't even notice she's had her blood taken until they put the plaster on at the end. Sharon has been instrumental in transforming a potentially traumatic experience into a fun, positive one. As a mum, that is priceless and I am so grateful for the invaluable work Sharon does".
Fliss and Kelly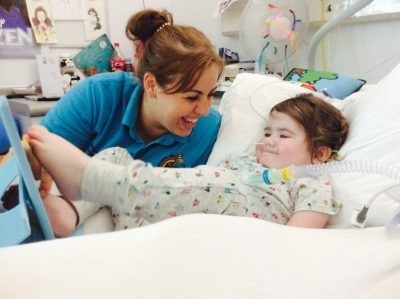 This is Fliss. When she was two she became very ill and spent Christmas on intensive care at the Noah's Ark Children's Hospital for Wales. The illness she had meant that she wasn't able to move anything other than her eyes. Fliss couldn't even smile.
After a while, with the support of the doctors, nurses and the special equipment that kept her alive, Fliss started to get a bit better. But she was very sad because she wasn't able to move and do all the things that she used to do, like play with her toys and run around with her brother. So even though she could smile again, she didn't want to. The play specialist team came to visit Fliss. They played with her, moving her hands and feet for her until, very slowly, she started to be able to move them a bit more for herself. They also sang songs with her to help her talk again.
Fliss was in hospital for seven months and sometimes the treatment she needed was frightening and the exercises she did to improve her mobility were painful. But play specialists like Kelly made it fun for her and slowly, with the help of the doctors, nurses, play specialists and physios, Fliss found her smile again. .
Your support has helped us to fund the intensive care unit that kept Fliss alive over that Christmas and the bed that Fliss' mum slept in next to her on the ward. It also means that we can continue to support the play specialist team that played such an important role in helping Fliss feel better and happy about herself again.