Parents often liken the Noah's Ark Children's Hospital for Wales to being part of a big family or a home away from home. With the ethos of family at our heart, the charity is proud to fund support services that make being in hospital that little easier, for the young patients themselves but also for their parents and siblings.
The play specialist team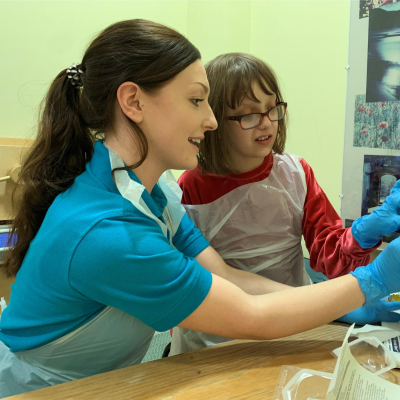 Play is essential to children's growth and development children. From the earliest age, playing helps children to learn to relate to other people and to have fun.
Being admitted to hospital can be a strange and frightening experience for children. Not only are they ill or about to undergo treatment of some kind, but they are also separated from family, friends and familiar surroundings. Play can really make a difference to their experience, progress and recovery.
The play specialist team that you help us fund, use play at the bedside, in the dedicated playrooms and in the Noah;s Ark garden to help children develop, recover, understand, relieve anxiety and simply relax within the hospital environment
Ruth (left) was extremely anxious about having the process of receiving chemotherapy at the beginning of her treatment.  But with play specialist, Catrin's support, Ruth now turns up for her chemo sessions with a smile.  You can read more about Ruth's journey and the work of the play specialist team here.
Supporting young patients in mental health crisis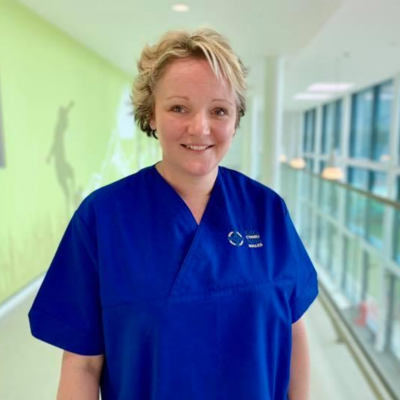 Each month a number of children and young and young people are admitted to the Noah's Ark Children's Hospital for Wales in mental health crisis.  The money you raise means that we can fund 'back on your feet' packs which contain essentials like a change of clothes and toiletries.
Mental health nurse, Adele Watkins, says: "When young people are admitted in a hurry needing mental health support, they sometimes only come in the clothes they're wearing. Having a few home comforts makes all the difference to those who are feeling low. The look on the faces of young people when you hand them the pack says it all. They don't expect or ask for anything but to know someone cares makes such a difference." One mum told us: "We didn't expect that we'd have to stay in hospital today. My daughter was feeling scruffy and really wanted a change of clothes. We spoke to our nurse and she came back with a bag of items that my daughter really needed and it's totally made her day and mine too. It made a difficult day much brighter. We'd like to say thank you so much for this. It really means a lot and families really appreciate it."
You can hear more from Adele here.
Friday Hub Club and our Sparkle Fund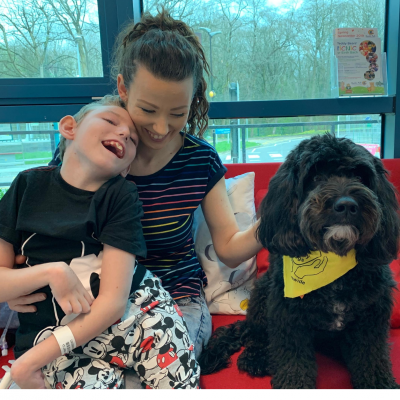 Our Sparkle Fund sprinkles a little bit of magic over hospital life. Thanks to those who donate or offer their services for free, the fund brings joy and respite to some of the hospital's longer term patients in the form of small treats and visits. This could consist of a family trip away from the hospital, a special visit from a favourite film character or a special birthday surprise.
Each Friday morning in normal times, we also run our Hub Club, a rolling schedule of activities that include therapy dog visits, music and movement classes and reflexology for parents. We aren't able to deliver our Hub Club during Covid-19 but we look forward to resuming it as soon as we're able.
Wonderful Harvey, pictured here, benefited from both the Sparkle Fund and Hub Club during his time at the Noah's Ark Children's Hospital for Wales. You can read this remarkable boy's story here.