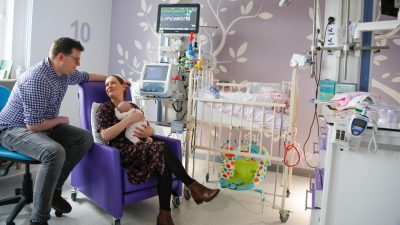 Thanks to you, the hospital which opened its doors in 2015 was fully equipped with state of the art theatre suites, a radiology department, an ophthalmology department and its very own hydrotherapy pool. We continue to help ensure world class care for Noah's Ark patients across all medical specialities by raising funds for equipment that allows the clinical teams to treat more children more effectively and diagnose with ever greater accuracy.
The Neonatal Intensive Care Unit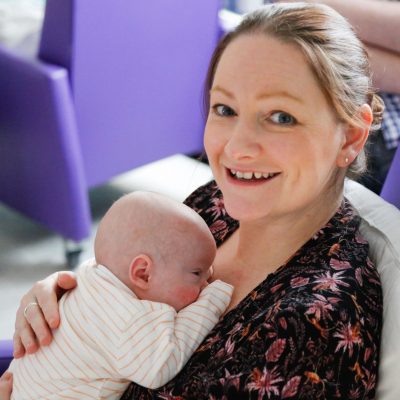 The £1 million raised through our Tiny Lives Appeal made it possible for the charity to fund specialist clinical equipment for the new 50 cot neonatal intensive care unit. Thanks to people like you, we were able to provide a new cardiology scanner to check the structure and all vessels to and from the baby's heart.  We were also able to fund a specialist eye camera to diagnose and monitor a condition called retinopathy of prematurity which without treatment can cause blindness. Every baby on the new unit is cared for in either a specialist incubator or a specialist crib, all of which enable the highest quality of nursing care.
Thanks to the new mobile DR X-Ray machine that you helped us fund, babies no longer need to be moved to carry out the frequent x-rays they need. Even the smallest activity for a premature baby uses up vital calories that would otherwise be used to help them gain weight and strength.
Baby Audrey, pictured here with her mum, spent five months on NICU after being born at 14 weeks early. You an read her story here. 
Where the charity believes that there are exceptional circumstances to do so and that there is an overwhelming benefit to patients, we also support the provision of direct care to patients
During 2019 and in to 2020, your support has made it possible for us to provide funding to help keep the

children's assessment unit

open every night. This has made it possible for patients to be treated, monitored and then often discharged without a hospital admission. The unit is open 24 hours a day throughout the year and acts as a referral unit for GPs who feel that a child's condition needs further investigation or monitoring by a paediatrician.  It's also an open access service for children in the community who have chronic long term conditions.
Meet Cai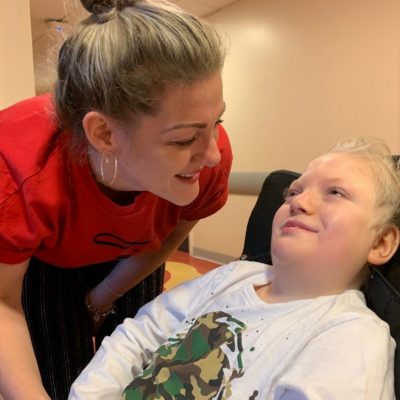 Ten-year-old Cai was born with a very rare and complex condition called Vici Syndrome. He spent his first year as a patient at the Noah's Ark Children's Hospital for Wales and was a regular resident here for much of his life. His mum, Micaela, says she doesn't know what she'd would have done without the children's assessment unit.
Micalea says:  "Cai was born with practically no immune system so the doctors here at the children's hospital basically made one for him out of other people's.
It's amazing and it basically saved his life at the time.  Having 24 hour access meant that I could bring Cai in any time if he got ill – which he could do very quickly. His were complex but everyone there knew him which I think is essential for children like him."